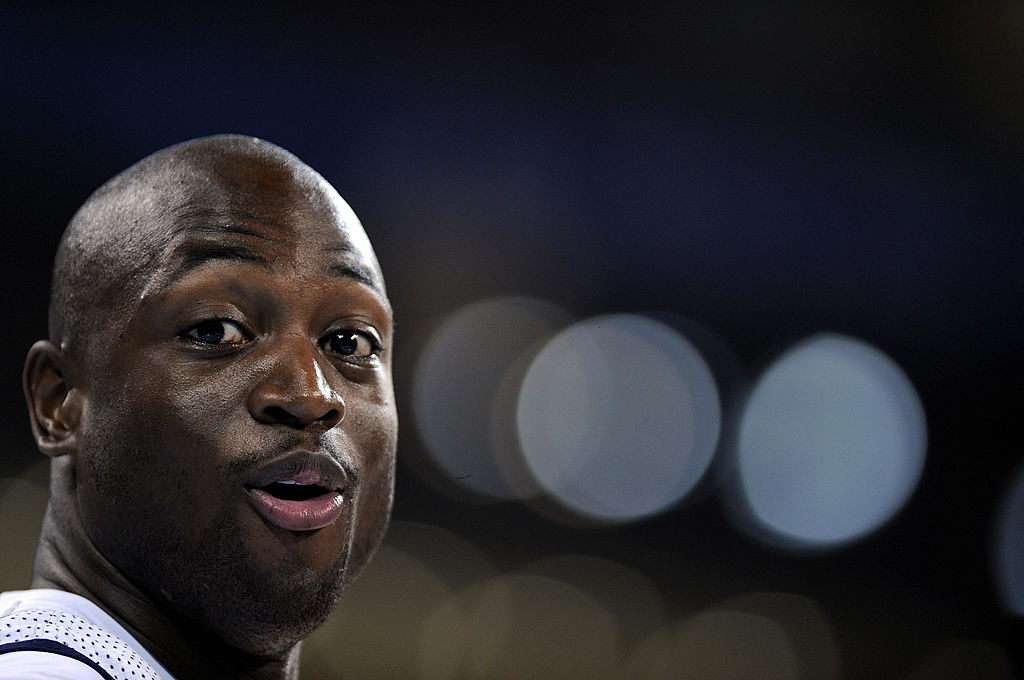 Why Did Dwyane Wade Go Bald for the 2008 Summer Olympics?
Bald Dwyane Wade was a major reason Team USA won the gold medal in the 2008 Summer Olympics. Here is why he went bald.
Dwyane Wade was one of the best players to ever play in the NBA. Wade was a 13-time NBA All-Star, a three-time NBA champion, he was the 2005-06 NBA Finals MVP, and he was the scoring champion for the 2008-09 season. The best version of Wade, though, might have been bald Dwyane Wade for Team USA in the 2008 Summer Olympics.
Coming off a down season
Dwyane Wade was an instant star in the NBA after being selected No. 5 overall in the 2003 NBA draft out of Marquette. Wade won an NBA championship with the Miami Heat in just his third season in the league during 2005-06. He averaged 27.2 points per game that season. 
Wade did score 27.4 points per game during the 2006-07 season but missed 31 games due to injury. The Heat did make the playoffs that season, but they lost in the first round. 
However, the 2007-08 season was tough for Wade and the Heat. Wade missed 31 games again due to injury again and his points per game dropped to 24.6. Additionally, the Heat not only missed the playoffs, they had the worst record in the league as they went 15-67.
Some people began to wonder if Wade had lost a step because of his injuries and if he would ever get back to the dominant player that won the 2006 NBA Finals. 
Then Wade played in the 2008 Summer Olympics.
Bald Dwyane Wade became America's hero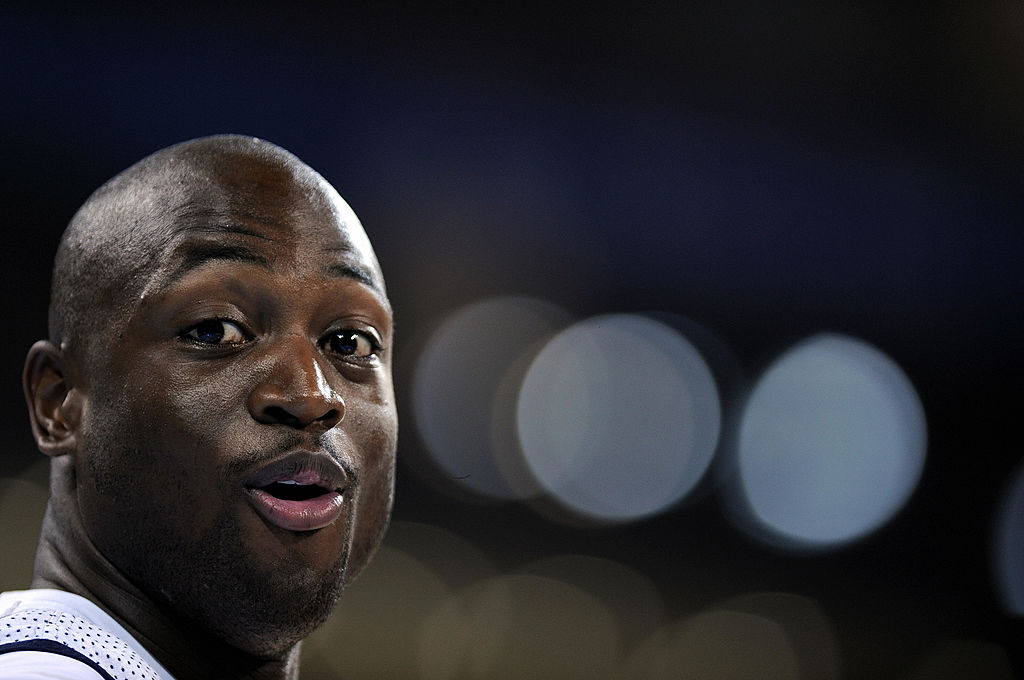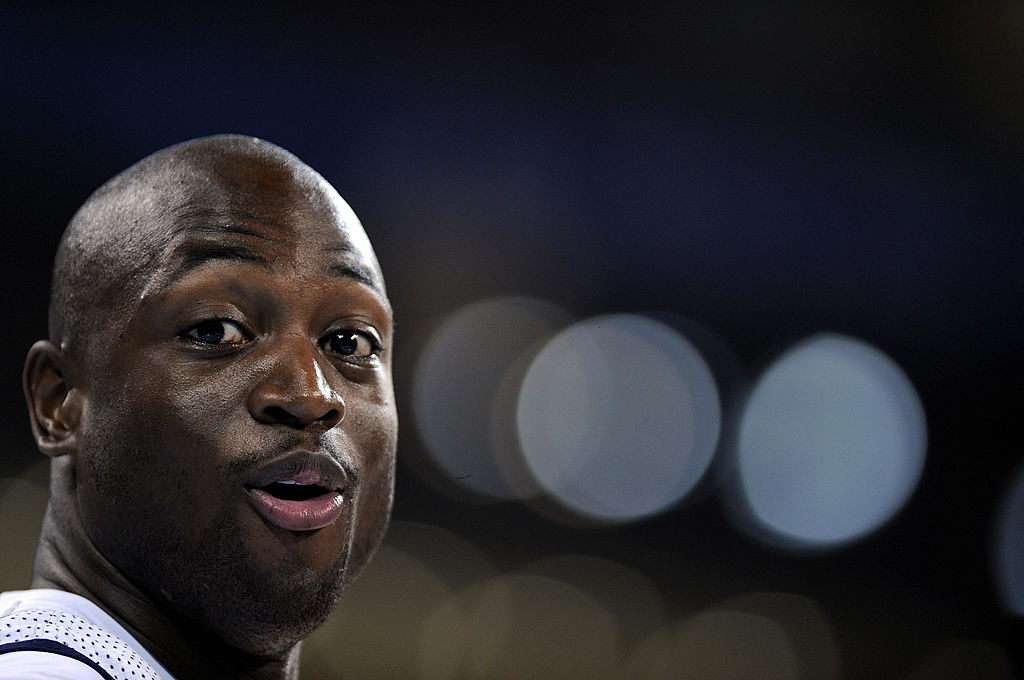 Team USA only earned a bronze medal in the 2004 Summer Olympics, so the team was looking for redemption. Wade was also looking to prove he was still a dominant player.
Entered bald Dwyane Wade.
Wade came to the Olympics with a new hairdo as he was completely bald. He ended up dominating with it too. Wade led Team USA in scoring during Olympic play, averaging 16 points and four rebounds. That was more than LeBron James, Carmelo Anthony, and even Kobe Bryant.
Wade came out and scored 19 points in each of the team's first two games. He helped Team USA ultimately go 5-0 in the preliminary games. Then in the tournament bracket, Team USA defeated Australia 116-85 in the quarterfinals. They then defeated Argentina 101-81 in the semifinals to advance to the Gold Medal Game. 
Then in the most important game of the Olympics, Wade really came to play. Against Spain for the gold medal, Wade scored 27 points and had four steals, leading Team USA to an Olympic gold medal. 
Wade's play in the Olympics led to him having a huge bounce-back year for the Miami Heat during the 2008-09 season. He ultimately led the league in scoring that season with 30.2 points per game. He played in 79 of 82 games too and the Heat went back to the playoffs. 
Wade went bald to focus on basketball
Wade gave everyone a behind-the-scenes look at Team USA in an article written back in July 2008. He explained why he decided to go bald in it too.
"I've gone bald for the simple fact that I'm focused solely on basketball," Wade wrote, according to NBC News. "I'm not concerning myself with waking up in the morning, brushing my hair trying to look pretty. I'm really focused on playing and bringing home the gold. Also, in China I'm not letting anybody cut my hair. If you're not my barber, it's not happening."

Dwyane Wade
Deciding to just focus on basketball ended up working out well for Wade, and for Team USA. However, we probably won't see bald Dwyane Wade ever again. Wade tweeted this in 2017: "My wife told me if I ever go bald again she can wiggle her way out of this marriage haha. She's not a fan of the bald me." 
Good thing Wade is retired and won't be playing in any more future Summer Olympics. If he were to play for Team USA in the future, then his wife Gabrielle Union-Wade would have to make a sacrifice for the good of America.