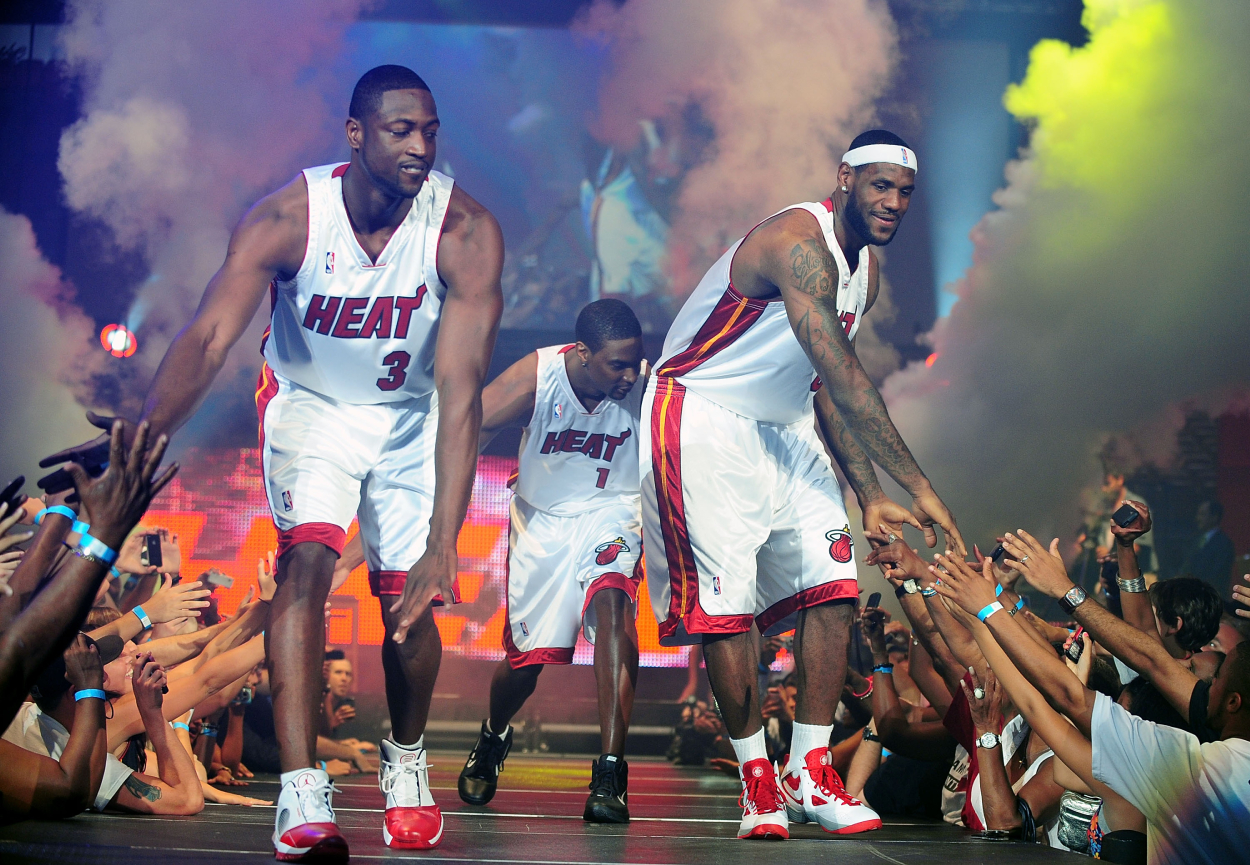 LeBron James, Dwyane Wade, and Chris Bosh Were 'Caught up in the Moment' During Their Infamous Heat Welcome Party: 'We Didn't Know What Was Going On'
LeBron James and the Big Three became the NBA's villains on the Miami Heat, as people hated that they were teaming up together. Their infamous welcome party in Miami seemed to rub people the wrong way, too, and one of the members of the Big Three recently reflected on that moment.
Throughout LeBron James' tenure on the Miami Heat, he and the Big Three became the villains of the NBA, as fans weren't too happy with them for teaming up together. However, the one event that possibly rubbed people the wrong way the most was their welcome party in Miami, where James famously said that they weren't just going to win one championship, and "not two, not three, not four," and so on.
Chris Bosh, one of James' fellow Big Three members, recently reflected on that welcome party. He ultimately said they were all "caught up in the moment."
LeBron James, Dwyane Wade, and Chris Bosh became the NBA's villains on the Heat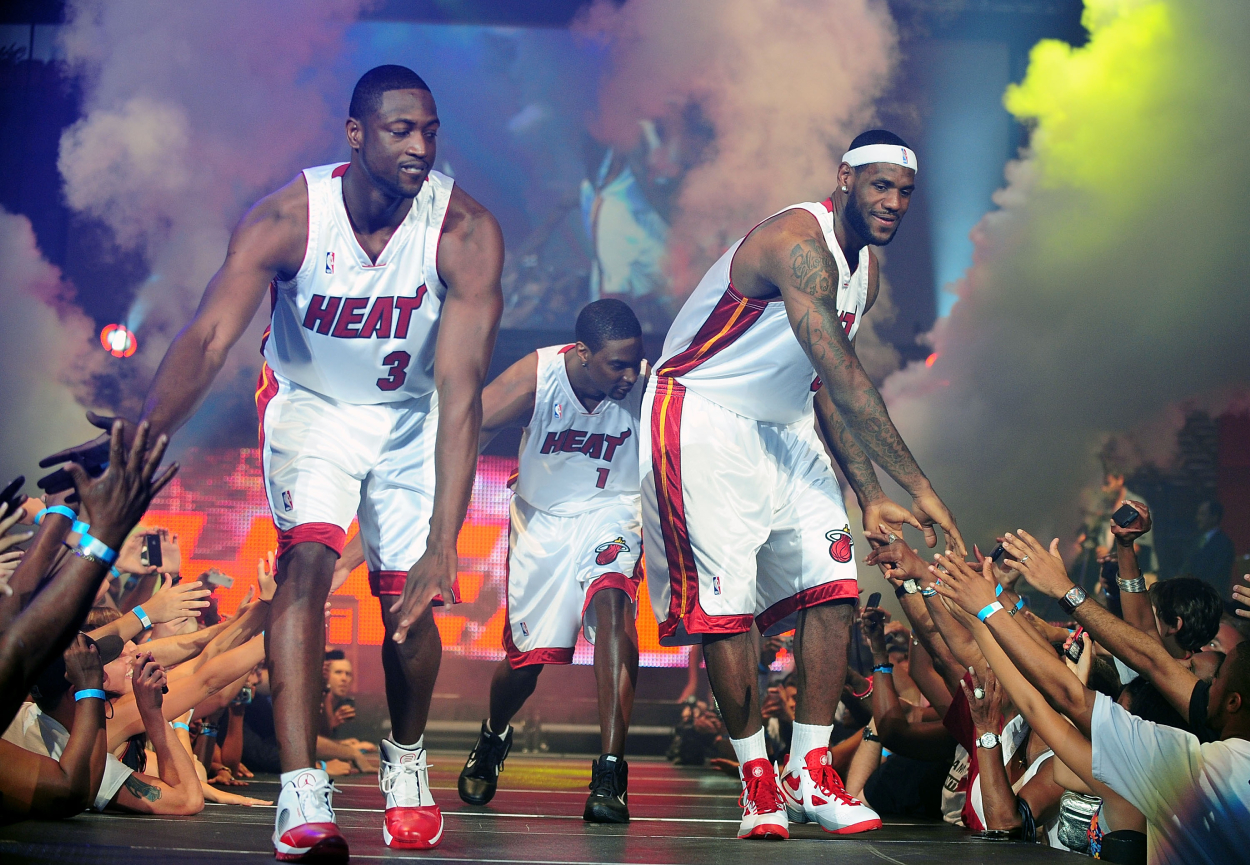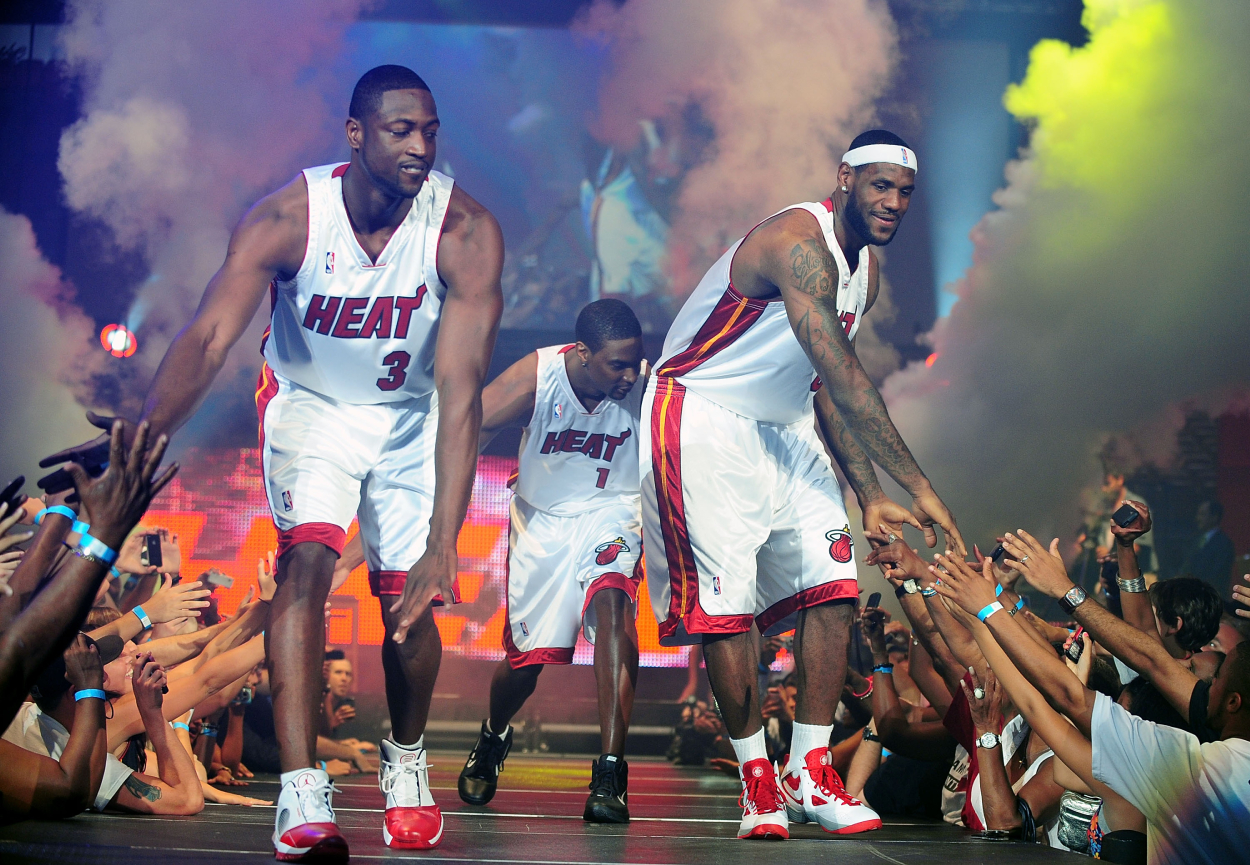 During the summer of 2010, James, Bosh, and Dwyane Wade made one of the most monumental moves in NBA history.
They were all free agents that summer, and instead of re-signing with their respective teams, or going to new teams separately, they all went to Wade's squad and teamed up on the Heat.
The move instantly irked NBA fans, and after James declared during their welcome event that they weren't just going to win two, three, or four championships, the Heat became the NBA's villains.
In 2012, Marques Eversoll of Bleacher Report examined everyone's hatred for the Heat, and James specifically.
"As the face of the new generation of pro basketball, James flourished as a fan favorite during his time in Cleveland," Eversoll wrote. "But once he told the world that he planned to 'take his talents to South Beach,' basketball fans across the country totally changed their opinion on LeBron. By signing with the Miami Heat and joining forces with NBA All-Stars Dwyane Wade and Chris Bosh, James was accused of being 'nothing more than a sidekick,' and he was slapped with labels such as 'selfish,' 'arrogant,' and 'traitor.'"
Now, 10 years later, Bosh has since reflected on that giant party.
Chris Bosh said they were 'caught up in the moment'
Bosh, who will be inducted into the Naismith Memorial Basketball Hall of Fame later this year, recently went on The Ringer's Real Ones podcast and reflected on the Big Three's introduction to Miami.
He ended up giving some interesting insight.
"When you're younger, you don't know all the way; you get wiser for a reason," Bosh said on the June 10 episode. "We were having so much fun; we were caught up in the moment. That whole day, we didn't know what was going on. So, pretty much what you were watching was just people totally in the moment, not even thinking about anything, just having fun. That was unfiltered. … It was funny, [LeBron] kept going, and the more he kept going, everybody got louder."
Bosh then essentially said that it all happened really fast.
"We were finding all this stuff out on the fly," Bosh said. "They come to the gym, it wasn't until night, we're like, 'Yo, what the hell?' Then, they're showing us where to go. … Next thing you know, we're coming out the thing. 'This is crazy, bro.' It was crazy; it was crazy. And you know, Miami loves to have a good time."
Bosh added that the thought of people not there also watching didn't even cross his mind.
"I don't think it crossed any of our minds," he said. "We were just in the moment."
It all turned out OK for LeBron James, Dwyane Wade, Chris Bosh, and the Heat
The Big Three only played together for four seasons in Miami, but they dominated during those years.
The Heat went to four consecutive NBA Finals in those seasons and ultimately won two championships. James also won back-to-back MVPs in 2011-12 and 2012-13.
Here's what James, Wade, and Bosh averaged during those four seasons:
LeBron James: 26.9 points, 6.7 assists, 7.6 rebounds, and 1.7 steals
Dwyane Wade: 22.2 points, 4.7 assists, 5.3 rebounds, and 1.6 steals
Chris Bosh: 17.3 points and 7.4 rebounds
The Big Three might have become the villains in Miami during those seasons, but they also became NBA legends. The Heat got past that welcome party and ended up winning championships.
Stats courtesy of Basketball Reference