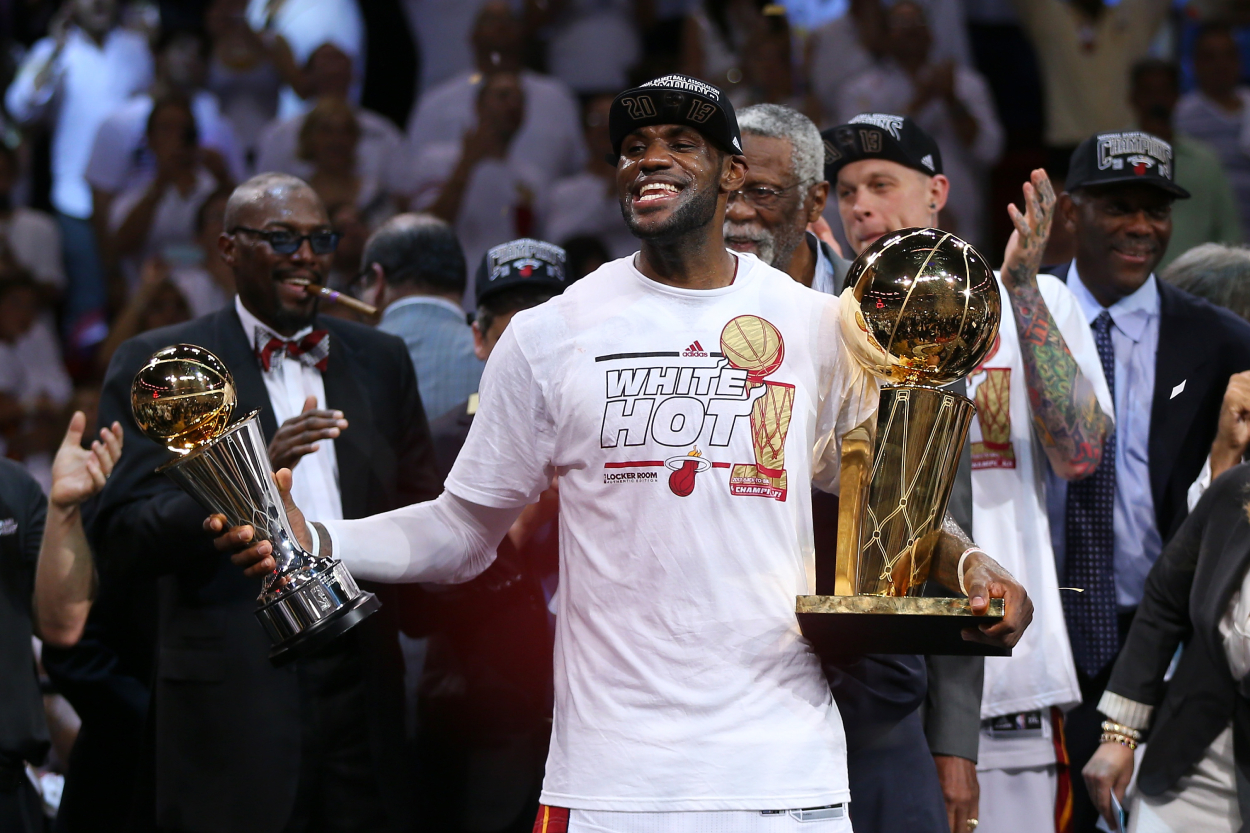 LeBron James Returning to the Heat? Pat Riley Is Open to a Reunion: 'I'll Put a New Shiny Key Under That Mat'
LeBron James had four magical years on the Miami Heat as he led them to four NBA Finals appearances and two championships. However, Pat Riley wasn't too happy when James left and went back to the Cleveland Cavaliers. Now, though, it appears Riley is open to a reunion with The King.
It's been over 10 years since LeBron James first left the Cleveland Cavaliers and signed with the Miami Heat. He and the Heat had some magical years together, as they went to four consecutive NBA Finals and won two championships, but after a surprising loss in the 2014 finals, James went back to the Cavs. One person who wasn't happy about James leaving Miami was team president Pat Riley, but now nearly seven years removed from James' departure, it appears Riley is open to a reunion with The King.
LeBron James spent four years on the Miami Heat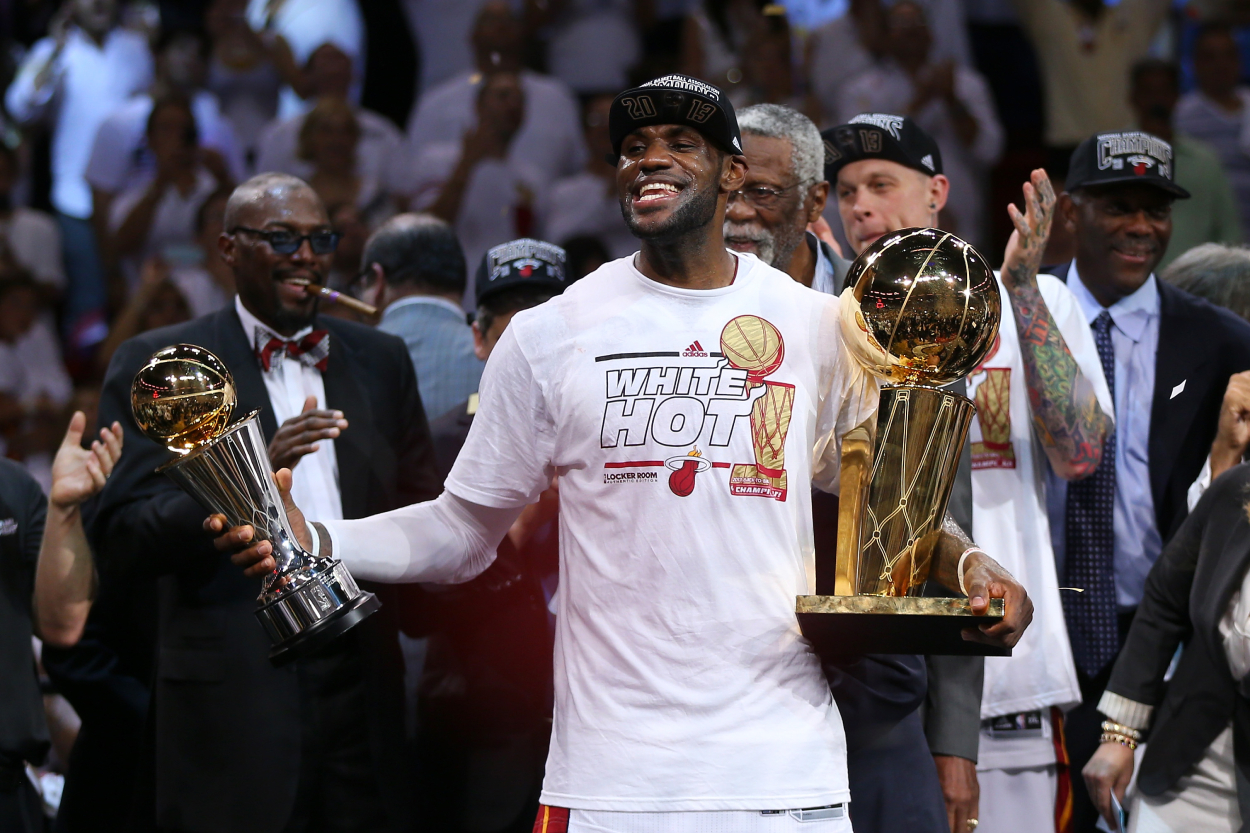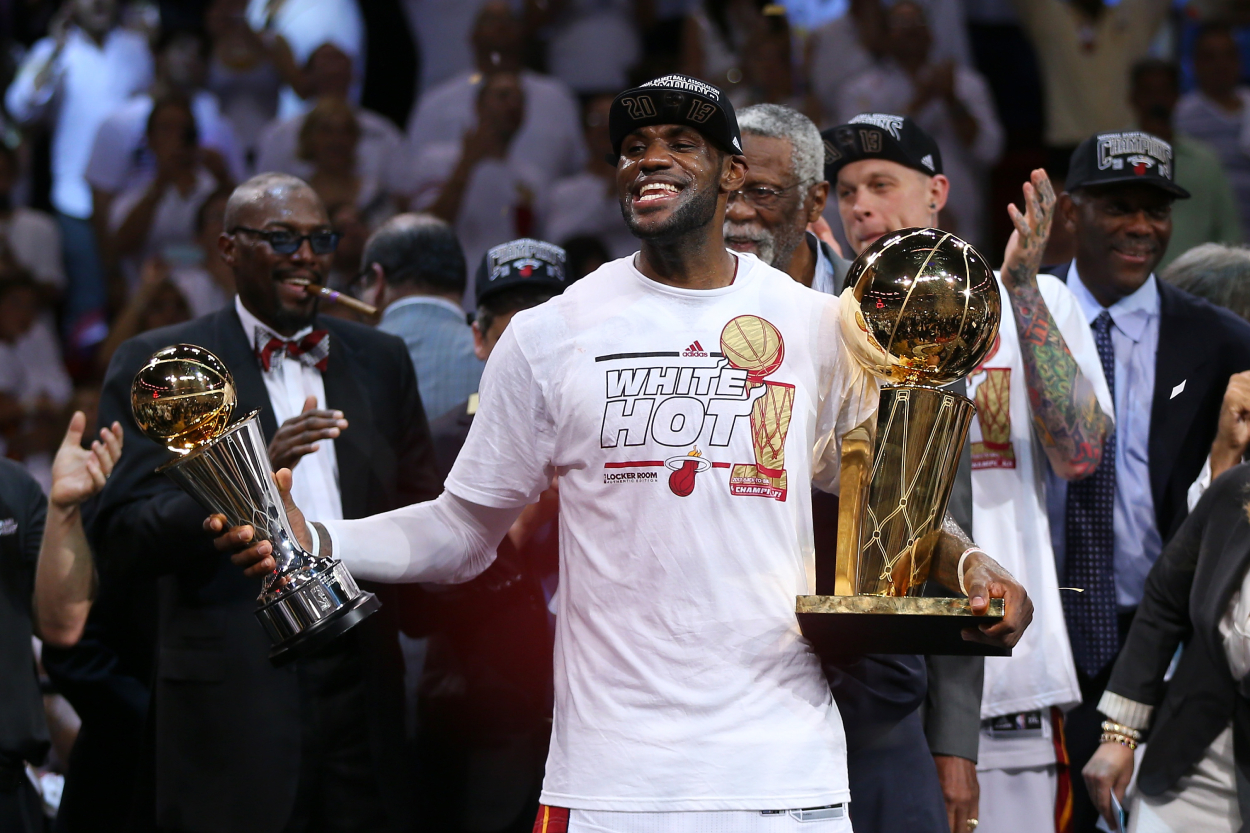 After only making one NBA Finals appearance in seven seasons with the Cleveland Cavaliers to start his career, James went to the Heat to team up with Dwyane Wade and Chris Bosh in 2010.
While he was certainly in the debate for the best player in the league before this, James claimed the title as the league's top player during his time in Miami.
He ultimately led the Heat to four straight NBA Finals appearances, and won two of his four career league MVP awards in 2011-12 and 2012-13. In those two MVP seasons with Miami, James averaged 26.9 points, 8.0 rebounds, 6.8 assists, and 1.8 steals. He also shot 54.9% from the field.
The King also led the Heat to back-to-back NBA championships during those years he was league MVP, the first two championships of his career. He ultimately earned NBA Finals MVP in both of those seasons, too, as he averaged 28.6 points, 10.2 rebounds, and 7.4 assists in the 2012 finals against the Oklahoma City Thunder, and 25.3 points, 10.9 rebounds, and 7.0 assists in the 2013 finals against the San Antonio Spurs.
After losing to the Spurs in the finals the following year, though, James returned to Cleveland in 2014. He took the Cavaliers to four more consecutive NBA Finals and won one more additional title.
Pat Riley is open to a reunion with The King
As you probably know, James is now on the Los Angeles Lakers and won a title with them over the Heat in the 2020 NBA Finals. However, he is coming off a season this year where the Lakers lost in the first round of the playoffs.
Riley's Heat also lost in the first round this season, and while recently discussing various topics, he revealed whether he would ever be open to reuniting with James.
"I would leave the key under the doormat if he would call me and let me know he's coming; I would do that, but that key's rusted now," Riley said on the June 4 episode of The Dan Le Batard Show With Stugotz. "LeBron is, he's one of the greatest of all-time, and for four years down here if we want to go back and just remember what those four years were like. Four years in the finals, four years of excitement, two world championships."
Riley went on to say that the James era was the "best time for the Heat."
"I wish him nothing but the best, and if he ever wanted to come back, then I'll put a new shiny key under that mat, but this will just get me fined for tampering," Riley said.
Pat Riley wasn't happy when LeBron James left the Heat
The biggest takeaway from Riley's comments is that time heals all wounds.
"I was silent," Riley said to ESPN in 2017 when discussing the moment he learned James was going back to Cleveland. "I didn't say anything. My mind began to just go. And it was over. I was very angry when LeBron left. It was personal for me. It just was. I had a very good friend who talked me off the ledge and kept me from going out there and saying something like [Cavs owner] Dan Gilbert. I'm glad I didn't do it."
So, now that Riley has gotten past the hurt he felt when his star player left, would James ever go back to the Heat? That's hard to say because he never reveals his future plans. But he'll be a free agent in 2023, and if the Heat are in a position to win a championship, who's to say he wouldn't consider a reunion?
Whether James ever returns to Miami or not, though, he had some magical years there and became an all-time great during those four seasons. That era will always be remembered as one of James' best.
Stats courtesy of Basketball Reference