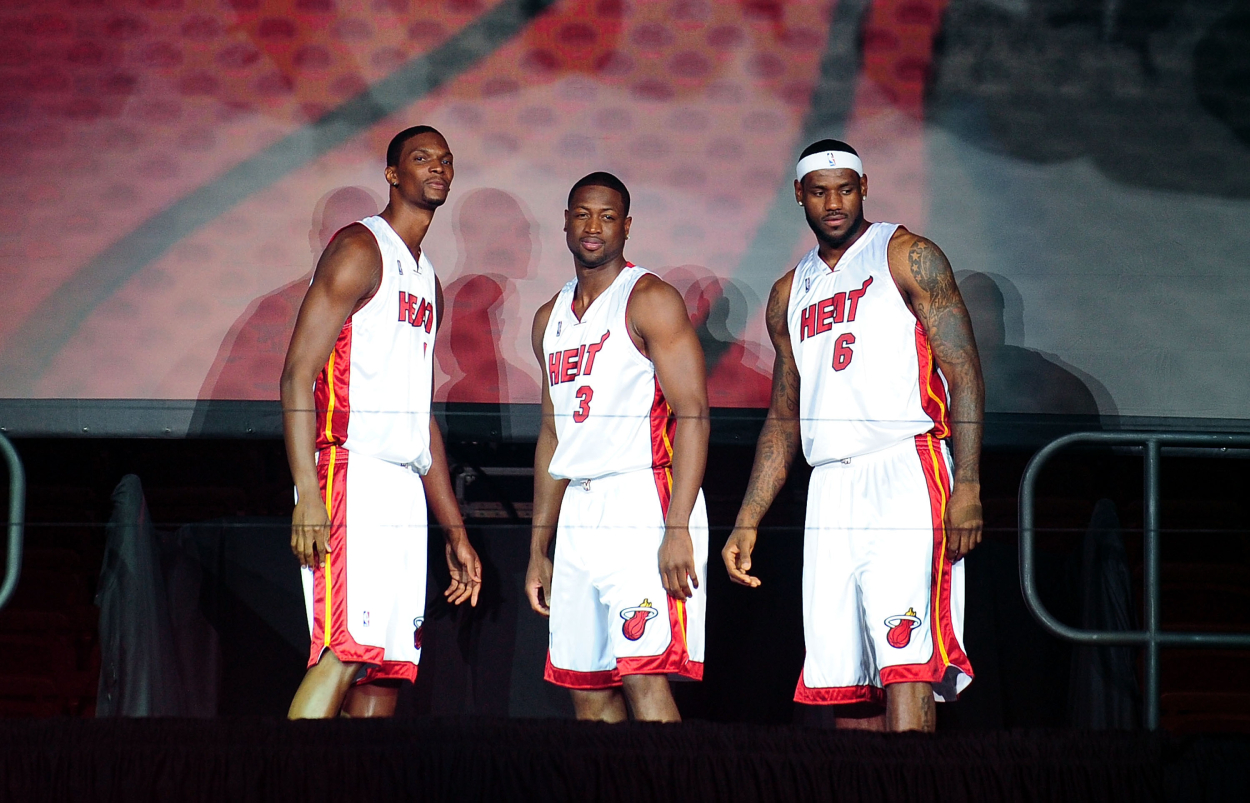 LeBron James and the Big 3 'Stopped Talking to Each Other' Before Signing With the Heat: 'I Was Sitting on the Edge of My Seat'
LeBron James, Dwyane Wade, and Chris Bosh created an unstoppable superteam on the Miami Heat, as they went to four NBA Finals and ultimately won two championships. However, the Big Three actually stopped talking before signing with Miami, which made for a nervous night when James announced his big free-agency decision.
LeBron James' play on the court has stunned many people over the years, but the most shocking move of his career was probably when he chose to leave the Cleveland Cavaliers to team up with Dwyane Wade and Chris Bosh on the Miami Heat. The three of them formed a superteam that, on paper, looked like a squad no one could beat. 
However, it wasn't just the Cavs and NBA fans who were shocked when James announced his "decision" on TV. Bosh also had no idea where James was going.
LeBron James, Dwyane Wade, and Chris Bosh were free agents in 2010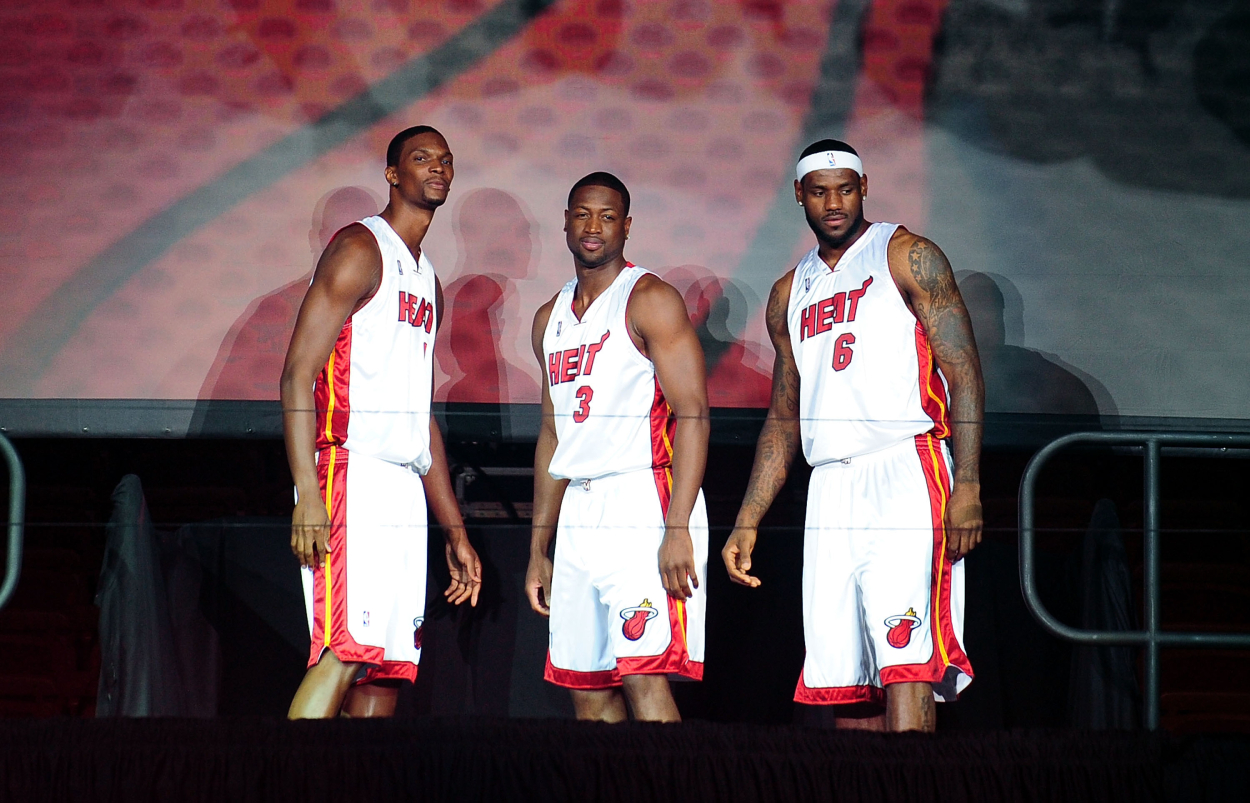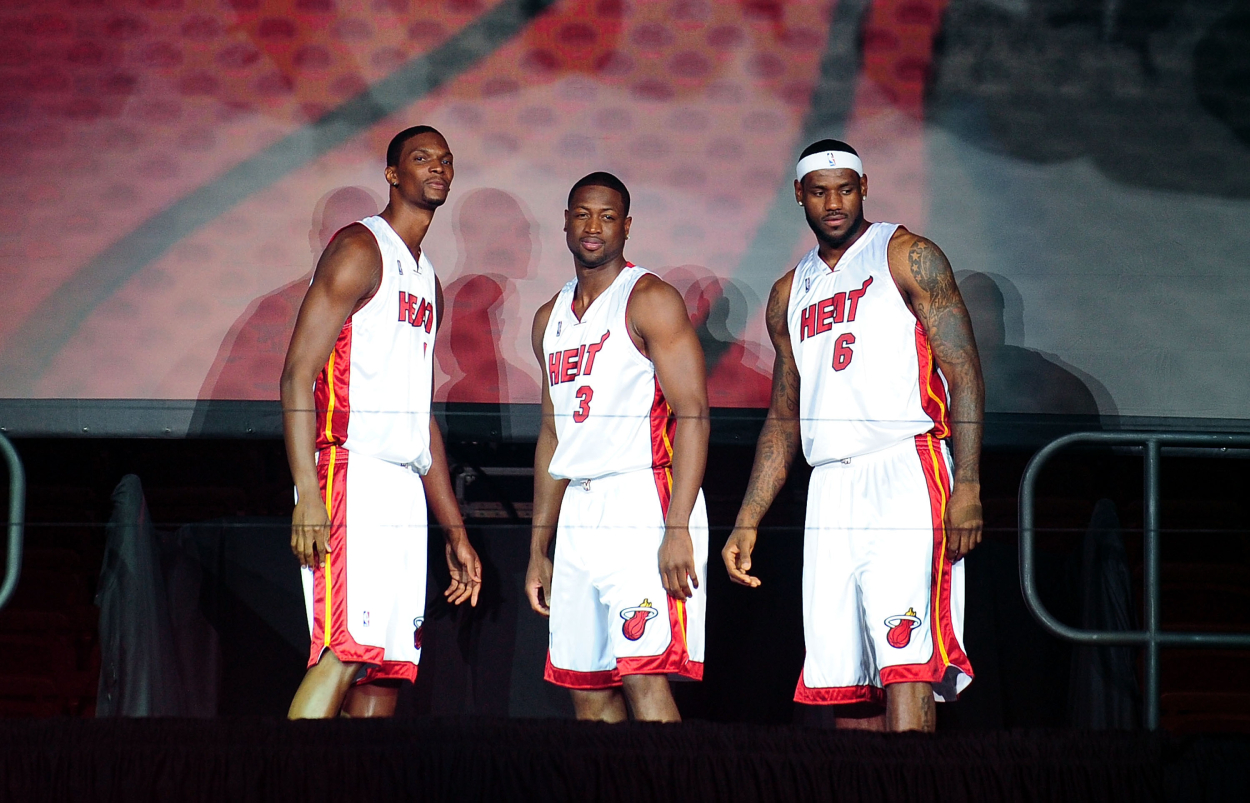 The summer of 2010 was one of the most monumental offseasons in NBA history. LeBron James, Dwyane Wade, and Chris Bosh were all free agents and while several teams were after their services, only one was ready to sign all three: the Heat.
"I got my dad and my agent with me," Bosh said of Miami's free-agency pitch on the June 10 episode of the Real Ones podcast. "… We walk in, and it's one of those round circle tables in the meeting areas, right? And everybody's just kind of sitting down."
However, Bosh said, unlike everyone else, Heat president Pat Riley wasn't sitting.
"Pat was kind of pacing back and forth, he takes his jacket off, he loosens his tie, and he rolls up his sleeves, and then he gets a bag and then just puts the rings on the table, and they go everywhere a little bit," Bosh said. "Then that pretty much kicks off his speech. … [He said], 'We have an opportunity, you, Dwyane, LeBron, if you guys make this decision.' It was pretty good."
Riley then ended his pitch by giving Bosh one of his rings and said he could give it back once he won one himself.
So, did Riley give all three stars the same pitch? Probably not, but whatever he said to Wade and James was good enough for the three to ultimately team up in Miami.
The Big Three stopped talking to each other before making their decision
Wade and Bosh decided to sign with the Heat first before James later made his announcement on the TV special, The Decision.
Before making their announcements, though, the Big Three actually stopped talking. In fact, Bosh and Wade weren't even sure whether James was coming or not.
"It was making the move in the hopes that he would make the move," Bosh said on the Real Ones. "… It was so exhaustive, we stopped talking to each other; we couldn't, it was the last thing that we wanted to talk about."
So, when fans were watching The Decision and wondering who James was going to sign with, Bosh was wondering the same thing.
"There was a mode to not knowing, of course. It was a whole thing, program, and I was sitting on the edge of my seat, too, to be honest with you," Bosh said.
It's safe to say, James, Wade, and Bosh all made the right choice.
LeBron James, Dwyane Wade, and Chris Bosh dominated on the Heat
Once the Big Three started playing on the court together, they were nearly unstoppable.
They ultimately led the Heat to four straight NBA Finals appearances and won back-to-back titles in 2011-12 and 2012-13. James also won two consecutive NBA MVP awards in the same years they won their championships.
Here's a look at their averages during their time together on the Heat:
LeBron James: 26.9 points, 7.6 rebounds, 6.7 assists, and 1.7 steals
Dwyane Wade: 22.2 points, 5.3 rebounds, 4.7 assists, and 1.6 steals
Chris Bosh: 17.3 points and 7.4 rebounds
James, Wade, and Bosh's creation of their superteam on the Heat was not only the talk of the summer that year, but it has since left a lasting impact on the NBA. The three stars helped launch the superteam era and became basketball legends while doing it.
The Big Three Miami Heat were, and still are, absolutely iconic.
Stats courtesy of Basketball Reference