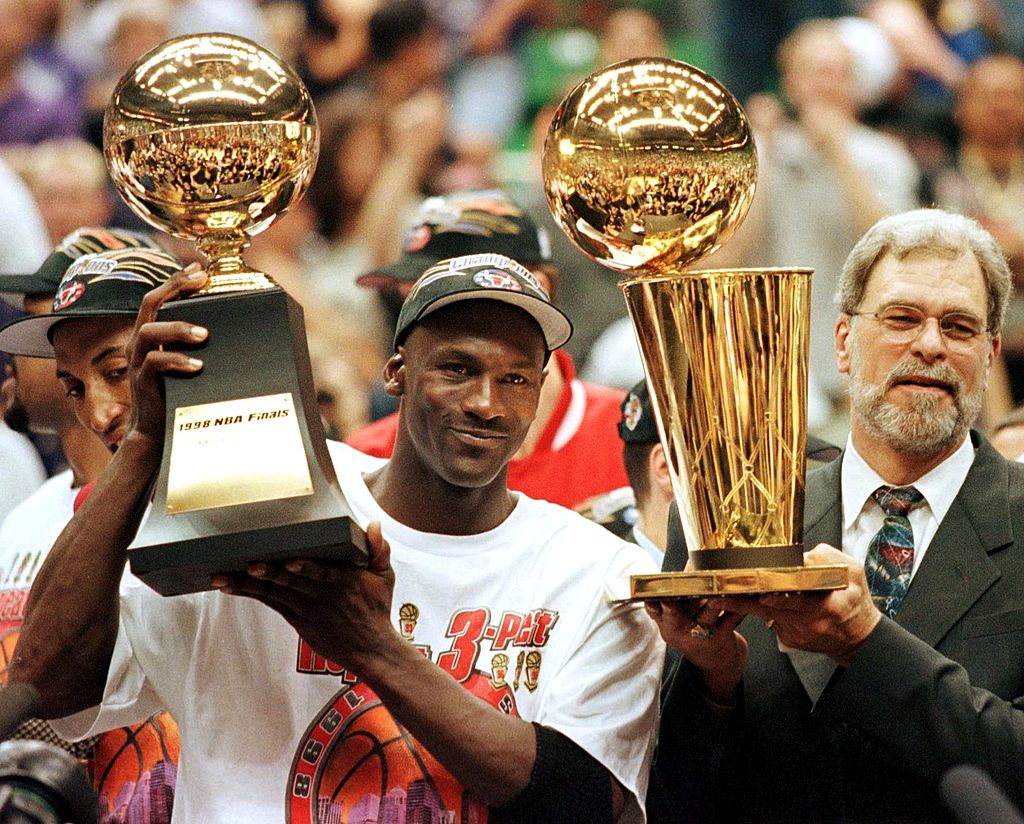 Michael Jordan's Competitive Streak Goes Far Beyond the Basketball Court
During his NBA career, Michael Jordan displayed an incredible will to win. That competitiveness, however, now extends to much simpler games.
If you're a professional athlete, being competitive comes with the territory. Derek Jeter, for example, once said that he tried to win everything from baseball to board games with equal intensity. Michael Jordan, however, takes things to another level.
During his legendary career with the Chicago Bulls, Jordan won just about everything possible. That habit still exists in retirement; MJ's not on the court anymore, but he still refuses to lose at some surprisingly simple games.
Michael Jordan's unparalleled basketball career
It goes without saying that Michael Jordan was an unparalleled winner. At the same time, however, it's worth remembering just how dominant MJ was during his prime.
After famously failing to make his high school's varsity basketball team at the first attempt, Jordan's career took off. After a growth spurt, he made the squad the following fall; he was later named a McDonalds' All-American and on his way to the University of North Carolina.
His Airness would spend three seasons in Chapel Hill, winning an NCAA title as a freshman, before entering the 1984 NBA draft. He, of course, was selected third overall by the Chicago Bulls; from then on, the game of basketball would never be the same.
From the first time Jordan stepped onto an NBA court, he proved to be a dominant player. While his Bulls initially struggled to get past the Detroit Pistons, eventually, the floodgates opened. During his 15 professional seasons, MJ averaged a staggering 30.1 points per game; he scored over 30,000 total points, won six championships, and six MVP awards.
Playing with a competitive edge
An old sports cliche says that hard work beats talent when talent doesn't work hard. Michael Jordan might have been incredibly talented, but he also refused to lose.
MJ's competitive fire started at an early age when he would compete with his older brother, Larry. While Michael eventually matured physically and surpassed his brother, his will to win only got stronger.
In the NBA, Jordan was willing to do whatever it took to win. Early morning workouts? Not a problem. Brutal trash talk to knock opponents off their game? All's fair in love and war. No matter how famous His Airness became, nothing was more important than basketball.
"Michael would shut down everything outside of basketball and just train," trainer Tim Grover explained in an interview with Basketball Network. "Three workouts a day: workout, golf break, workout, lunch, golf break, workout, dinner, bed. Every day. No commercial shoots, no promotional tours, no events. Just work."
Michael Jordan competitiveness goes far beyond sports
It's been nearly two decades since Michael Jordan last suited up for an NBA game. That reality, however, doesn't mean he's any less competitive. His Airness' will to win is just manifesting itself in other ways.
"He's in the middle of an epic game of Bejeweled on his iPad, and he's moved past level 100, where he won the title Bejeweled Demigod. He mastered sudoku and won $500 beating [business manager Estee] Portnoy at it. In the Bahamas, he sent someone down to the Atlantis hotel's gift shop to buy a book of word-search puzzles," Wright Tompson explained in a profile written for MJ's 50th birthday in 2013.
"In the hotel room, he raced Portnoy and Polk, his lawyer, beating them both. He can see all the words at once, as he used to see a basketball court. "I can't help myself," he says. "It's an addiction. You ask for this special power to achieve these heights, and now you got it and you want to give it back, but you can't. If I could, then I could breathe."
As Uncle Ben famously said, "With great power comes great responsibility." For Michael Jordan, his competitiveness was both a gift and a curse.