Charles Barkley Once Had to Hire a Bodyguard in Order to Keep Playing Pro Basketball
If you're a long-term sports fan, you're probably familiar with professional athletes using their massive net worths on all sorts of luxury purchases. During the 1990s, though, Charles Barkley had to reach into his wallet for an unusual reason: the NBA essentially mandated it.
Sir Charles, of course, had a knack for getting into trouble and, after a "barroom brawl," the NBA decided to draw a line. Barkley either had to start employing a bodyguard when he went out in public or retire from professional basketball.
Charles Barkley was a talented player with a knack for finding himself in hot water
While Sir Charles' self-assurance helped him win plenty of NBA games and on-air success with TNT, his conviction could cause some issues. When it came to conflicts, Barkley wasn't one to back down.
Although some on-court fights were to be expected — Chuck did play in the 1980s and 1990s, after all — Barkley didn't limit his conflicts to the hardwood. The forward clashed with the public on at least a couple of occasions, unsurprisingly making headlines along the way. During an evening out in Milwaukee, for example, the forward was challenged to prove his toughness by a group of men. Sir Charles responded with his best Karate Kid impression and broke one opponent's nose.
On another occasion in 1997, Barkley found himself at a Florida bar when a man threw two cups of ice in his direction. While an off-duty police officer intervened, Sir Charles still managed to get a hold of the stranger and throw him through a plate-glass window.
The latter incident prompted the NBA to intervene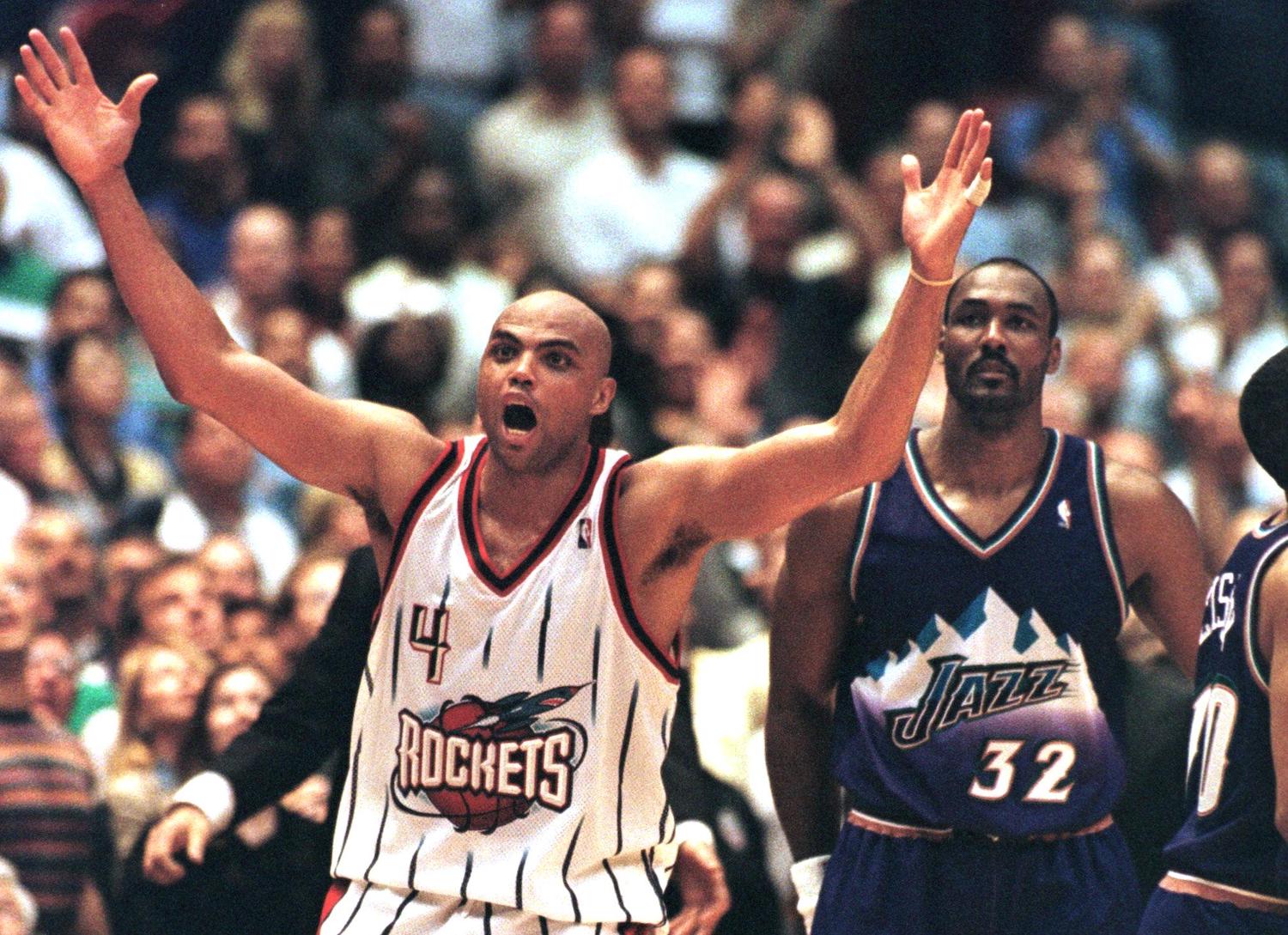 After that incident, Barkley didn't back down. " I'm going to defend myself. Let there be no debate. If you bother me, I'm going to whip your ass," he said, according to the South Florida Sun-Sentinel. "The guy threw ice in my face, and I slammed his ass into the window. I'm not denying that. I defended myself. He got what he deserved." The NBA, however, had other ideas.
As documented in an AP report (H/T Los Angeles Times), the forward had a meeting with NBA deputy commissioner Russ Granik and vice president of security Horace Balmer. Those men presented Barkley with an ultimatum: "Retire or hire security guards."
While Chuck maintained that he behaved appropriately during the altercation in Florida, he did agree to the latter option.
"The league told me that every time I go out, I need to take security guards with me," Barkley explained. "No matter what anyone says or does to me, I will not be baited. If someone throws a drink at me, I'll let my security guards handle it."
Charles Barkley's net worth was large enough to survive that new expenditure
No matter how much money you have, facing an unexpected expenditure isn't a fun experience. Barkley, however, probably didn't bat an eye.
During the 1997-98 NBA campaign, which would have been Barkley's first employing bodyguards, the forward earned $2.25 million in raw salary. He took home $1 million during the following season and added an additional $9 million before finally calling it a career. When Sir Charles retired from professional basketball, he had made roughly $40 million from the 76ers, Suns, and Rockets.
While Chuck's bottom line has been boosted by his post-retirement media work, the former forward's $50 million net worth proves that hiring a security team didn't break the bank. If anything, it may have even helped Barkley avoid some additional fines and legal issues.
Financial data courtesy of Spotrac