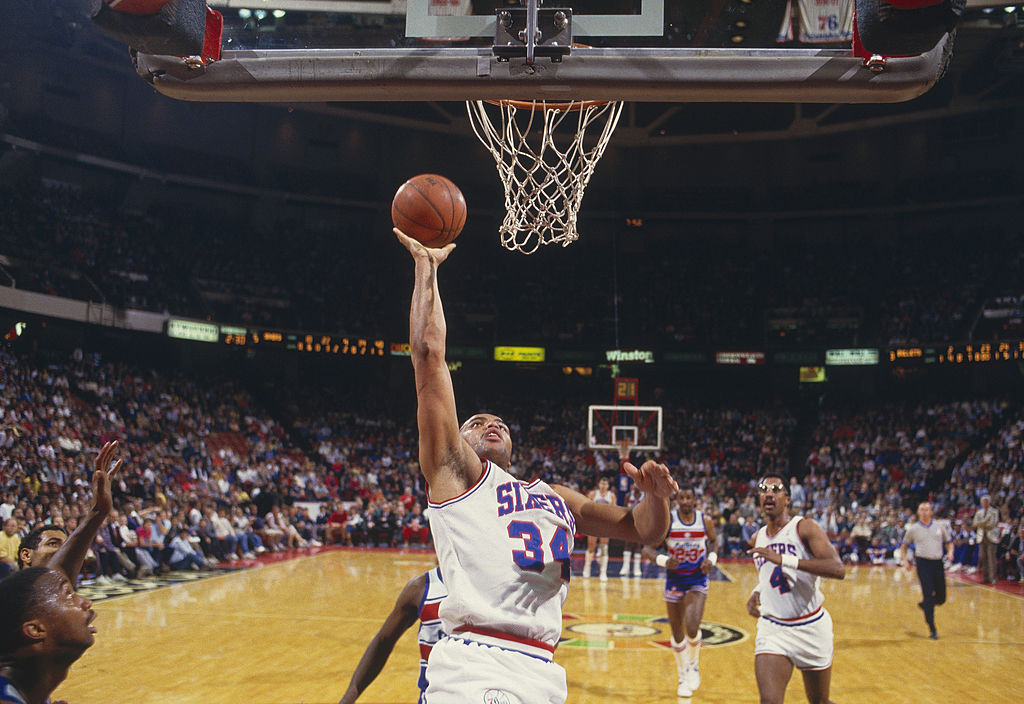 How an Infamous Spitting Incident Saved Charles Barkley's Career
In 1991, Charles Barkley infamously spit on a fan. That terrible moment, however, actually saved the forward's NBA career.
While Charles Barkley has found new life as a member of the media, the forward wasn't always such a beloved public figure. During his playing career, Sir Charles famously said that he wasn't a role model; he was also no stranger to a fight, both on and off the court. One spitting incident, however, changed the course of his career forever.
During a game in 1991, Barkley infamously spit on a young girl sitting in the crowd. While that could have ruined the Round Mound of Rebound, it actually saved his career.
Charles Barkley's Hall of Fame career
During his playing career, Charles Barkley never looked like an elite athlete. His appearance, however, belied an incredible work rate and level of talent.
After making a name for himself in the Alabama state high school basketball playoffs, Barkley earned a scholarship to Auburn. While he wasn't a physical specimen, he slotted into the Tigers line-up at center and made an immediate impact. He averaged 14.1 points, 9.6 rebounds, and 1.7 blocks per game during his college career and, as a junior, helped Auburn reach the NCAA Tournament for the first time in school history.
Barkley went fifth overall in the 1984 NBA draft, landing with the Philadelphia 76ers. Moses Malone helped whip the young forward into shape; Sir Charles finished the season as a member of the league's All-Rookie Team.
While his time in the association was blighted by some terrible choices—including a fight with Bill Lambier and the spitting incident—Barkley was quite a talented player. He never won a championship, but Sir Charles averaged 22.1 points, 11.7 rebounds, and 3.9 assists per outing over his 16-year Hall of Fame career.
The infamous spitting incident
In March 1991, Charles Barkley made a mistake that would alter the course of his career.
During a game against the New Jersey Nets, a fan hurled racial slurs at the Philadelphia 76ers forward. In the fourth quarter, Barkley decided that he had enough; standing on the baseline, he spit into the stands. While that was reprehensible, the result was even worse.
Rather than hitting his abuser, Barkley's spit landed on an innocent young girl in the crowd. "He was walking toward me, and I spit at him," the forward told the Philadelphia Inquirer shortly after the incident. "I was tired, and I didn't have enough foam in my mouth. It went everywhere. I made a mistake."
The forward was promptly suspended and fined $10,000.
How that spiting episode changed the course of Charles Barkley's career
At that point, it would have been easy for Charles Barkley's career to go careening off the rails. The forward, however, used his suspension to turn things around.
While Barkley had plenty of talent, he also played angrily on the court; whether he was mad at his high school Spanish teacher, his father, or anyone else, Sir Charles took it out on his opponents. After the spitting incident, however, he realized that wasn't a recipe for long-term success.
"I was sitting in a hotel room," Barkley explained to Graham Bensinger, "and I was like 'dude, what the hell is wrong with you? What are you so angry about?"
The forward came to realize that he was blaming others, rather than looking at himself in the mirror; that inspired another change on the basketball court. "From that day forward, every time I played basketball, I said, 'just let people see your talent. You don't have to be mad at anybody else.' And so that was the turn around for me."
While it's inexcusable that Charles Barkley spit on a fan, that moment changed the course of modern NBA history. Not only did it help Sir Charles save his career, but, without that change of heart, we probably wouldn't see him on TNT today.