Michael Jordan Sets Another Record as His College Jersey Sells for $1.38 Million
NBA legend Michael Jordan dribbled his last basketball in an NBA game 17 years ago. You would think that would mean in 2021, Jordan would be less popular than current stars like LeBron James, Kevin Durant, and Luka Doncic. Judging by the prices his memorabilia is selling for these days, that doesn't seem to be the case.
Jordan is still the NBA GOAT, a fact that is seemingly confirmed weekly in 2021. The most recent endorsement of this status comes through the auction of a classic piece of Jordan memorabilia. On Friday, May 7, a game-worn University of North Carolina Jordan jersey sold for an astonishing $1.38 million.
Before Jordan dominated in the NBA, he was a star for Dean Smith's North Carolina team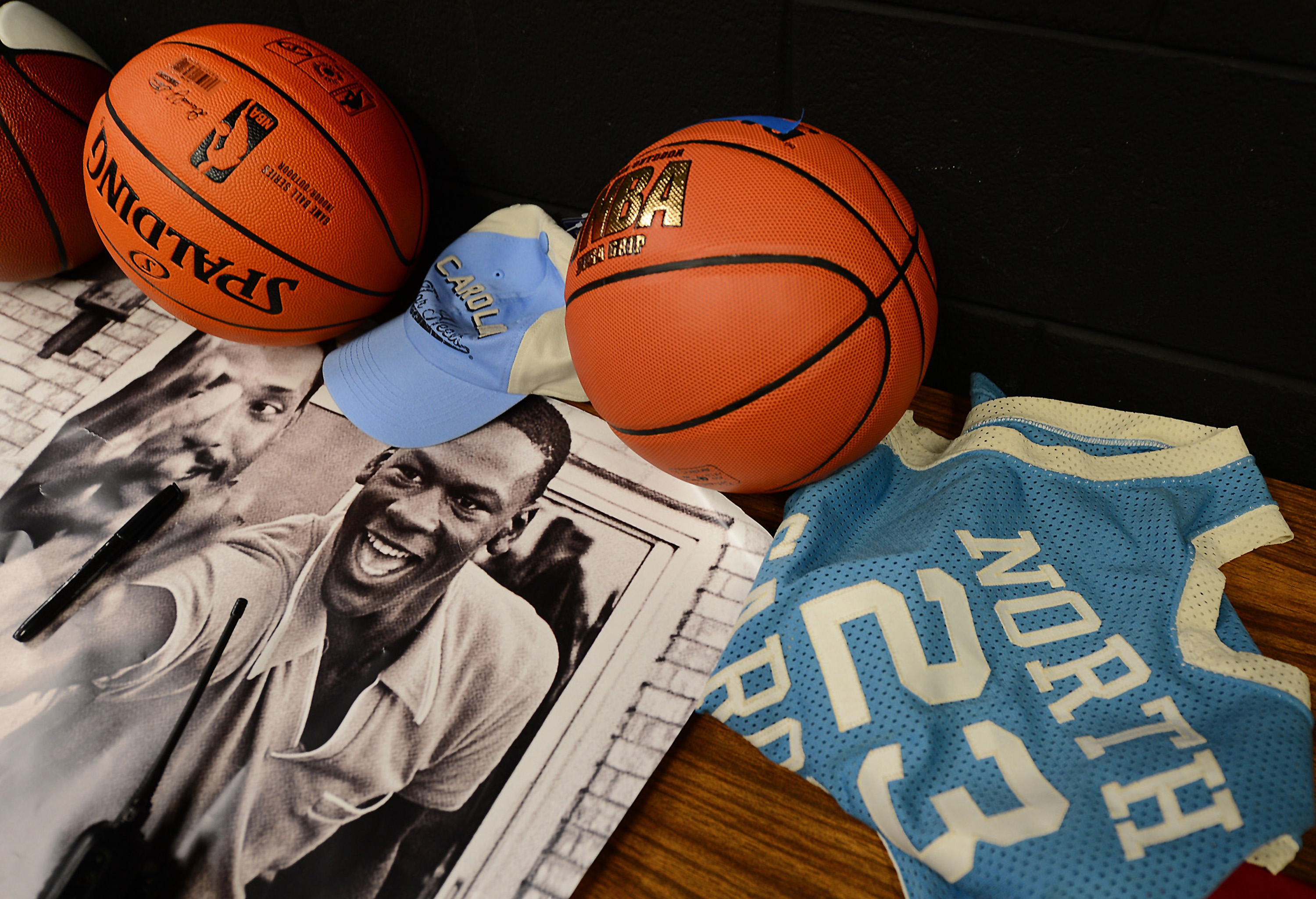 Most people think of Jordan in the familiar red and black of the Chicago Bulls. Before he plied his trade in the Windy City though, he wore the Carolina blue of the UNC Tar Heels. In his three years playing for legendary coach Dean Smith, Jordan played in 101 games and averaged 17.7 points, 5.0 rebounds, and 1.8 assists per game.
While he wasn't quite the Air Jordan we've come to know while at UNC, he did pull off some pretty impressive feats in college. In 1982 Jordan was named ACC Freshman of the Year and was a first-team All-American as a sophomore and junior. His last year on campus also saw Jordan take home both the Wooden and Naismith Player of the Year awards.
As we know though, Jordan's biggest obsession is winning. He did that at UNC as well. The team went 88-13 with Jordan on the team and, in his freshman season, they won the NCAA National Championship. The Tar Heels defeated the vaunted Georgetown Hoyas led by their dominant center, Patrick Ewing, to win the title.
You can probably guess who made the game-winning shot in that game. Hint: He wore number 23
Michael Jordan is as popular as ever in 2021
Jordan certainly has come a long way since those days in Chapel Hill. His Airness won the NBA Rookie of the Year Award his first year out of college and only improved from there. By the time his 15-season career finished, Jordan had collected five NBA MVPs, six NBA Finals MVPs, 14 NBA All-Star Game appearances, and six championship trophies.
After retiring from the NBA, Jordan seemingly took a step back from the public spotlight, and new stars took over the NBA landscape. However, as players such as Kobe Bryant and James built all-time great careers, the comparisons to and focus on Jordan were inevitable.
In 2006, Jordan made yet another comeback to the NBA. That year, he bought a minority stake in the Charlotte Bobcats (now Hornets). A few years later, he led a group to purchase the balance of the team. This made Jordan the first former NBA player to be the majority owner of a team.
Although Jordan has been an owner in the NBA for a decade now, his popularity didn't reach a fever pitch again until 2020. That is when the ESPN and Netflix documentary The Last Dance came out. This 10-part series sent his popularity skyrocketing to levels not seen since the 90s. It also sent the prices for his memorabilia even higher.
Jordan's game-worn UNC jersey is just the latest Jordan collectible to sell for huge money
According to ESPN, the Jordan North Carolina jersey that sold for $1.38 million is the only known game-worn jersey from Jordan's time as a Tar Heel. The jersey came from Jordan's sophomore season, a fact validated by matching it to a photo of the player on the cover of The Sporting News.
Compared to game-worn NBA ones, the scarcity of Jordan college jerseys drove the price up on this sale. The million-dollar-plus price tag broke the record for the highest-priced Jordan jersey. In 2020, the same auction house, Heritage Auctions, sold a game-worn Bulls jersey for $480,000.
It's not just Jordan's clothing that is selling for big bucks these days either. Last year, two graded Jordan rookie cards sold for $738,000 apiece. With more Jordan cards hitting the market soon and more jerseys sure to come, the $1.38 million might just be the tip of the iceberg for Jordan memorabilia.
Stats courtesy of Basketball-Reference and Sports Reference