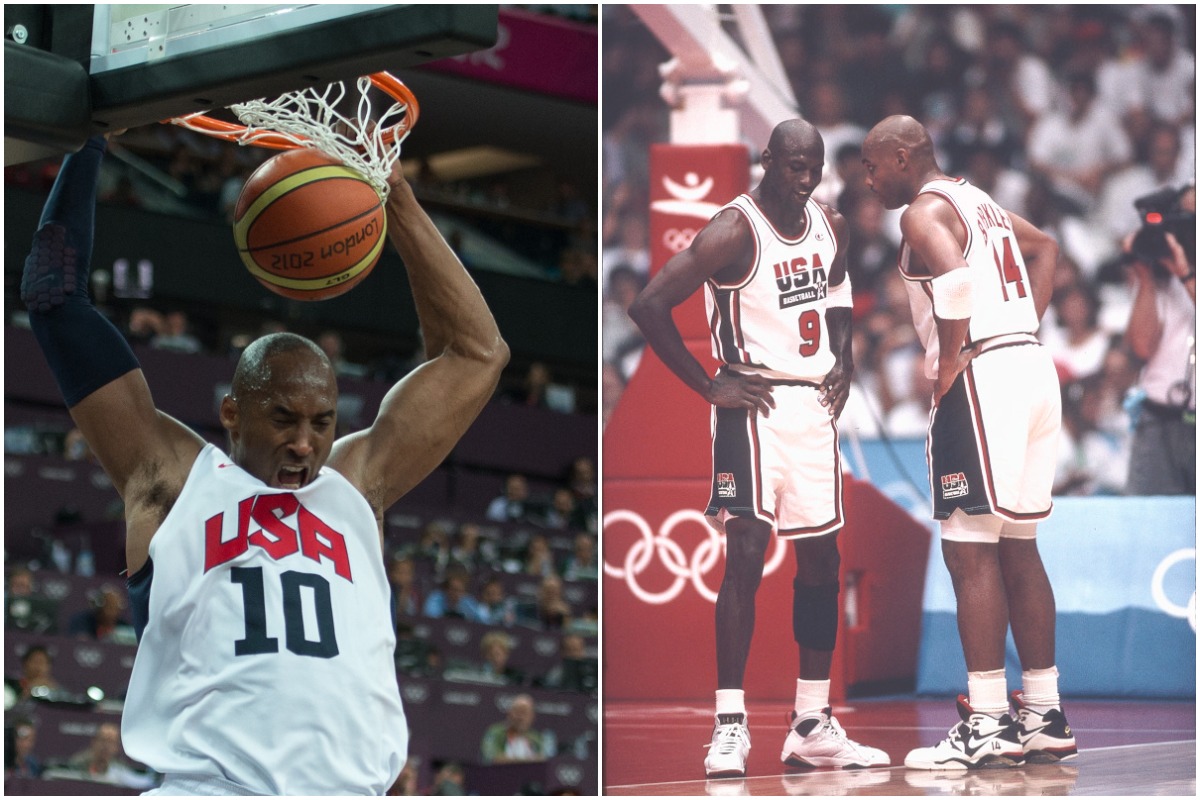 Michael Jordan and Charles Barkley Laughed off Kobe Bryant's Suggestion the 2012 Team USA Would Beat the Original Dream Team
As the Tokyo Olympics roll on with Team USA having lost two straight games to France over the last three years, there is still debate over Kobe Bryant's 2012 claim that the USA Basketball squad that won gold in London could have beaten the original Dream Team from 1992. Michael Jordan, for one, didn't think much of that idea.
Without access to a time machine, there's never going to be a clear answer to an ongoing question. Even as the 2020 (in 2021) version of USA Basketball competes at the Tokyo Olympics, debate continues over two of the most storied versions of Team USA. The 2012 team from London had two players, Kobe Bryant and LeBron James, claim they could beat the most iconic squad in USA Basketball history. Michael Jordan and Charles Barkley were unconvinced.
The 1992 Dream Team continues to be the gold standard for USA Basketball. That team didn't just beat people; it eviscerated them. Then they signed autographs for the opponents afterward. But since it is another Olympics cycle, it's worth taking another look at the tale of the tape in what would be a true clash of the titans.
Michael Jordan and the Dream Team are in the Hall of Fame for what they did
In 2009, the 1992 USA Basketball Olympic team went into the Naismith Memorial Basketball Hall of Fame. The whole team. The Dream Team is one of two Olympic teams enshrined in Springfield, Massachusetts. The 1960 U.S. Olympic squad featuring future Hall of Famers Walt Bellamy, Jerry Lucas, Oscar Robertson, and Jerry West marched into the Hall in 2010 with the Dream Team.
How good with Team USA in 1992? Going into the Barcelona Games, the Dream Team's only question was, "by how much"? There was no question — zero — USA Basketball was winning the gold medal. Of the 12 players on the roster, 11 are in the Hall of Fame as individual players. Ten of them made the NBA's 50 Greatest Players list in 1996.
Team USA won its eight games by an average of 43.8 points per game. Their closest match was for the gold medal against Croatia, a 32-point blowout of Croatia. Michael Jordan? He wasn't even Team USA's leading scorer.
Team USA blasted Lithuania in the tournament semifinals — which had four players from the former Soviet Union team that won the gold medal in 1988 — by 51.
That's a whale of a resume to beat, even for an all-time great such as Kobe Bryant.
Kobe Bryant made a bold claim about the 2012 team against the Dream Team
In 2012, USA Basketball's selections for London were some of the best players the NBA had to offer. They rolled through to the gold medal with an 8–0 record, scoring 115.5 points per game. A 156–63 win over Nigeria in group play is the largest margin of victory in Olympics history. But Team USA also had two games decided by single digits.
Kobe Bryant compared the 2012 team to the 1992 squad at a news conference, and his answer turned some heads.
"It would be a tough one, but I think we would pull it out. People who think we can't beat that team for one game, they are crazy. To sit there and say we can't, it's ludicrous. We can beat them one time."

Kobe Bryant
He later softened his stance to clarify he didn't say the 2012 team was better than the 1992 group.
Charles Barkley admitted he laughed when he heard Bryant's comments. So did Michael Jordan.
"For him to compare those two teams is not one of the smarter things he ever could have done."

Charles Barkley
There is only one Hall of Famer at present from the 2012 USA Basketball roster, Bryant. Others will join him: Carmelo Anthony, Kevin Durant, James Harden, LeBron James, Chris Paul, and Russell Westbrook have all but punched their tickets. Others have, or will have, solid resumes.
But the 1992 Dream Team did have some advantages over its successor from 20 years later.
The Dream Team spurred worldwide growth in basketball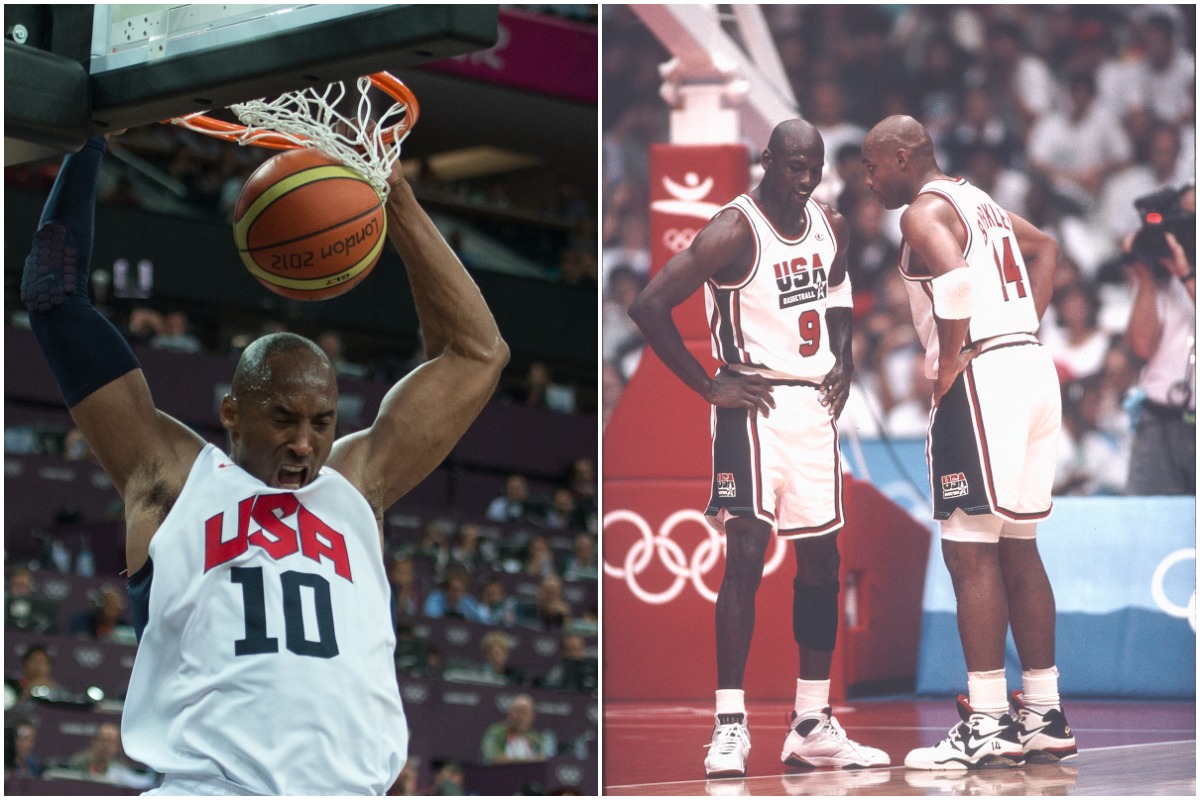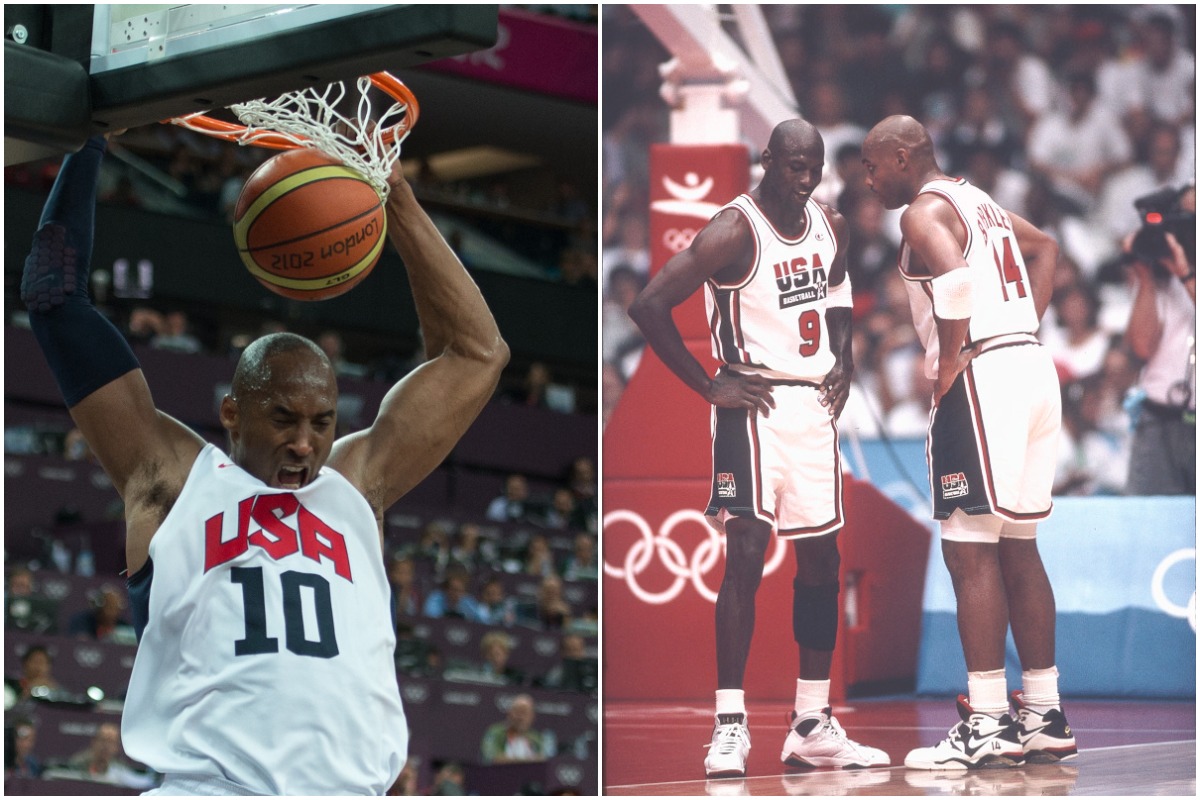 Before the 1992 Olympics in Barcelona, there were 23 international players on the rosters of the 27 NBA teams. There were 103 at the start of the 2011–12 season, nearly a five-fold increase. And it was the original Dream Team that fueled that growth.
For the 2012 London Olympics, the rest of the world had a generation with which to catch up. International players were All-Stars; they were NBA MVPs, they had long since stopped being a novelty.
Kobe Bryant's claim wasn't as outrageous as it might seem. Given his competitive nature, he was never going to admit ahead of time that he played for a team that had no chance to win. Much like Michael Jordan, Barkley put it succinctly in a 2012 interview.
"Other than Kobe, LeBron, and Kevin Durant, I don't think anybody else on that team makes our team."

Michael Jordan
That's also not that outrageous to consider. It would be a fun game to watch, given the necessary technology to bring the two teams together simultaneously.
We'd at least know this much. Put your money on Team USA.
Statistics courtesy of USA Basketball.