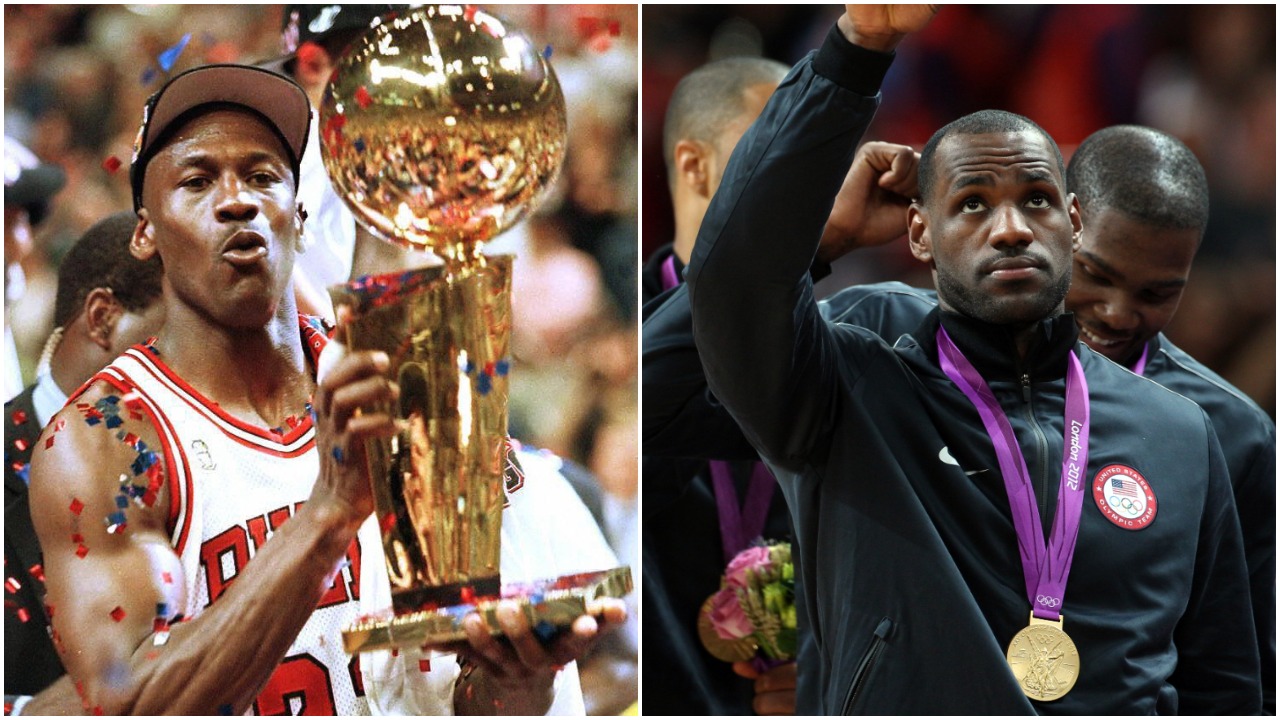 Michael Jordan and LeBron James Are Members of an Elite (and Short) List of Players to Win an NBA Title and an Olympic Gold Medal in the Same Year
Michael Jordan and LeBron James are part of a small group of players to win an NBA championship and an Olympic gold medal in the same year.
Winning an Olympic gold medal and an NBA championship in the same year certainly isn't an easy thing to do. For one, the Olympics obviously only roll around every four years. So seeing as how NBA players weren't allowed to compete in the Games until 1992, there have only been seven chances for this feat to occur, which is why the list of players to accomplish it is so small.
To be exact, only four players have pulled it off thus far, although that number could grow to six this year as Khris Middleton and Jrue Holiday of the newly-crowned NBA champion Milwaukee Bucks will attempt to help Team USA win a fourth consecutive gold medal in Tokyo.
As for the four who have already accomplished the feat, we're pretty sure you'll recognize the names.
Michael Jordan and Scottie Pippen won an NBA title and an Olympic gold medal in 1992 and Pippen did both again in 1996
In 1991-92, Michael Jordan and Scottie Pippen led the Chicago Bulls to a 67-15 regular-season record, at the time the best mark in franchise history. The Bulls then knocked off the Miami Heat, New York Knicks, and Cleveland Cavaliers in the Eastern Conference playoffs to set up an NBA Finals matchup with Clyde Drexler and the Portland Trail Blazers.
Behind 35.8 points, 6.5 assists, 4.8 rebounds, and 1.7 steals per game from Jordan and 20.8 points, 8.3 rebounds, 7.7 assists, and 1.5 steals per night from Pippen, the Bulls defeated the Blazers in six games to win their second consecutive NBA title with Jordan earning his second straight NBA Finals MVP award.
The dynamic duo then went on to win an Olympic gold medal as part of the famed Dream Team, arguably the greatest team ever assembled and the first USA Basketball team to feature NBA players. Jordan, playing in his second Olympics, was the team's second-leading scorer, averaging 14.9 points while adding 4.8 assists and an incredible 4.1 steals per game, while Pippen was seventh in scoring, averaging nine points while adding 5.9 assists and three steals per game. As expected, the Dream Team went a perfect 8-0 in Barcelona and defeated Toni Kukoc and a highly-skilled Croatian team that also featured Drazen Petrovic in the finals.
Four years later, after helping the Bulls to a 72-10 record and a fourth NBA title in six years, Pippen won his second gold medal, averaging 11 points per game, good for fourth on the team, as Team USA again went 8-0, defeating FR Yugoslavia in the finals.
LeBron James won an NBA title and an Olympic gold medal in 2012
In 2012, LeBron James won his third NBA MVP award in four years and finally won his first championship by leading the Miami Heat to a victory over Kevin Durant and the Oklahoma City Thunder in the NBA Finals. James played phenomenal basketball throughout the series, averaging 28.6 points, 10.2 rebounds, 7.4 assists, and 1.6 steals per game, and was named NBA Finals MVP.
He then joined up with the likes of Durant, Kobe Bryant, and Carmelo Anthony to help Team USA to yet another perfect 8-0 record at the London Olympics, averaging 13.3 points, 5.6 assists, and 5.6 rebounds on the way to his second gold medal.
Kyrie Irving joined the club in 2016
In 2015-16, Kyrie Irving helped the Cleveland Cavaliers to a 57-25 regular-season record on the way to a second consecutive matchup with the Golden State Warriors in the NBA Finals. Famously down 3-1 after four games, Irving and LeBron led the Cavs all the way back to win the series in seven games and it was Irving who hit the most clutch shot of the series finale as he drained a 3-pointer with 53 seconds remaining to give Cleveland a 92-89 lead in what would turn out to be a 93-89 victory.
While LeBron was named NBA Finals MVP, Irving had a fantastic series, averaging 27.1 points, 3.9 assists, 3.9 rebounds, and 2.1 steals per game.
Irving then averaged 11.4 points and a team-high 4.9 assists at the 2016 Olympics in Rio to help Team USA to yet another 8-0 record and captured his first gold medal when the U.S. knocked off Nikola Jokic and Serbia in the finals.
Stats courtesy of Basketball Reference