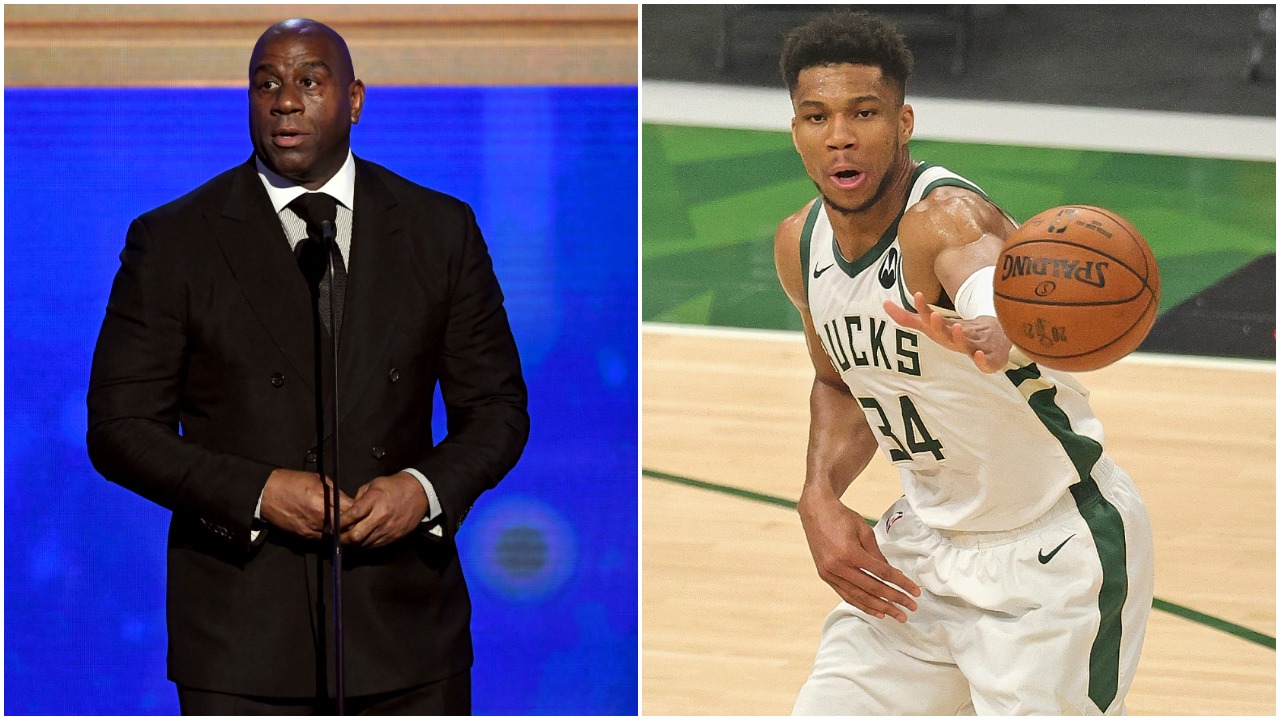 Magic Johnson Cost the Lakers $50,000 Just for Saying Giannis Antetokounmpo Would Lead the Bucks to an NBA Title
The Los Angeles Lakers once received a $50,000 tampering fine just because Magic Johnson said Giannis Antetokounmpo would someday lead the Milwaukee Bucks to an NBA championship.
Over the last five years, Milwaukee Bucks superstar Giannis Antetokounmpo has developed into one of the greatest players in the NBA. Already a two-time NBA MVP and a five-time NBA All-Star at just 26 years of age, Antetokounmpo really hasn't even hit his peak years yet (which should terrify the rest of the league), and he can now add NBA champion and NBA Finals MVP to his already stacked resume after leading the Bucks to their first title in half a century on Tuesday night.
One of the most fun parts about Giannis' ascent is the fact that Magic Johnson, who Antetokounmpo studied growing up in Greece, predicted it would happen. Just ahead of Giannis' second All-Star appearance, Magic said he would one day be an NBA MVP and would bring a title to Milwaukee.
And it oddly cost the Los Angeles Lakers the sum of $50,000.
Magic Johnson sees a lot of himself in Giannis Antetokounmpo
A few weeks ahead of the 2018 NBA All-Star Game, which marked the second consecutive season in which Antetokounmpo was named a starter for the game, Magic was asked for his thoughts on the Greek Freak and said he saw a lot of his own game in the then-23-year-old star. He's obviously a big fan of Giannis as he called him "the greatest athlete we have in the league today."
Magic spoke on just how "special" Antetokounmpo truly is, citing his ability to score, rebound, pass, run the floor, and block shots, essentially just calling him the total package (h/t ESPN).
"With his ball-handling skills and his passing ability. He plays above the rim I never could do that. But in his understanding of the game, his basketball IQ, his creativity of shots for his teammates. That's where we [have the] same thing. Can bring it down, make a pass, make a play. I'm just happy he's starting in the All-Star game because he deserves that."

Magic Johnson on Giannis Antetokounmpo
But Magic didn't stop there.
Magic said Giannis would be an NBA MVP and would bring a title to the Bucks, and it cost the Lakers $50,000
Johnson was clearly enamored with Antetokounmpo when talking with ESPN and continued to shower praise on the young star with these comments:
"And he's going to be like an MVP, a champion, this dude he's going to put Milwaukee on the map. And I think he's going to bring them a championship one day."

Magic Johnson on Giannis Antetokounmpo
Nice prediction on Magic's part.
A year and a half after Johnson's comments, Antetokounmpo won his first NBA MVP award and then won it again the following season. And on Tuesday night in Game 6 of the NBA Finals, Giannis made the second part come true by dropping 50 points on the Phoenix Suns to secure the Bucks' first title since 1971.
Overall, it was just a nice compliment, right?
Well, the NBA didn't think so. What one has to remember is that Magic was still the president of basketball operations for the Lakers at that time, and the team was slapped with a $50,000 tampering fine for Johnson's kind words, which makes absolutely zero sense. This wasn't Magic trying to recruit Antetokounmpo to the Lakers. I mean, he didn't even go the generic/wink-wink route in saying that Giannis would someday win a title. He literally said that Antetokounmpo would bring an NBA championship to the Bucks.
Absolutely ridiculous, right?
Now, Magic and the Lakers going after Paul George while he was still under contract with the Pacers? That was tampering and it cost the franchise half a million bucks. But I digress.
The only point Magic was trying to get across was that Antetokounmpo was on the cusp of becoming an absolute superstar, and he was exactly right. Would he have been overjoyed if he could have gotten Giannis to come to LA? Absolutely. But he was simply complimenting a player who reminded him of himself. No more. No less.
Well, unless you count the $50,000 less the Lakers' bank account had in it after he said what he said.
Johnson was completely right in his assessment of Antetokounmpo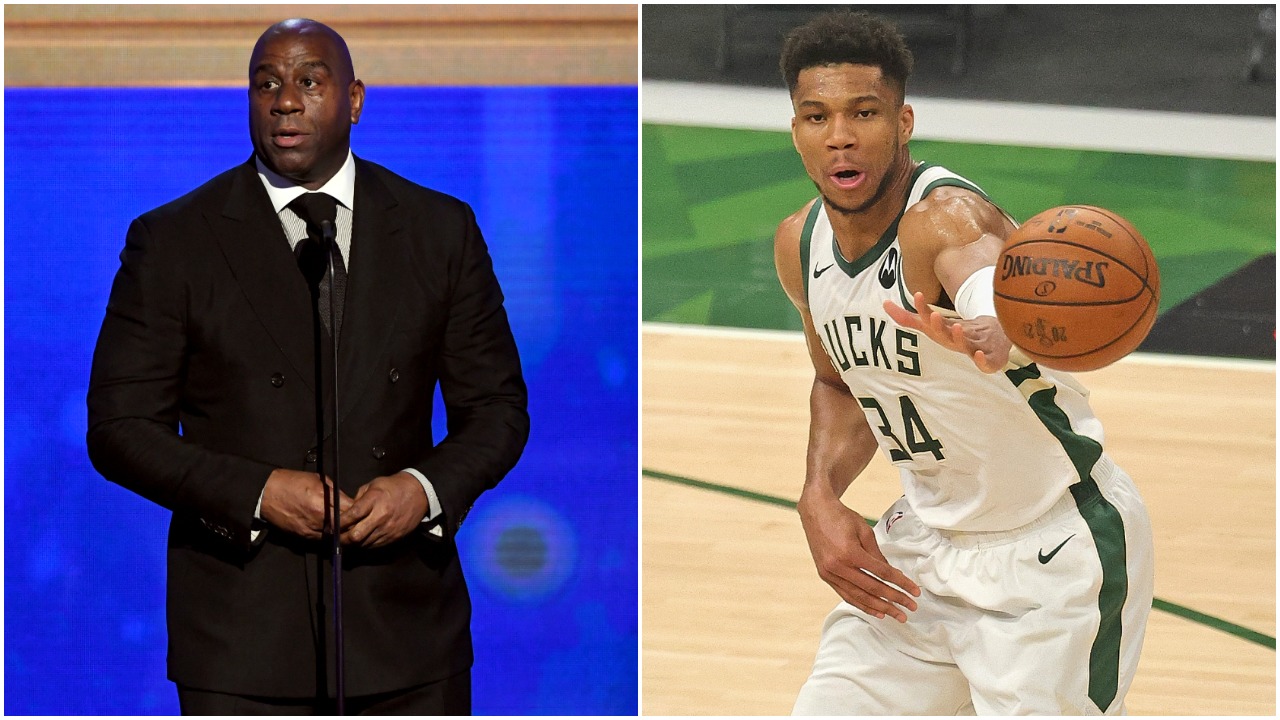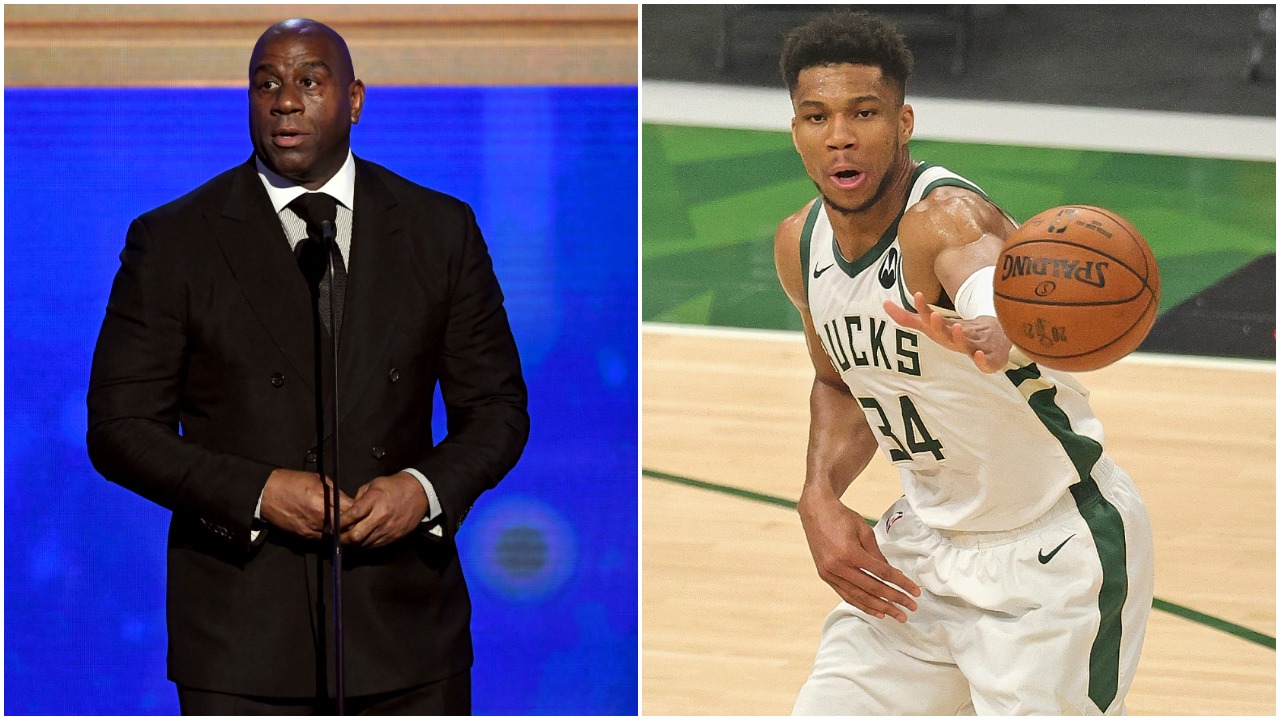 In his prime with the Lakers, which was essentially his entire career, Magic was easily one of the best all-around players in the NBA. He was clearly a pass-first point guard, but he could score when he needed to and was also an excellent rebounder. Over the course of his 13-year career with the Lakers, Johnson averaged 19.5 points, 11.2 assists, and 7.2 rebounds.
Like Magic, Antetokounmpo is also an excellent all-around player, as evidenced by his career averages of 20.9 points, 9.1 rebounds, and 4.5 assists, numbers that would obviously be much higher had he not been more of a supporting player in his first few years with the Bucks. Taking just the last five seasons into account, all in which he was selected to the NBA All-Star Game and an All-NBA team (three First Team, two Second Team), Antetokounmpo has averaged 26.8 points, 11.0 rebounds, 5.5 assists, and 1.4 blocks.
Now that Giannis is an NBA champion and an NBA Finals MVP, he's even more like Magic. And seeing as Johnson is no longer with the Lakers' front office, he can continue to shower praise upon Antetokounmpo without the fear of getting his former team fined.
Stats courtesy of Basketball Reference