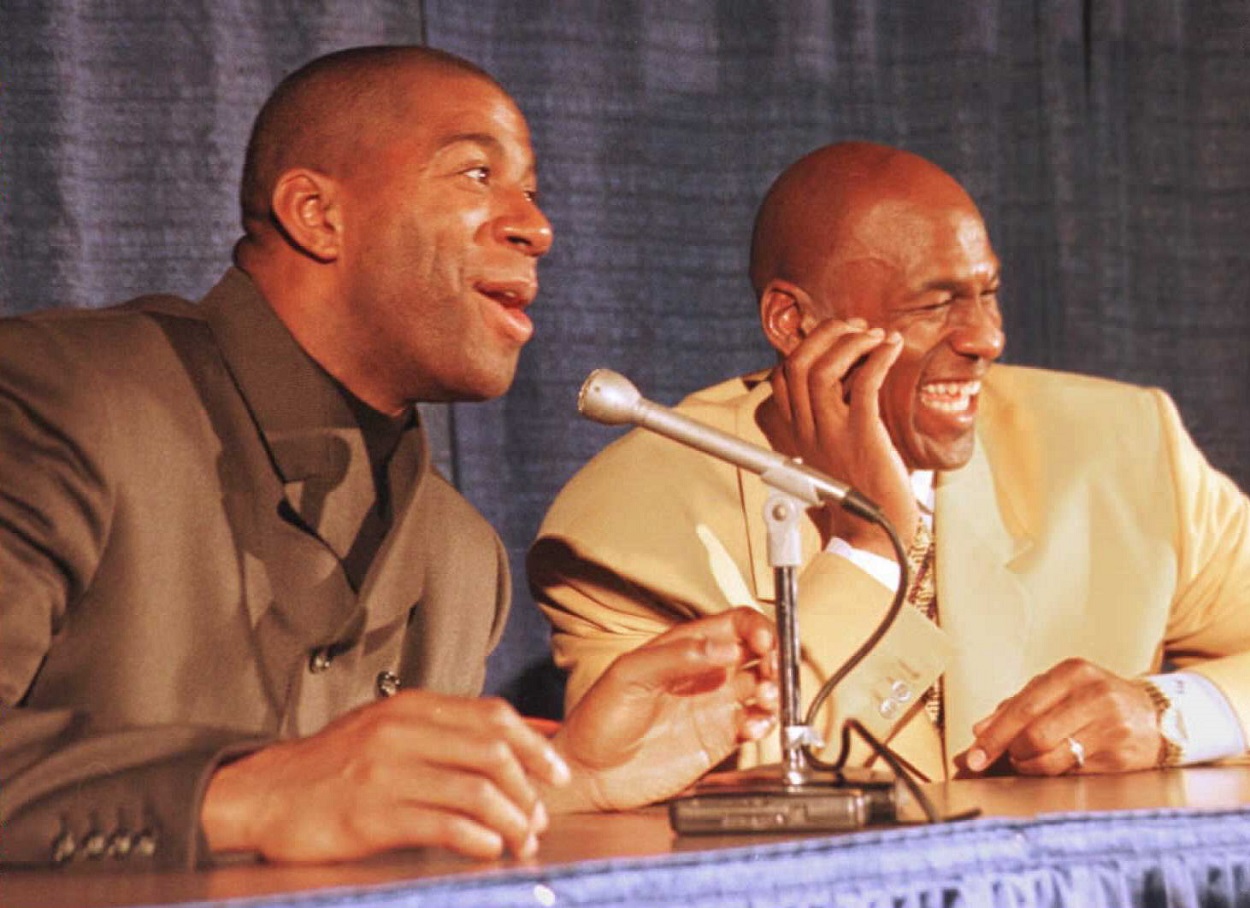 Michael Jordan and Magic Johnson Each Had Their Own TV Show Back in the Day and Both Also Starred in a Michael Jackson Music Video
Michael Jordan and Magic Johnson each once had their own TV show and both starred in a Michael Jackson music video.
Michael Jordan and Magic Johnson are easily two of the best players in NBA history, combining to win 11 NBA championships, nine NBA Finals MVP awards, and eight regular-season NBA MVP awards. The duo also earned a combined 26 NBA All-Star game selections, five NBA All-Star Game MVP trophies, 21 All-NBA selections, and won a gold medal together at the 1992 Summer Olympics in Barcelona as part of the famed Dream Team.
But you probably already know that the two MJ's could play a little basketball.
What you may not know (or remember), however, is that each had their own TV show back in the day, Jordan in the late 1980s and Magic in the late 1990s.
Michael Jordan had a TV show called 'Airwaves' in the late 1980s
ln 1989, Jordan, then 26 and still clinging to the last of his hair, had a TV show titled Michael Jordan's Airwaves that aired only in the Chicago area on ABC 7 (WLS-TV). Hosted by the network's sports anchor, Jim Rose, who started with WLS-TV in 1982 and is remarkably still there, the show featured Rose and Jordan chatting in front of a live studio audience, which is just crazy to think about now given how much Jordan enjoys his privacy.
Now, it's not quite known how many episodes of Michael Jordan's Airwaves aired, but there is one full episode available to watch, which you can view in its entirety above. And, seriously, if you have the time to watch the whole thing, do yourself a favor and do so as this is MJ like you've never seen him before. But if you don't, here's a quick recap.
A few minutes in, Phil Jackson, who was preparing for his first season as the head coach of the Chicago Bulls, makes an appearance to discuss the 1989-90 season, which Jordan himself does later on as well, saying the Bulls could go all the way, which they almost did that year before losing to the Detroit Pistons in the Eastern Conference Finals (the famous sweep happened the following year).
There's then a Q&A session, which gets awkward for a moment when Jordan shamelessly plugs his Air Jordan shoes when answering a question about golf, but gets saved when an adorable little girl asks him why he enjoys playing basketball. There's a short segment on B.J. Armstrong and Stacey King, who were set to join the Bulls as rookies at the time, and the show ends with a clip of Jordan bowling. Yes, you read that right.
With the hair (or lack thereof), the fashion, and the live audience, it's quintessential '80s and it's absolutely horrendous in the most glorious way.
Magic Johnson hosted 'The Magic Hour' for eight weeks in 1998
A little more than two years after his final game with the Los Angeles Lakers, Magic Johnson hosted a talk show titled The Magic Hour, which began airing in syndication in June 1998, the same month Jordan played his final game with the Bulls.
Soon after the show's debut, critics torched it, saying Johnson was too nervous and too complimentary toward his guests. They also noted his lack of chemistry with his sidekick, comedian Craig Shoemaker, who was fired after a few weeks and replaced with Steve White, another comedian who appeared in five Spike Lee films.
When that relationship didn't work, White was replaced by former In Living Color cast member Tommy Davidson. Oh yeah, we certainly can't forget to mention that legendary percussionist and singer Sheila E. was the show's bandleader and musical director.
Ratings for the show were absolutely atrocious early on, at which point Magic brought in Howard Stern, who was highly critical of Johnson as a talk-show host and the program as a whole, as a guest in early July 1998. The interview was very awkward and while Stern's appearance helped ratings for a short time, the plug was pulled on The Magic Hour after about eight weeks.
Both Jordan and Johnson appeared in a Michael Jackson music video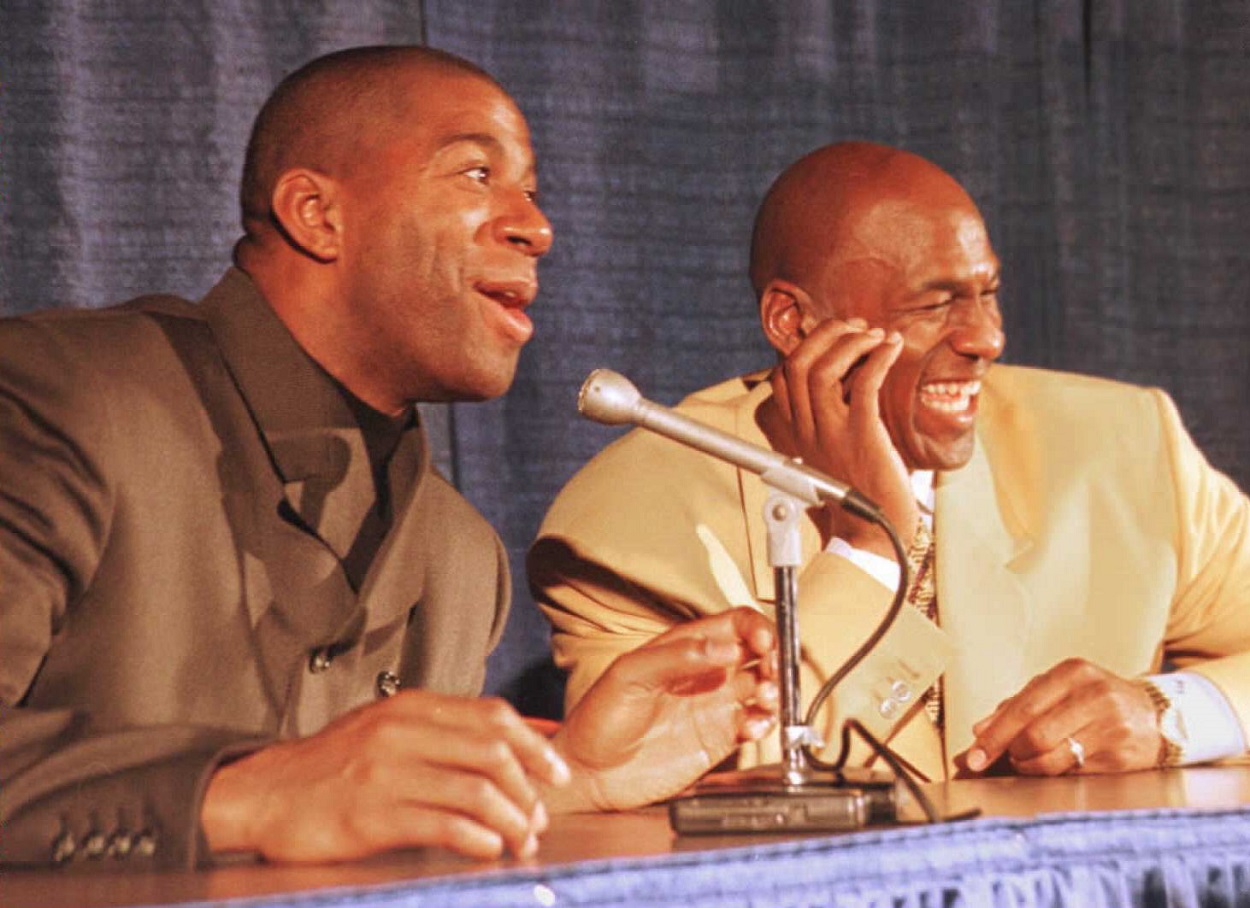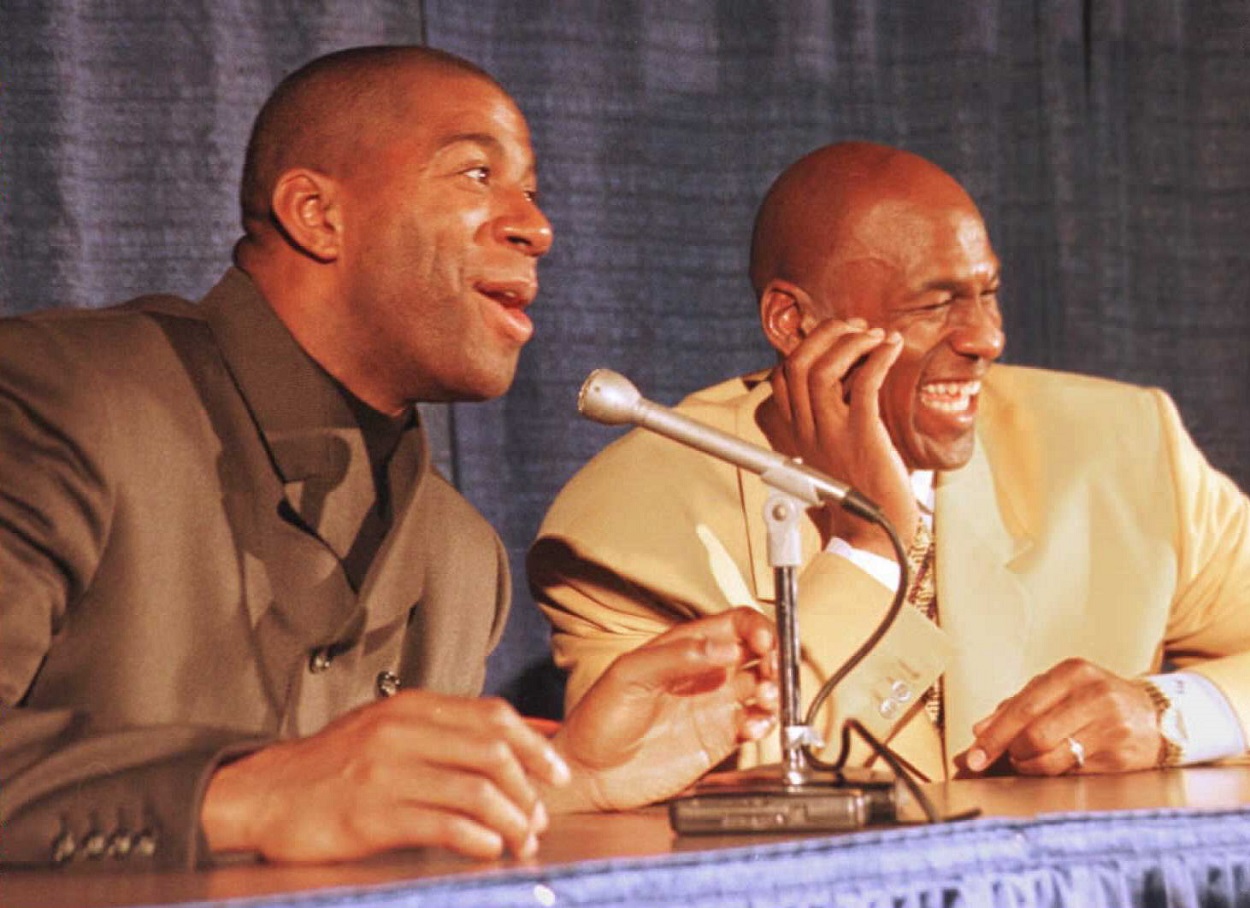 Since we're already discussing odd places in which we saw Jordan and Johnson back in the day, we might as well remind everyone that each starred in a Michael Jackson video in the early '90s as well.
Jordan had a much bigger role in his appearance as he was heavily featured in the video for "Jam," which also featured appearances from Heavy D and Kris Kross. Seriously, can you get more '90s than that? Filmed in a random warehouse in Chicago, the video saw Jordan attempting to teach Jackson to play basketball, while Jackson attempted to teach Jordan how to dance. Just pure gold with two of the biggest icons in the history of the world.
As for Magic, he had a much smaller role in his appearance in Jackson's video for "Remember the Time," where Johnson played a guard to an Egyptian Pharoah, played by Eddie Murphy. The video also stars model Iman and the late Tommy "Tiny" Lister, who played Deebo in the Friday series and also starred as Zeus alongside Hulk Hogan in No Holds Barred, a character he later brought to WWE. Again, just pure '80s and '90s at play here.
So there you have it. If you ever find yourself in a conversation involving Michael Jordan and/or Magic Johnson, throw some of these random nuggets out there to impress your friends.
Stats courtesy of Basketball Reference