The Only Unanimous NBA MVP in History Might Not Be Who You Think
Since the NBA MVP award was established ahead of the 1955-56 season, just 35 different players representing 22 franchises have won the coveted Maurice Podoloff Trophy. Of those 35, 14 have won the award on multiple occasions, led by Kareem Abdul-Jabbar, who won three each with the Milwaukee Bucks and Los Angeles Lakers. However, the league's all-time leading scorer can't say he's the only unanimous NBA MVP in history. Nor can Michael Jordan or Bill Russell, who are tied for the second-most wins with five. Nor can Wilt Chamberlain or LeBron James, who won four apiece.
So exactly who is the only unanimous NBA MVP in history? Let's not leave you in suspense.
Stephen Curry is the only unanimous NBA MVP in history
That's right, folks. Stephen Curry is the only player to win NBA MVP in unanimous fashion. A year after winning the award for the first time, Curry achieved the historic feat following the 2015-16 season, which, of course, was the year the Golden State Warriors finished with a 73-9 record, the best mark in NBA history.
Curry had an absolutely magnificent season. While joining the highly exclusive 50-40-90 club, he won his first scoring title, averaging 30.1 points per game, while also adding 6.7 assists, 5.4 rebounds, and a league-best 2.1 steals per game. Curry received all 131 first-place votes and had more than double the number of total points than the second-place vote-getter, Kawhi Leonard.
Shaquille O'Neal and LeBron James each finished one vote shy of being a unanimous NBA MVP
While Curry may be the only unanimous NBA MVP, both Shaquille O'Neal and LeBron James came very close, each falling one vote shy.
Shaq's one and only Most Valuable Player win came in 1999-00 when he led the Lakers to the first of three consecutive NBA titles. O'Neal won his second scoring title that season, averaging 29.7 points per game, while also adding 13.6 rebounds, 3.8 assists, and three blocks per game. He received 120 of 121 first-place votes with the other going to Allen Iverson, who finished seventh in the overall vote. A.I. went on to win the award the following year.
LeBron fell just short in 2012-13, his fourth and final NBA MVP win. James averaged 26.8 points, 8.0 rebounds, 7.3 assists, and 1.7 steals on the way to winning his second consecutive title with the Miami Heat. But, like Shaq, he received 120 of 121 first-place votes, the other going to the man he beat out for 2004 Rookie of the Year (but probably shouldn't have), Carmelo Anthony.
How close did Kareem, Russell, Jordan, and Wilt get?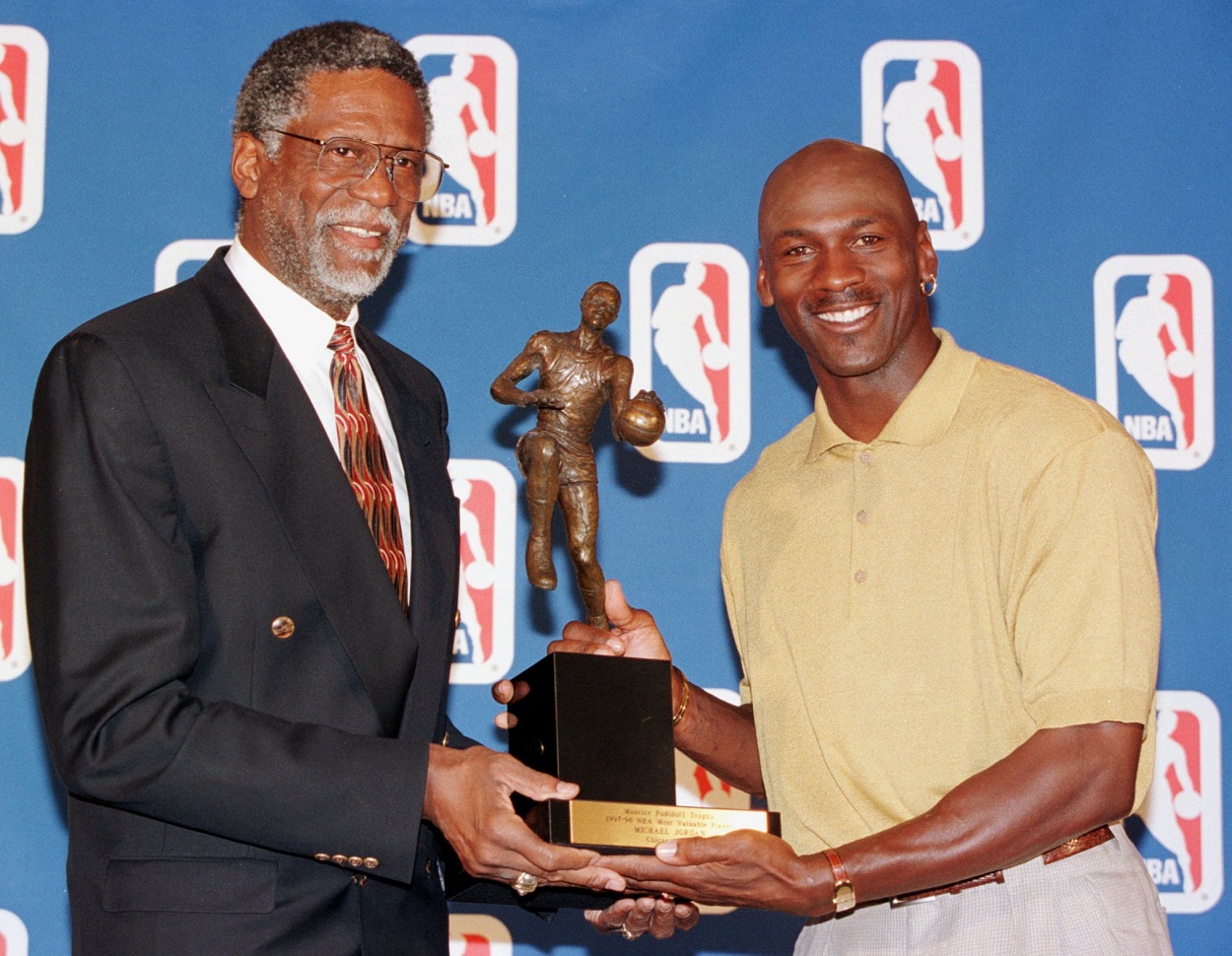 Seeing as how we brought up the five players who've won NBA MVP the most times in the opener, we figured we owed it to you to check out just how close each of them got to winning the award unanimously. We obviously know how close LeBron got so we can check him off the list.
As for Kareem, Russell, and Wilt, the issue with those three is that the voting was done by the players until the 1980-81 season and they couldn't vote for themselves or a teammate. So it was actually impossible for any of them to win unanimously. Even so, none of them failed to receive every vote but their own.
Nevertheless, we still checked it out and the closest Abdul-Jabbar came was in 1970-71, his second season in the league. He received 133 of 156 first-place votes and more than four times the number of total points than the second-place finisher, Jerry West. Russell came closest in 1961-62, while Chamberlain came closest in 1966-67.
As for Jordan, the closest he came to being a unanimous NBA MVP was the 1995-96 season in which he led the Chicago Bulls to a 72-10 record and a fourth NBA title. MJ received 109 of 113 first-place votes that year with Penny Hardaway (two), Hakeem Olajuwon, and Karl Malone also receiving votes.
Stats courtesy of Basketball Reference