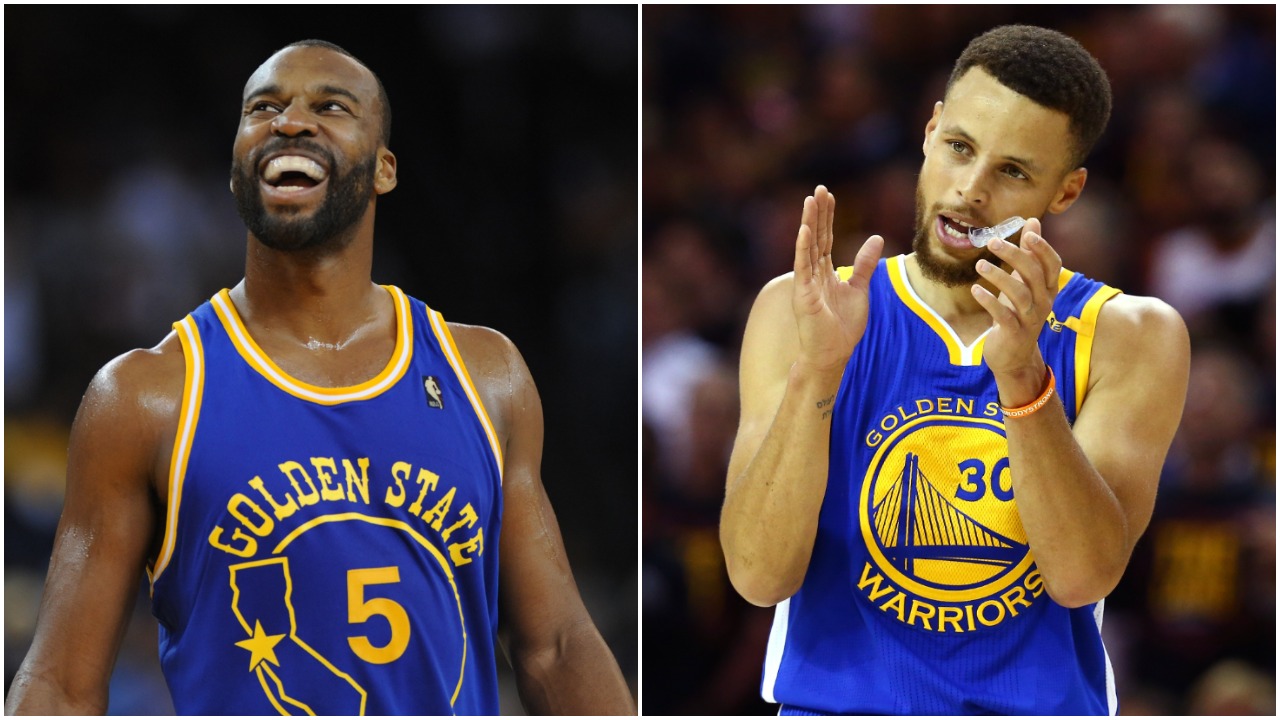 Stephen Curry Responds to Baron Davis' Absurd Claim About the 'We Believe' Golden State Warriors Challenging the Dubs' Best NBA Title-Winning Squad
Baron Davis claims his 'We Believe' Golden State Warriors could challenge the Stephen Curry and Kevin Durant-led team from 2016-2017.
It's probably safe to say that the 2016-2017 Golden State Warriors are typically seen as the best of the franchise's three NBA title-winning teams, right? For those who may have already forgotten, this particular season was Kevin Durant's first alongside the already-amazing trio of Stephen Curry, Klay Thompson, and Draymond Green.
The fantastic foursome led the Dubs to a 67-15 regular-season record (remember that 73-9 team didn't win a championship) and a 16-1 mark in the playoffs, the only postseason loss coming in the NBA Finals against LeBron James and the Cavs. The team set more than 20 NBA records on the way to winning their second title in three seasons and is often stacked up against the greatest teams in league history, such as Bill Russell's Celtics, or the Showtime Lakers, or Michael Jordan's Bulls.
However, former Golden State point guard Baron Davis believes there's another team that could give the '16-'17 Dubs a run for their money in a seven-game series, his own "We Believe" Warriors from 2006-2007. No, this is not a joke, although Stephen Curry's reaction to the two-time All-Star's comments are pretty funny.
Baron Davis and the 'We Believe' Golden State Warriors went 42-40 in 2006-2007
So, for those who may not be familiar with the 2006-2007 Golden State Warriors, here's a quick recap for you.
The season prior, the Warriors had gone 34-48 and finished last in the Pacific Division, 20 games behind the Phoenix Suns. Just about midway through the '06-'07 campaign, Golden State was 19-20 when Chris Mullin engineered an eight-player trade with the Indiana Pacers that brought Al Harrington and Stephen Jackson to play alongside Baron Davis, Jason Richardson, and Monta Ellis.
Initially, it seemed as if the trade had been a mistake as the Warriors won just seven of their next 20 games and were 26-33 heading into the month of March. And it was right around that time when the "We Believe" Warriors became a thing. Over the final 23 games of the regular season, Golden State went 16-7 and won nine of 10 to close out the year to sneak into the postseason as the No. 8 seed with a 42-40 record.
The Warriors then became just the third No. 8 seed to beat a No. 1 as they bounced the 67-15 Dallas Mavericks in the first round of the Western Conference playoffs before losing to the fourth-seeded Utah Jazz in five games.
Baron Davis says his 'We Believe' Golden State Warriors would go seven games with the 2016-2017 team led by Stephen Curry and Kevin Durant
In a recent appearance on the Dubs Talk podcast, Baron Davis discussed his "We Believe" Golden State Warriors and said that his squad would definitely give the 2016-2017 Warriors led by Stephen Curry and Kevin Durant a run for their money in a seven-game series (h/t NBC Sports Bay Area).
"It's going to go seven games.

"They got some firepower. We ain't gonna fold, though. The thing is, we're not going to try and punk them, you know what I mean? We're just going to play them hard. We're not going to bully them, but it's not gonna be like, y'all are about to blow us out. Everything is going to be mano-a-mano, a confrontation, and hold your man."

Baron Davis
Davis went on to say that he feels his squad was "more athletic" and "scrappier" than the '16-'17 team and really likes the Al Harrington vs. Draymond Green matchup for his side while also saying he likes himself "posting up anybody on that team."
But Davis just doesn't want to just continue talking about it. At some point, he'd actually like the matchup to take place, saying that if his side won, then every player on his team gets a 10-day contract. And given his tone, it really sounded as if he meant all of it, to which Curry had a hilarious reaction.
Stephen Curry's reaction was on point (and quite hilarious)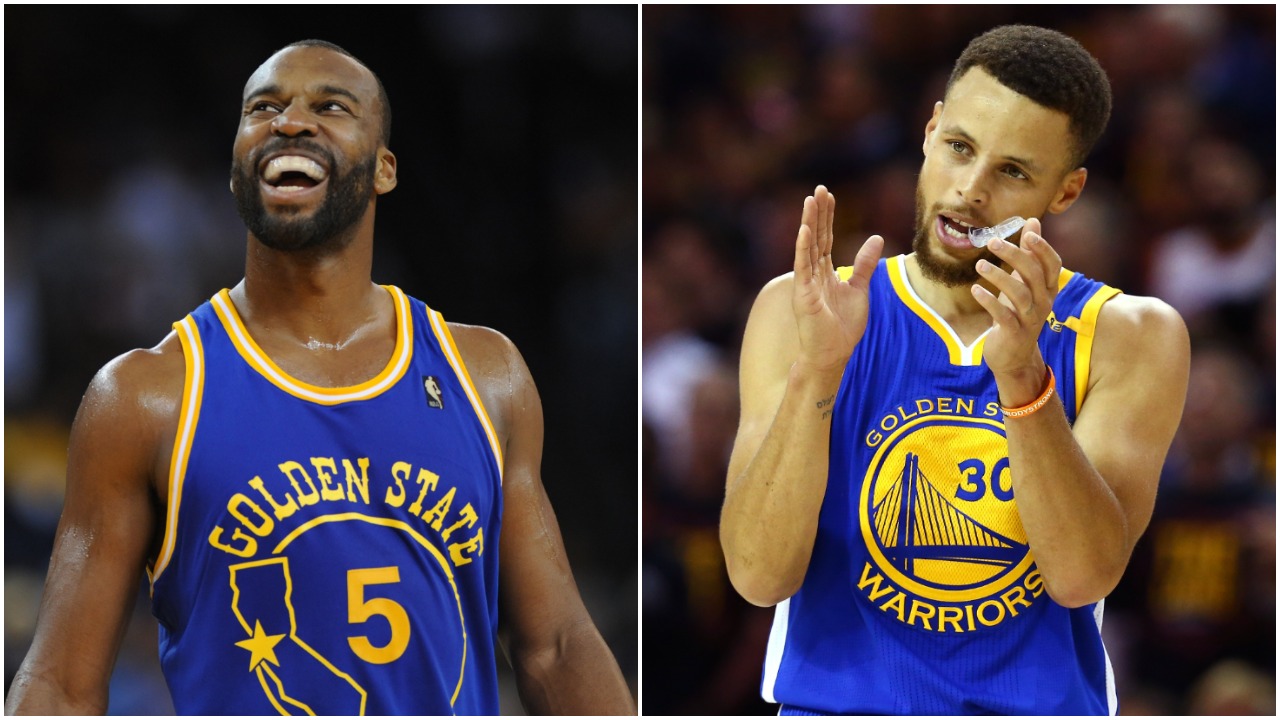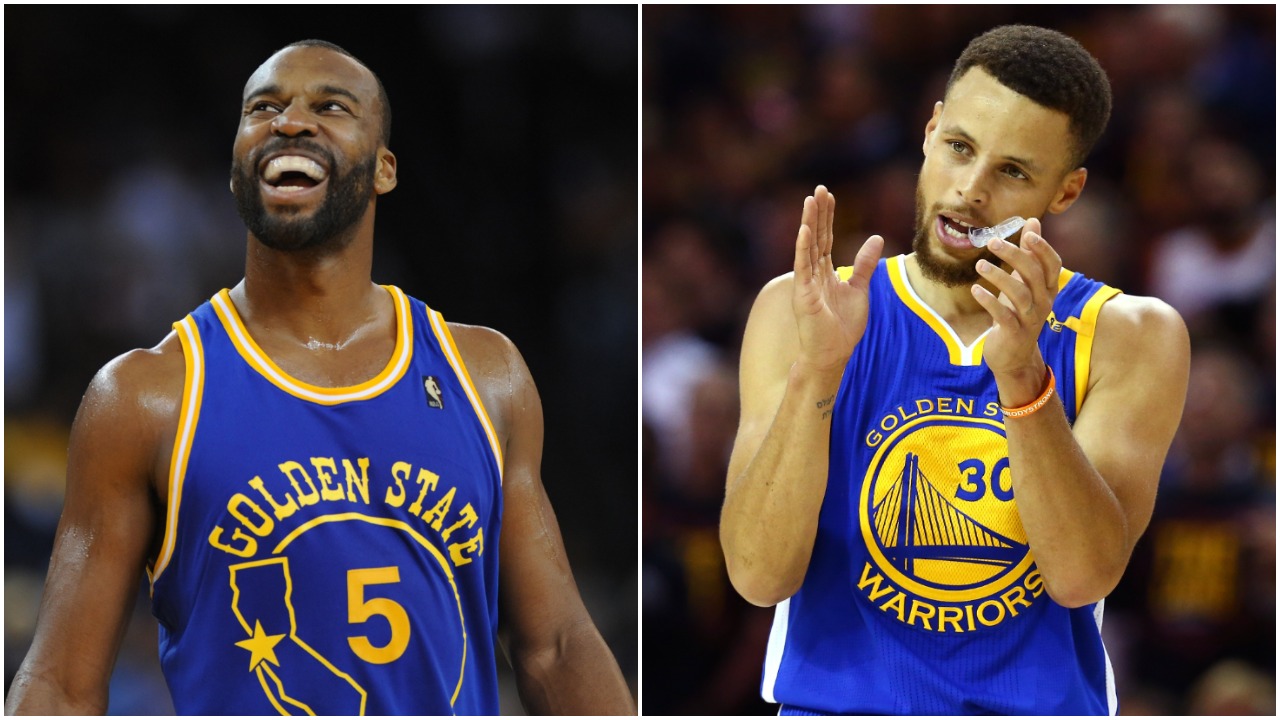 It didn't take long for Stephen Curry to react to Baron Davis' extremely bold take. Through The Athletic's Marcus Thompson, the two-time NBA MVP had this to say on the matter:
"I expect nothing less from BD … BD was nice. Don't get me wrong. BD was nice. But he probably wouldn't be a good GM if he thinks that."

Stephen Curry
To be fair, Davis never said that the "We Believe" Golden State Warriors would actually beat the '16-'17 squad, only that a series between the two teams would go seven games. He fully admitted that Kevin Durant would be a problem but to even suggest that his squad could go seven with that title-winning team is straight up delusional.
As mentioned earlier, the '06-'07 Warriors lost to the Utah Jazz in five games that season. Do you know who the leading scorer for Utah was in that series? Carlos Boozer. With no offense to Boozer, who was a two-time All-Star, he's not Curry, Durant, or Klay Thompson on the offensive end and he's certainly not Draymond Green on the defensive end. And the other top scorers on that Jazz team that beat the "We Believe" Warriors? Mehmet Okur, Deron Williams, and Andrei Kirilenko. Good players, yes. Future Hall of Famers? Absolutely not.
Sorry, Baron. While I'm really not into comparing teams from different eras, this is an quick four-game sweep for the '16-'17 Warriors.
Stats courtesy of Basketball Reference