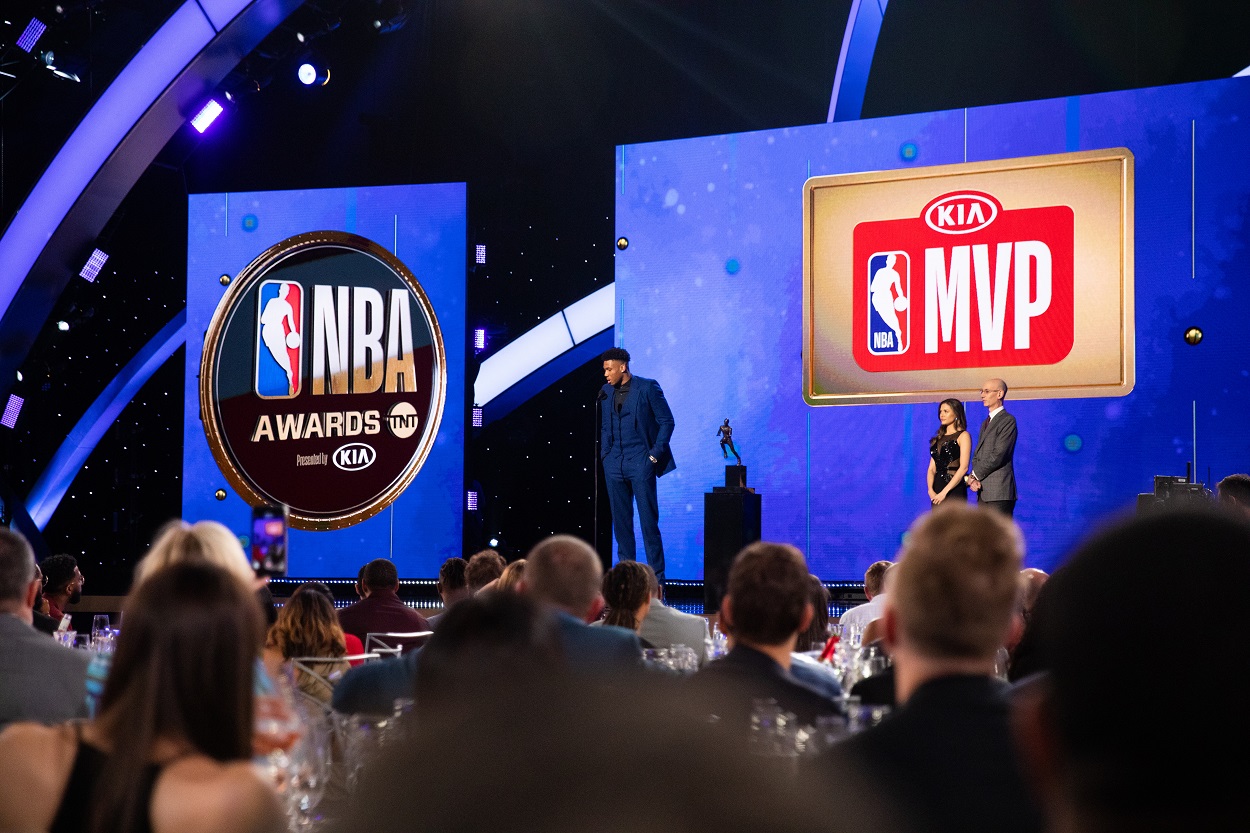 How Many Foreign-Born Players Have Won NBA MVP?
A look at the group of foreign-born players to win NBA MVP.
Since the NBA was founded in 1946, nearly 5,000 different players have stepped foot on the court during at least one game. Of those, just 35 have been named NBA MVP and of those 35, six have been born outside the United States. The latest addition to that elite list of international superstars, of course, is Denver Nuggets big man Nikola Jokic, the Serbian center who now holds his own spot in NBA history as the lowest draft pick (No. 41) to win the coveted award.
And who are the other five? Let's take a look.
Hakeem Olajuwon (1993-94)
Nigerian-born Hakeem Olajuwon, the first overall pick in the famed 1984 NBA draft, became the first international player to win NBA MVP as he established himself as the most dominant two-way player in the league in 1993-94, also winning Defensive Player of the Year. In 80 regular-season games for the Houston Rockets that season, Olajuwon shot 52.8% from the floor and averaged 27.3 points, 11.9 rebounds, 3.6 assists, 3.7 blocks, and 1.6 steals. He took 66 of 101 first-place votes and beat out the likes of David Robinson, Scottie Pippen, Shaquille O'Neal, and Patrick Ewing, the last of whom he defeated in the NBA Finals as the Rockets won the first of two consecutive championships. Olajuwon was named NBA Finals MVP as well.
Tim Duncan (2001-02, 2002-03)
Tim Duncan is a tricky entry on the list as he was born in the U.S. Virgin Islands. But seeing as he's classified as an "international player" by the NBA as he was born in a U.S. territory and not one of the 50 states, we're including him here. Duncan, arguably the greatest power forward in league history, won his first NBA MVP following the 2001-02 season, a campaign in which he averaged 25.5 points, 12.7 rebounds, 3.7 assists, and 2.5 blocks in 82 games for the San Antonio Spurs. "The Big Fundamental" took the award again the following season, averaging 23.3 points, 12.9 rebounds, 3.9 assists, and 2.9 blocks on the way to winning both his second NBA title and second NBA Finals MVP.
Steve Nash (2004-05, 2005-06)
Canada's Steve Nash was the second foreign-born player to win multiple NBA MVP trophies and, like Duncan, did so in back-to-back fashion in 2004-05 and 2005-06. The '04-'05 campaign was Nash's first back with the Phoenix Suns after playing six seasons with the Dallas Mavericks and the current Brooklyn Nets head coach had a brilliant season, averaging 15.5 points, a league-leading 11.5 assists, 3.3 rebounds, and one steal in 75 games. In an extremely close vote, Nash just beat out Shaq, earning 1,066 total points and 65 of 127 first-place votes, while O'Neal took 58 first-place votes and 1,032 total points.
The '05-'06 vote wasn't nearly as close as Nash easily beat out the likes of LeBron James, Dirk Nowitzki, Kobe Bryant, and Chauncey Billups after averaging 18.8 points, a league-best 10.5 assists, and 4.2 rebounds.
Dirk Nowitzki (2006-07)
After winning back-to-back NBA MVP awards, Nash took a run at a third in 2006-07 but came up short in losing to his former Mavericks teammate, Dirk Nowitzki. The German-born superstar, who later won an NBA title, an NBA Finals MVP, and has scored the sixth-most points in NBA history averaged 24.6 points, 8.9 rebounds, and 3.4 assists that season. Nowitzki received 83 of 129 first-place votes and finished with 1,138 total points while Nash received 44 first-place votes and finished with 1,013 total points.
Giannis Antetokounmpo (2018-19, 2019-20)
It took a few years for Giannis Antetokounmpo to find his stride in the NBA, but once the "Greek Freak" got going, he took off something fierce and became the fifth international player to win NBA MVP and the third to do so in back-to-back seasons. In leading the Milwaukee Bucks to their first 60-win season in nearly four decades in 2018-19, Antetokounmpo averaged 27.7 points, 12.5 rebounds, 5.9 assists, 1.5 blocks, and 1.3 steals in 72 games. In the COVID-delayed 2019-20 season, Giannis was somehow even better, averaging 29.5 points, 13.6 rebounds, 5.6 assists, one block, and one steal.
Nikola Jokic (2020-21)
After finishing fourth in the voting in 2018-19 and ninth in 2019-20, Serbia's Nikola Jokic can now call himself an NBA MVP after a fantastic 2020-21 campaign with the Nuggets. Denver struggled with injuries throughout the season but Jokic kept the team afloat and helped his squad to a 47-25 record in the shortened season, good for third-best in a competitive Western Conference. Jokic played all 72 games for the Nuggets and averaged 26.4 points, 10.8 rebounds, 8.3 assists, and 1.3 steals, and beat out Stephen Curry and Joel Embiid.
Stats courtesy of Basketball Reference