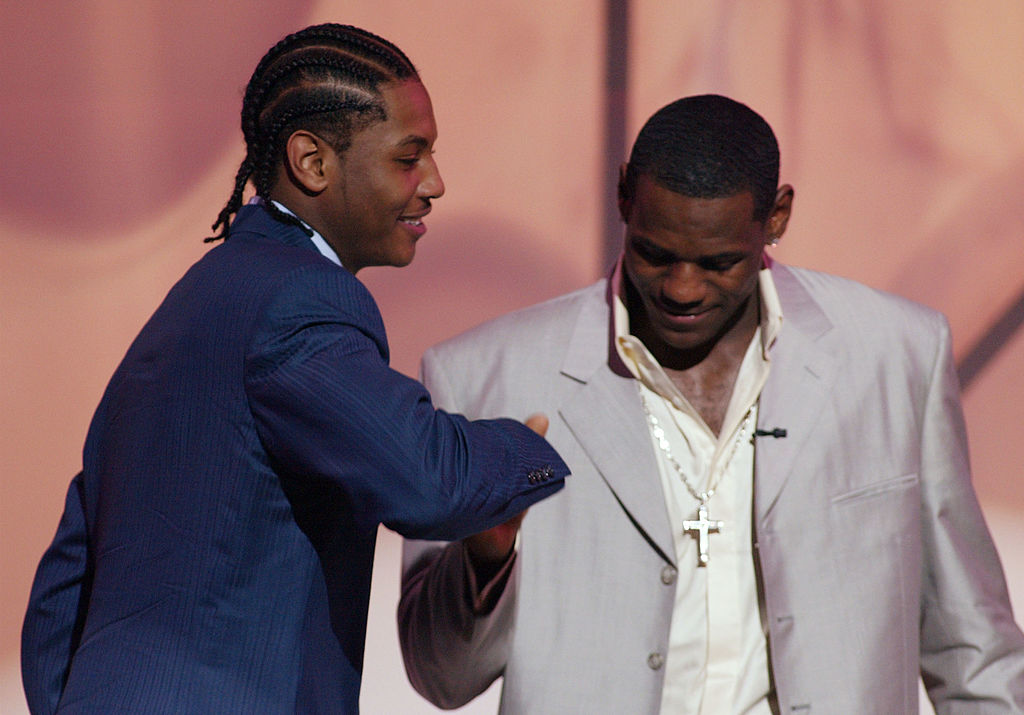 Why Carmelo Anthony Should Have Beaten LeBron James for NBA Rookie of the Year in 2004
A look back on why Carmelo Anthony should have won the 2004 NBA Rookie of the Year award over LeBron James.
The 2003 NBA draft featured one of the best classes in recent memory, at least at the top. Unsurprisingly, LeBron James was selected first overall by the Cleveland Cavaliers, becoming just the second high school player in history to be taken with the top pick. The Detroit Pistons made one of the biggest draft mistakes of all time by taking Darko Milicic at No. 2 but the next three picks all became NBA All-Star selections. The Denver Nuggets selected Carmelo Anthony with the third pick. The Toronto Raptors selected Chris Bosh at No. 4 and the Miami Heat took Dwyane Wade at No. 5.
Outside of Milicic, everyone taken in the top five of that famed draft made an immediate impact in the NBA and went on to have great careers, two of which are still ongoing in LeBron and Carmelo, who finished 1-2 in the 2004 Rookie of the Year vote. But something still just doesn't sit right about that result after all of these years.
LeBron James had a phenomenal rookie season
LeBron James entered the NBA in 2003 with so much hype surrounding him. He had been on the cover of "Sports Illustrated" while still in high school so there was certainly plenty of pressure on him to perform at a high level. The Cleveland Cavaliers were coming off a 17-65 season in 2002-2003, the franchise's worst campaign since the team's first year in the league in which they went 15-67. LeBron was supposed to be the savior and he lived up to all expectations.
James averaged 20.9 points, 5.9 assists, and 5.5 rebounds, becoming just the third rookie in NBA history to post a 20-5-5 line, joining Oscar Robertson and Michael Jordan. He won Eastern Conference Rookie of the Month every month during the season and would go on to win NBA Rookie of the Year. He led the Cavs to a 35-47 record, a 20-game improvement from the previous season, but it wasn't good enough for a postseason berth as Cleveland finished ninth in the East.
Carmelo Anthony had a nice rookie season of his own
Carmelo Anthony entered the NBA after one season at Syracuse, a season in which he just happened to win a national championship. He joined a dreadful Denver Nuggets squad that had also gone 17-65 in 2002-2003. Denver hadn't been to the postseason since 1995 when Carmelo joined the team but he would take of that rather quickly.
Some people forget how good Anthony was that season. He became the second-youngest player, behind only Kobe Bryant, since the NBA-ABA merger to score 30 points in a game. He was the third-youngest to reach 1,000 career points. He averaged 21.0 points per game that season and added 6.1 rebounds and 2.8 assists. He won Western Conference Rookie of the Month every month during the season and actually did something that LeBron James didn't do: he led his team to the postseason. The Nuggets were 25 games better than they were the previous year, going 42-40 to earn the eighth seed in a very tough Western Conference.
Carmelo Anthony should have beaten LeBron James for 2004 NBA Rookie of the Year
So let's take a real look at this. Both LeBron James and Carmelo Anthony had great rookie campaigns in 2003-2004. Both won Rookie of the Month in their respective conferences every month during the season. But Carmelo led his team to the playoffs. LeBron did not. But that's not the only thing Anthony did better than James that year.
The scoring average is really close but Anthony wins there as well with 21.0 points per game to James' 20.9. So you could essentially call that a wash, although Carmelo actually averaged more points and played three fewer minutes per game. Anthony also averaged more rebounds than LeBron, 6.1 to 5.5. LeBron did have the clear edge in assists, 5.9 to 2.8, but that was a natural part of his game as more of a point forward.
As far as shooting efficiency is concerned, it's all Carmelo Anthony. He shot 42.6% from the floor. LeBron James shot 41.7%. Anthony shot 32.2% from beyond the arc. James shot 29.0%. Carmelo shot 77.7% from the free-throw line. James shot 75.4%. Carmelo finished the season with an offensive rating of 102 and a defensive rating of 105. LeBron had an offensive rating of 99 and a defensive rating of 104. Carmelo's win share was 6.1. LeBron's was 5.1. And, again, Carmelo's team made the playoffs. LeBron's did not. But LeBron still managed to win the Rookie of the Year, earning 78 of the 118 first-place votes and 508 points overall. Carmelo took the other 40 first-place votes and finished with 430 overall points.
It's true that LeBron James has had the better overall career. He has three NBA titles to Carmelo Anthony's zero. He had four NBA MVP awards to Anthony's zero. LeBron has racked up numerous awards throughout his career and has to be in the conversation as one of the best to ever play the game. But he shouldn't have won the Rookie of the Year. At the very least, the two should have shared the award as Grant Hill and Jason Kidd did in 1995 or Elton Brand and Steve Francis did in 2000. But I still think Carmelo Anthony deserved it on his own.