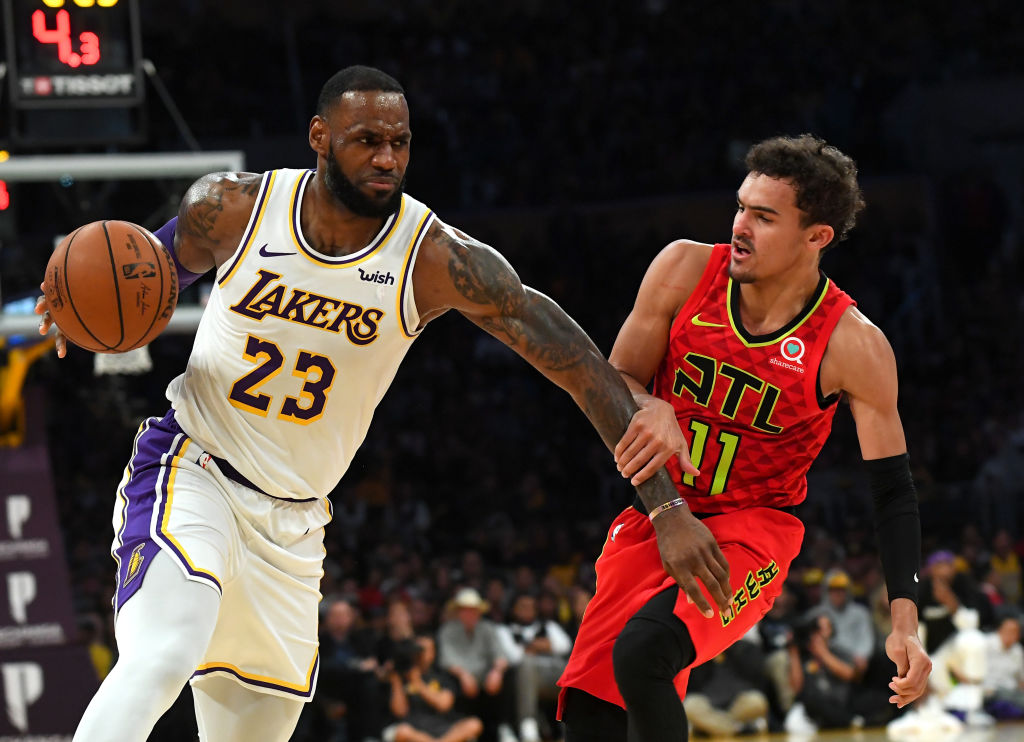 How LeBron James Has Been Dominating the NBA's Young Stars This Season
How Los Angeles Lakers star LeBron James has been dominating the NBA's next generation of stars during the 2019-20 season.
LeBron James isn't quite ready to pass the torch to the next generation of NBA superstars.
James is in his 17th NBA campaign and is having one of the best overall seasons of his storied career. He's averaging more than 25 points per game, pulling in close to eight rebounds per night, and is averaging double-digit assists for the first time in his career, leading the league at 10.6. LeBron has the Los Angeles Lakers sitting in the top spot in the Western Conference and is eyeing a fourth NBA championship.
With Anthony Davis by his side, LeBron knows he doesn't have to be the man every single night. Davis is actually averaging more points than LeBron this season at 26.4 and is pulling in close to 10 boards a night as well. But when it's time to suit up against someone that's hailed as one of the future stars of the game, The King seems to make it a point to have one of his best games of the season.
Here's a look at how LeBron James has fared against some of the NBA's young guns.
LeBron James drops 40 on Zion
In LeBron's first-ever matchup with New Orleans Pelicans rookie Zion Williamson on February 25, James dropped a season-high 40 points in the Lakers' 118-109 win. He shot 63 percent from the floor, hitting 17 of 27 shots, including five of 11 from the three-point line. He also pulled in eight rebounds and dished out six assists. Zion did have a nice game himself with 29 points but it wasn't enough to outduel King James.
LeBron vs. Luka
Luka Doncic is rapidly becoming one of the best players in the NBA. With averages of 28.6 points, 9.4 rebounds, and 8.8 assists per game, Doncic has proved that he's one of the best all-around players in the league. However, LeBron James has had two of the best games of the season against Luka and the Dallas Mavericks.
In one of the most entertaining matchups in the early part of this NBA season, LeBron and Luka battled back and forth on November 1 in Dallas, eventually turning into a 119-110 overtime win for LA. While Luka was great with 31 points, 15 assists, and 13 rebounds, LeBron was somehow even better. James put up 39 points (his second-highest total to date this season), dished out 16 assists, and grabbed 12 boards. This began a stretch of four out of five games in which LeBron nabbed a triple-double, including one against 25-year-old All-Star Pascal Siakam and the defending champion Toronto Raptors.
In a January game against Luka and the Mavs, LeBron had another great outing. In the Lakers' 129-114 victory, James had 35 points, 16 rebounds, and seven assists. Again, Doncic was stellar with 25 points, 10 boards, and seven dimes of his own. But, also again, it wasn't enough to keep up with The King.
LeBron James vs. Trae Young
While the Atlanta Hawks still have a long way to go before being competitive in the Eastern Conference, they still have one of the game's most entertaining young superstars in Trae Young. Young, who just turned 21 this past September, is third in the NBA in scoring at just under 30 points per game and is second in the league in assists, trailing only LeBron James. Young has been fantastic in his two games against the Lakers this season. And yet again, LeBron made sure he was just a little bit better.
In their first matchup on November 17, Young put up 31 points on 50 percent shooting. LeBron put up 33, shooting 61.9 percent from the floor, including a 6-for-10 mark from beyond the arc. James also added 12 assists and seven rebounds.
In the second and final matchup of the year between the Hawks and Lakers on December 15, Young was once again very impressive, putting up 30 points. LeBron answered with 32, also adding 13 rebounds and seven assists in a 101-96 Lakers win.
It just keeps going that way. In two games this season against Nikola Jokic and the Nuggets (James sat out a game against Denver in December), LeBron has averaged 28.5 points, 11.5 assists, and nine rebounds, all higher than his current season averages. He also dropped 32 on Donovan Mitchell and the Jazz early in the year to send a message.
Yes, at some point players like Zion and Luka and Trae will be a few of the faces of the NBA. LeBron James is just making sure that time hasn't come just yet.