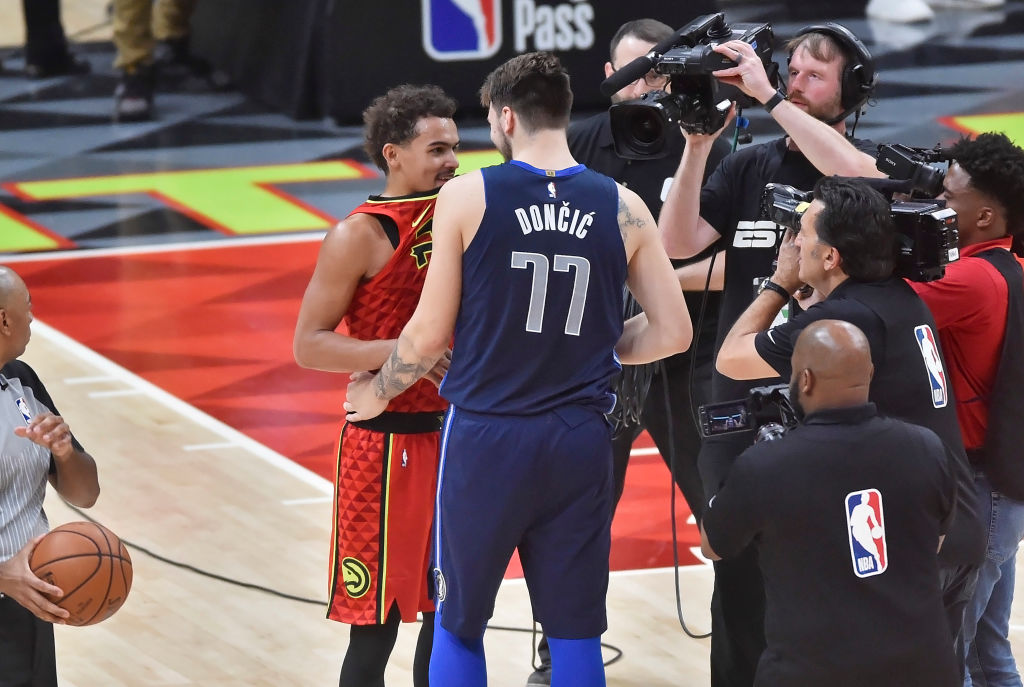 Why Did the Atlanta Hawks Trade Luka Doncic to Dallas?
Luka Doncic has become a major NBA star. So why did the Atlanta Hawks send him to the Dallas Mavericks in a draft day trade?
In the sports world, one side generally comes out ahead in a deal. The Dallas Mavericks-Atlanta Hawks draft-day trade in 2018, however, seems like a win-win. The two clubs, of course, swapped Luka Doncic and Trae Young; while the Slovenian arrived as more of a finished product, both players seem to be legitimate talents.
No matter how well Trae Young is playing, though, it's hard not to imagine what Luka Doncic could have done in Atlanta. What motivated the Hawks to make that fateful trade?
Luka Doncic's road to the NBA
These days, Luka Doncic is one of the NBA's rising stars. His basketball career, however, started across the Atlantic.
Doncic grew up in Slovenia, playing both basketball and soccer. As he continued to grow, though, his height became an impediment; eventually, he was too tall for football and started spending more and more time on the hardwood. At age eight, he joined his local club, Union Olpimija, and promptly made a splash. Before long, he was bumped up an age group and started practicing with older players; Doncic needed to rely on his mind as much as his physical skills to succeed.
After five years with Union Olpimija, Doncic left Slovenia to join Real Madrid. He continued playing above his age-group with the Spanish giants making his senior debut as a 16-year-old; before long, he was staring in both the Liga ACB and the EuroLeague.
After taking home 2017 EuroLeague MVP honors in a championship-winning campaign, Doncic decided that he was ready for a new challenge. He headed to North America, entering the 2018 NBA draft.
Why did the Atlanta Hawks trade Luka Doncic?
On draft day in 2018, the Atlanta Hawks selected Luka Doncic. They then sent the young Slovenian to Dallas in exchange for Trae Young and a 2019 first-round pick. But what persuaded the club to send a potential franchise player packing?
Apparently, it all came down to the franchise's big board. According to general manager Travis Schlenk, the Hawks would have been happy with several prospects; since they weren't married to a specific player, getting Young and an extra pick seemed like a no-brainer.
On a 2019 episode of Adrian Wojnarowski's "The Woj Pod," Schlenk explained that the Hawks were getting ready to select Doncic for themselves when the Mavs came calling. "Not a lot of people know this: if we would've stayed at three, we would've taken Luka," he said. "But then Dallas came in an hour or so before the draft. I had told them all along that it would take another lottery pick for us to slide back. That's when the conversations got started."
"I've always taken the strategy with the draft, to use a baseball strategy: the more swings you get, the more chances you have to get a hit," the general manager continued. "To be able to take one lottery pick and essentially turn it into two, that made sense to us."
The trade isn't as one-sided as it once seemed
Luka Doncic's record-breaking performances might get most of the headlines, but the Atlanta Hawks won't be losing too much sleep. While they could have had the star Slovenian on their roster, Trae Young is developing into a franchise player.
This season, Young has averaged 29.3 points, 9 assists, and 4.6 rebounds per outing; Doncic has posted 28.8 points, 8.7 assists, and 9.5 rebounds a night, despite missing a few games due to injury. The Mavericks' man might have taken home Rookie of the Year honors last season, but both players are producing at a similar level. It's also worth noting that the Hawks eventually selected Cam Reddish with Dallas' 2019 pick; while his game hasn't clicked yet at the professional level, he seems to have all the physical tools for success.
On the surface, it might seem like a bizarre decision to trade Luka Doncic, but this isn't a Sam Bowie situation. Even if the Slovenian has a better career, the Atlanta Hawks won't be complaining about Trae Young.