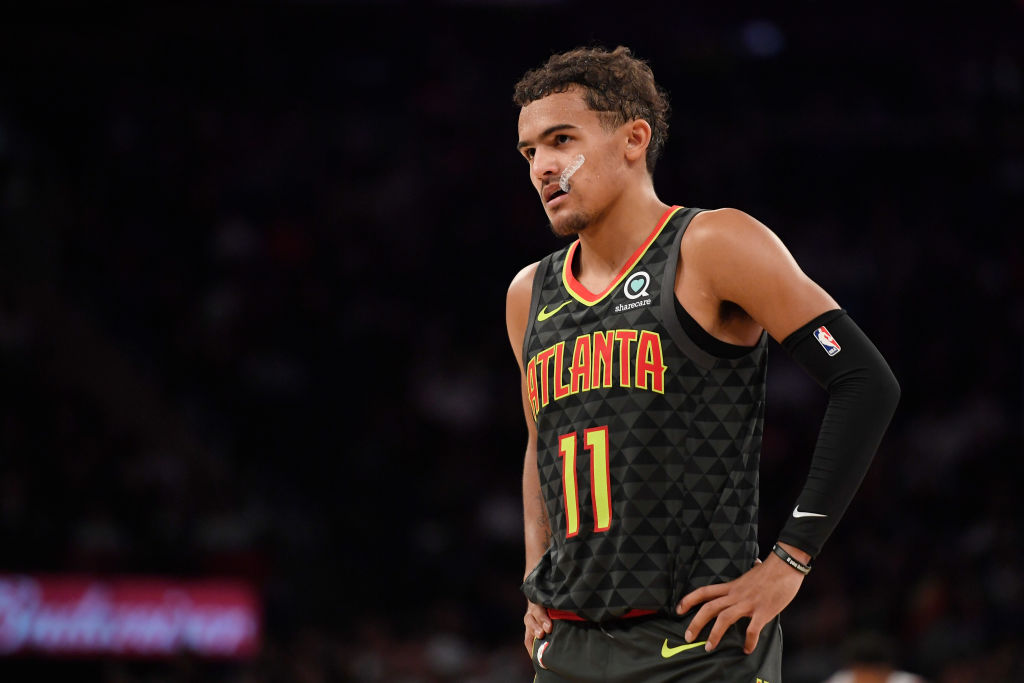 2 Things Trae Young Learned From NBA Legend Steve Nash
Trae Young and the Atlanta Hawks are off to a good start this season. How much of Young's early season success is linked to training with Steve Nash?
Atlanta Hawks star guard Trae Young is quickly becoming one of the most popular players to watch in the league. After the Hawks pulled off the trade for him, many thought it was a huge mistake, passing on Luka Doncic.
The team looks to have made an excellent deal and have arguably the best young point guard in the NBA today. This offseason Young has been working out with Hall-of-Famer Steve Nash. 
Today we will discuss Young's time training with Nash and what to expect from him during his sophomore year.
Trae Young's rookie season
As a rookie, Young averaged 19 points and eight assists per game. He finished second in Rookie of the Year voting and shot over 32% from behind the arc. His season got off to a slow start, but things really started to click for Young after the All-Star break. 
He went on to average over 25 points and nine assists per game after the mid-season break, and Atlanta looked like they had a star in the making.
Steve Nash entering the Hall-of-Fame
When the Phoenix Suns drafted Steve Nash out of Santa Clara, they didn't know the league was looking at a future superstar. Nash's early seasons in Phoenix saw him put up near double-digits points, but it wasn't until he got to Dallas and teamed up with Dirk Nowitzki that his career really started to take off.
Along with Michael Finley, the duo made Dallas one of the league's most exciting teams. During his time in the Lone Star state, he averaged 14 points and seven assists per game. 
He would leave the Mavs and head back to Phoenix, where he would become a two-time MVP for the Suns. He retired in 2014 and made eight All-Star teams and seven All-NBA teams.
Linking up
The two were introduced through Atlanta Hawks coach Lloyd Pierce, who played with Nash at Santa Clara. During their time together, the two mainly worked on Young's mid-range game, as Nash was a career 48% shooter from the 10 ft to 16 ft range. 
They also worked on conditioning and court vision, with Young looking to hit double-digit assists in 2019. Combining better vision with a better mid-range game could be deadly for Trae Young.
How good will Trae Young be in his second year?
Can Trae Young keep his momentum going after finishing his rookie season red hot? We think he has the potential to be a 20-10 player, while improving his 3-point shooting and overall shot selection.
Already given a green light from anywhere behind the arc, if Young can put together a formidable mid-range game similar to Nash's, it could lead to big things for the Atlanta Hawks.
Can Atlanta make the playoffs?
This is a tricky question for a few reasons. The Hawks do have one of the brightest young players in the league in Young but also hit home runs with another first-round pick with Kevin Huerter.
Improving his court vision and conditioning will only help out Young's teammates as well. This team could make the playoffs with a No. 7 or No. 8 seed, as we think the Charlotte Hornets and Orlando Magic will both be on the outside looking in once April rolls around.
Do you think Steve Nash's tips will help?
Are you expecting Trae Young to put up great numbers during his second season? The Hawks will be one of the more exciting teams to watch in 2019-20, and may even have a shot at the playoffs. If you want more news and notes from around the league be sure to check out our NBA section.