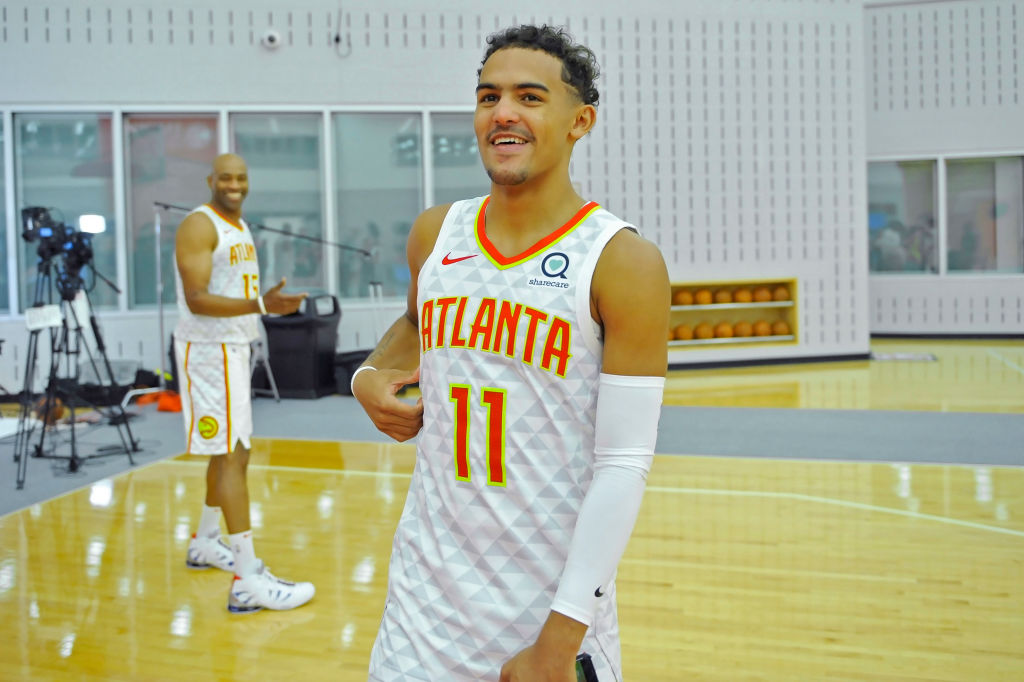 NBA: 7 Teams That Could Surprise Us This Season
The 2019-20 NBA season looks like it could be one for the ages, as there are a number of teams that will compete for an NBA championship.
The 2019-20 NBA season looks like it could be one for the ages, as there are a number of teams in a position to compete for an NBA championship. Both teams in Los Angeles look like heavy favorites, and the Milwaukee Bucks are still the team to beat in the East. But what about the teams outside of the top five? Let's look at seven teams that could surprise fans.
1. Atlanta Hawks
Another former rookie from what's becoming an excellent 2018 draft class, Trae Young is the franchise player for the Atlanta Hawks. He has the deep range to keep defenders in front of him once he crosses the half-court mark. After the All-Star break, he averaged 25 points and nine assists per game. Expect Young to keep that momentum as Atlanta fights for a playoff spot.
2. Dallas Mavericks
The Mavericks lose Dirk Nowitzki to retirement but replace him with a fully rehabbed Kristaps Porzingis. A tandem of Porzingis and reigning Rookie of the Year Luka Doncic could make Dallas a trendy pick to make the playoffs in a stacked Western Conference. At the least, both players will flirt with All-Star berths. We expect Dallas to be in the top 10 in scoring this year.
3. Brooklyn Nets
Even without Kevin Durant in the fold, the Nets should still be a playoff team in a weaker Eastern Conference. Why are they a surprise here? Let's go out on a limb and say they will finish with the third-best record in the conference. We expect Kyrie Irving to learn from his mistakes in Boston and be the leader this team needs.
4. Oklahoma City Thunder
Will the Thunder make the playoffs next season? It's not out of the realm of possibility. Shae Gilgeous-Alexander and Chris Paul make a good backcourt tandem, and Steven Adams is still tough in the middle. They may fight for just a No. 8 seed, but OKC missing the playoffs would be a big surprise.
5. San Antonio Spurs
The Spurs were a game away from upsetting the No. 2 seed Denver Nuggets last year, forcing them to seven games. This year, the team is pretty much intact, with DeMar DeRozan entering his second year in head coach Gregg Popovich's system. San Antonio is always overlooked in times like these. This is why we think they'll finish in the Western Conference's top six.
6. Houston Rockets
The Rockets now boast two former MVPs in the backcourt. After finishing second in MVP voting last season, James Harden would love to win the award while teaming up with former Oklahoma City Thunder teammate Russell Westbrook.
Westbrook was traded during the offseason and is coming off of his third consecutive season averaging a triple-double. When you have Harden and Westbrook in the backcourt, along with PJ Tucker and Clint Capela, this could be Houston's last chance to make the NBA Finals.
7. Denver Nuggets
The Nuggets were pushed to the brink in their first-round series against the Spurs, but Jamal Murray and Nikola Jokic will be playoff-tested this season. We won't go as far as to say they will be a top-two seed again. But few players in the league can counteract Jokic when he's in the zone.
Denver should still get home-court advantage in the first round. We expect them to make another run at the Western Conference Finals.