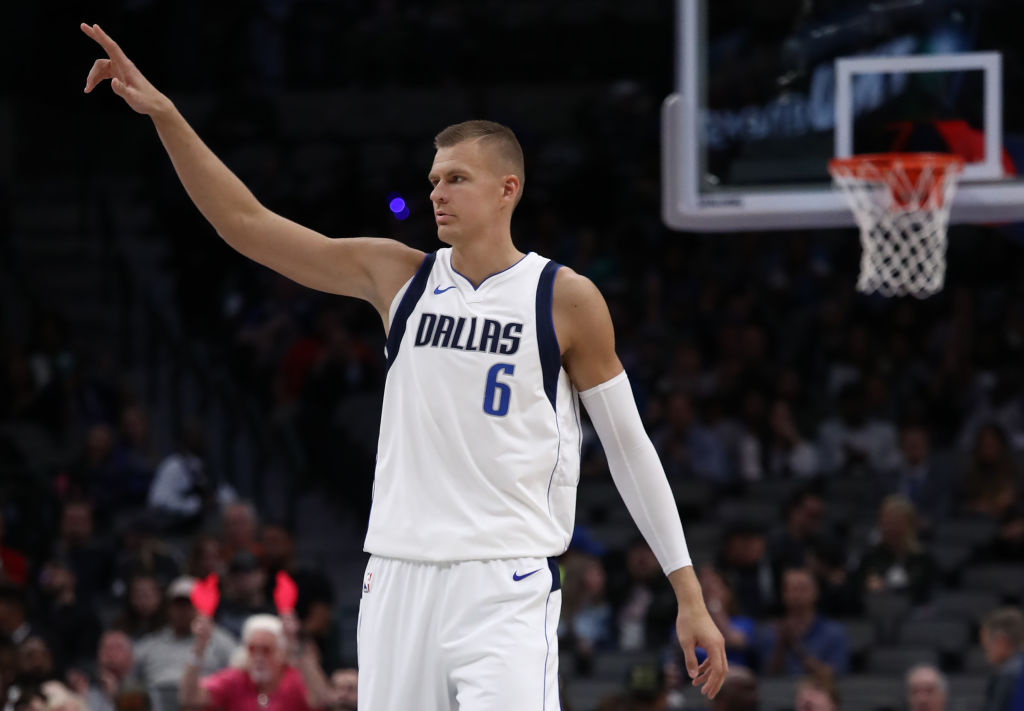 Kristaps Porzingis and Luka Doncic Could Be the Most Underrated Duo in the NBA
Kristaps Porzingis and Luka Doncic are playing in a loaded Western Conference. But the two have a chance to solidify themselves as stars this year.
We all know how stacked the Western Conference became after the start of the offseason. The Dallas Mavericks haven't gotten much love outside of the Lone Star State, but we think the pairing of Luka Doncic and Kristaps Porzingis could turn into something special.
Today we will look at both players and explain how they can become the next great duo the league will have to learn to stop.
Kristaps Porzingis resigning with the Mavericks
When the Mavs traded for Porzingis, there was a lot of skepticism thrown out by major media outlets. The last time we saw Porzingis on a court was during the 2017-18 season, and the landscape of the league hadn't completely changed.
Dallas throwing a max-deal his way showed that the team believes he can come back completely healthy from his torn ACL injury, and they expect him to return to his 23-10 form before he went down.
Is Luka Doncic becoming an All-NBA talent?
When Luka Doncic didn't make the All-Star team as a rookie, we were genuinely surprised. At that point, he was putting up 21-7-7 and looked like he was becoming one of the best young combo guards the game had seen. His ability to make plays with the ball in his hands while also growing into a leader made him must-watch TV on a nightly basis.
This season we only expect Doncic to get even better, and if he works on efficient shooting (42% from the field), as his mid-range game could use some work. If he stays healthy again this season, it wouldn't surprise us to see him put up 25-9-9 with Porzingis helping him on both ends of the floor.
How will Kristaps Porzingis and Luka Doncic mesh on the court?
This pairing could be the next version of Dirk Nowitzki and Jason Kidd, as the two turned Dallas into a championship winner during their time together from 2007 to 2012. Doncic has a lot of attributes similar to Kidd, with his sneaky athleticism and amazing court vision.
Porzingis also replicates a lot of what Dirk can do on the court, and even at 7'3, he has the ability to know down 3-pointers with ease. On the defensive end of the floor, he can also be a very capable shot blocker, and it won't surprise us to see him average over two blocks per game this year.
Playing in the West
There will be a lot of issues for the Western Conference as a healthy Porzingis should wreak havoc in the paint. On potentially excellent matchup will be a Mavs vs Clippers showdown with Kawhi Leonard and Paul George trying to slow down the pick and roll Doncic and Porzingis will offer up to teams. 
Facing off against the Warriors and Draymond Green four times a year will also be an excellent barometer on how good the Mavs can do this season.
How far can the Dallas Mavericks go?
Is Dallas a championship contender? Not yet, but the pieces are there for them to be a scrappy fighter for the No. 8 seed in the West. We already figure at least one team from last season is out (probably OKC), and the other could be San Antonio if Dallas can make a late charge in April. 
The rest of the roster isn't void of talent and newly acquired Seth Curry should provide valuable minutes off the bench. We could see Dallas make the playoffs, or come pretty close and still end the season over.500.
What do you think about the Mavs chances?
Will the Dallas Mavericks due of Luka Doncic and Kristaps Porzingis take the NBA world by storm? For more news and notes from around the Association, be sure to check out our NBA section.