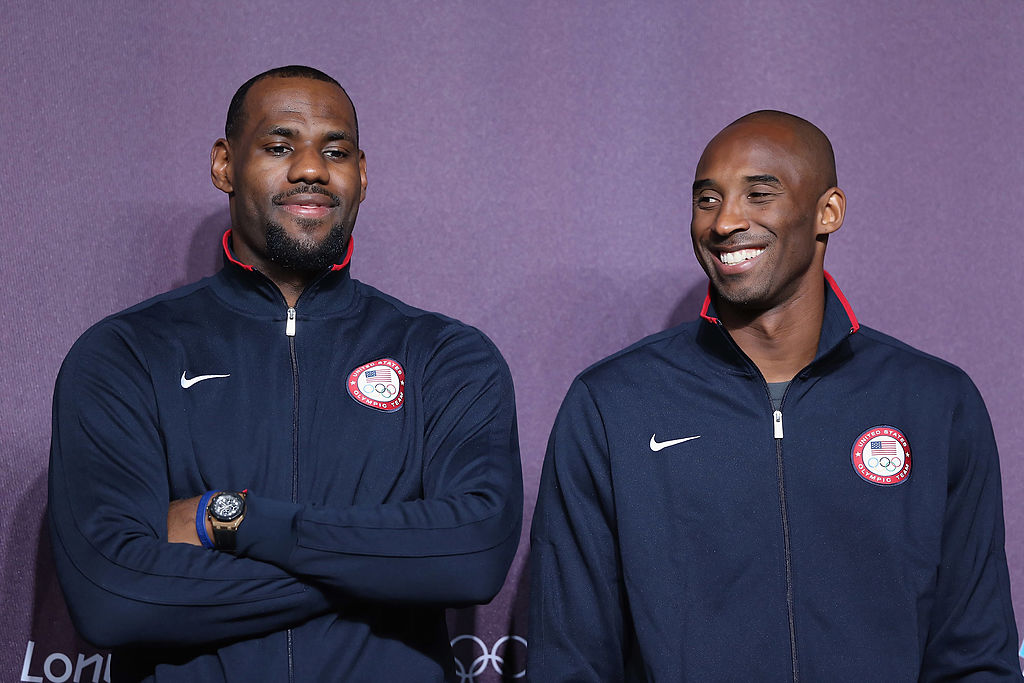 LeBron James and Kobe Bryant Now Share An Amazing NBA Record
With his first 40-point game of the 2019-2020 NBA season, LeBron James has matched a record previously set by Kobe Bryant.
LeBron James and Kobe Bryant are two of the best players the NBA has ever seen. With eight NBA titles, five MVP awards, four Olympic gold medals, and more than 67,000 points scored between them, there's no question that both belong in the conversation as the greatest of all time.
While LeBron and Kobe never shared the court as teammates in the NBA (they were teammates for USA Basketball), the two shared an entire generation of fans and helped inspire the newest generation of young stars in the league.
Following his first 40-point performance of the 2019-2020 season, LeBron and Kobe also now share an amazing NBA record.
LeBron James tied a Kobe Bryant record with his latest 40-point performance
In his first-ever matchup with highly-touted New Orleans Pelicans rookie Zion Williamson on February 25, LeBron James dropped 40 points in the Lakers' 118-109 win. James was masterful in the victory, shooting 63 percent from the floor on 17-for-27 shooting, including hitting five of 11 shots from beyond the arc. LeBron also grabbed eight boards and dished out six assists.
This was LeBron James' first 40-point performance of the season and in hitting the mark, he tied an NBA record previously held solely by Kobe Bryant. This is the 16th season in which James has scored 40 or more points in a regular-season game, matching the mark set by Bryant in 2016, according to the Elias Sports Bureau. Of his 17 seasons, the only one in which LeBron didn't hit the mark was the 2015-2016 campaign, the year he led the Cavaliers to an NBA title.
How many 40-point games does LeBron have?
LeBron James' first 40-point game came as a 19-year-old rookie for the Cavaliers on March 27, 2004, in a 107-104 win over the Nets, who were still in New Jersey at the time. James scored 41 points, shot 15-for-29 from the floor and 10-for-10 at the free-throw line. He also dished out 13 assists and grabbed six rebounds that night. He hit a go-ahead jumper with 16 seconds remaining in the game and sealed his first 40-plus performance with a slam.
Since then, LeBron has racked up 64 more games with 40 or more points in the regular season. He's tacked on an additional 27 games in the postseason. Only Michael Jordan has scored more 40-point games in the playoffs with 38.
How many 40-point games did Kobe Bryant have?
In 20 seasons with the Los Angeles Lakers, Kobe Bryant scored 40 or more points in a regular-season game an astonishing 122 times, good for third on the all-time list behind only Wilt Chamberlain (271) and Michael Jordan (173). Kobe added an additional 13 such games in the postseason.
It's interesting to note that Kobe wouldn't have reached 16 seasons with 40 or more points in a game had it not been for the final game of his storied career in 2016. He had shown some flashes of the old Kobe leading into that night against the Utah Jazz, scoring 34 in his final matchup with the Celtics in early April, and then dropping 35 on the Rockets in his third-to-last game ever. He famously scored 60 points in his final game, ending his career with an unforgettable night at Staples Center.