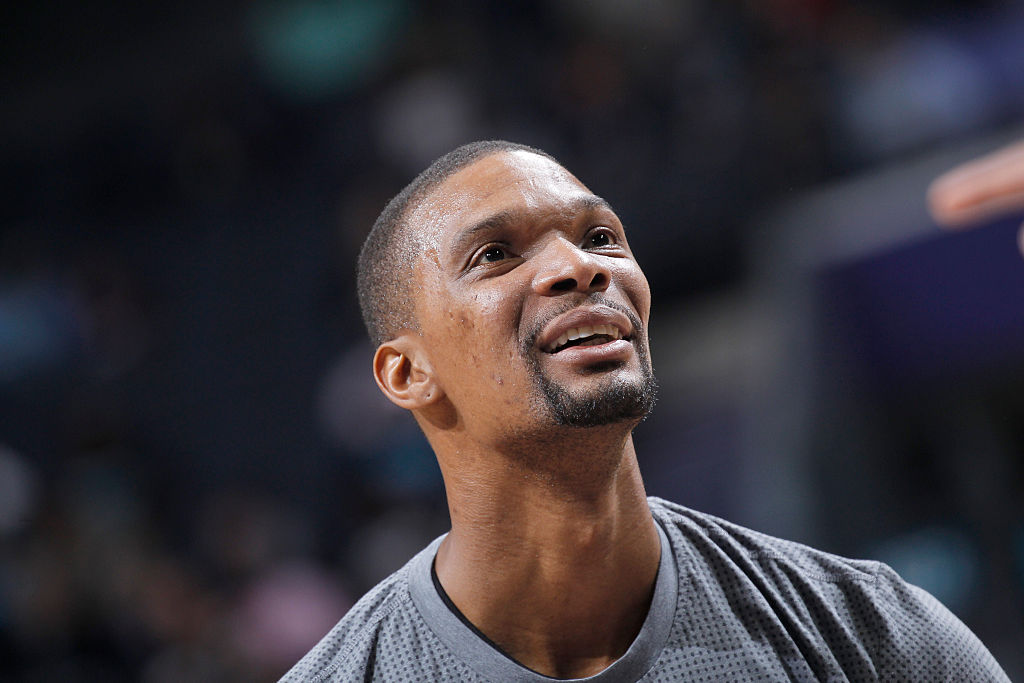 NBA: Is Chris Bosh a Hall of Fame Player?
Chris Bosh built a successful career that may be underrated by casual basketball fans. The real question is will he enter the Hall of Fame?
The 2003 NBA draft class will go down as one of the greatest in league history. Between LeBron James, Carmelo Anthony, Dwyane Wade, and Chris Bosh (with Darko Milicic in the mix too in the middle), there are a number of players that will go down as some of the best to ever play the game.
Chris Bosh built a successful career that may be underrated by casual basketball fans. The real question is will he enter the Hall of Fame? We dive into his basketball career to help determine the answer.
Georgia Tech career
Chris Bosh was the Texas Mr. Basketball during his senior season and went on to play collegiately for Georgia Tech. During his lone season, he averaged 15.6 points and nine rebounds while leading the team to the NIT tournament. Although it may have been considered crazy to enter the 2003 NBA Draft with LeBron James the prohibitive No. 1 pick, there was still an opportunity for Bosh to go No. 2.
Detroit needed a big man and Denver just needed anything to add some talent to their young core. As the draft played out, James went first to the Cavaliers, followed by Darko Milicic to Detroit and Carmelo Anthony to Denver. The Toronto Raptors picked at No. 4, and with Chris Bosh still available they selected him.
Toronto Raptors years
During his rookie campaign, Bosh played out of position at center. He averaged 11.5 points and 7.4 rebounds per game while making the All-Rookie first team. In December 2004, the Raptors traded away Vince Carter and Bosh immediately became the face of the franchise. He turned in an excellent year, averaging 18 points and nine rebounds per game. During his time in Toronto, Chris Bosh made five all-star appearances.
2010 free agency
It's going to be viewed as one of the most important moments in the history of the NBA. A number of superstars were eligible to become unrestricted free agents including LeBron James and Chris Bosh. When LeBron made his decision to go to Miami, it outraged fans across the nation. Bosh decided he wanted to play with LeBron and Dwyane Wade, after getting tired of all the losing in Toronto.
They formed the big three in Miami, which would change the way free agency works for future for NBA players.
Miami Heat years
It took them some time to jell, and Bosh struggled at times as he was relegated to be the third option on most nights. Instead of being a primary post scorer, Bosh developed a long-range shot.
The Miami Heat become one of the best defensive teams in the NBA with James' and Wade's athleticism and Bosh playing help defense in the middle. The Heat lost to Dallas in the 2011 finals, but won back-to-back championships in 2012 and 2013. They made the Finals again in 2014 and rematched with San Antonio, but it wasn't much of a series. San Antonio won their fifth title of the Gregg Popovich era in 2014 in a 4-1 series.
Health forced early retirement
After LeBron left Miami to return home to Cleveland, Chris Bosh and Dwyane Wade were still the faces of the franchise in Miami. However, a rare blood clot ailment sidelined Chris Bosh, and the Miami Heat doctors would not clear him to play basketball.
After seeking multiple different options, Bosh officially retired from the NBA this year. When his career was all said and done he averaged 19 points and eight rebounds per game, was an 11-time All-Star and a two-time champion.
Bosh's basketball career indicates there's no question that he should join his fellow draft mates into the Hall of Fame. He might even get there first since James, Wade, and Anthony played during the 2018-19 season. Where do you think Bosh stands against Hall of Fame-caliber players?