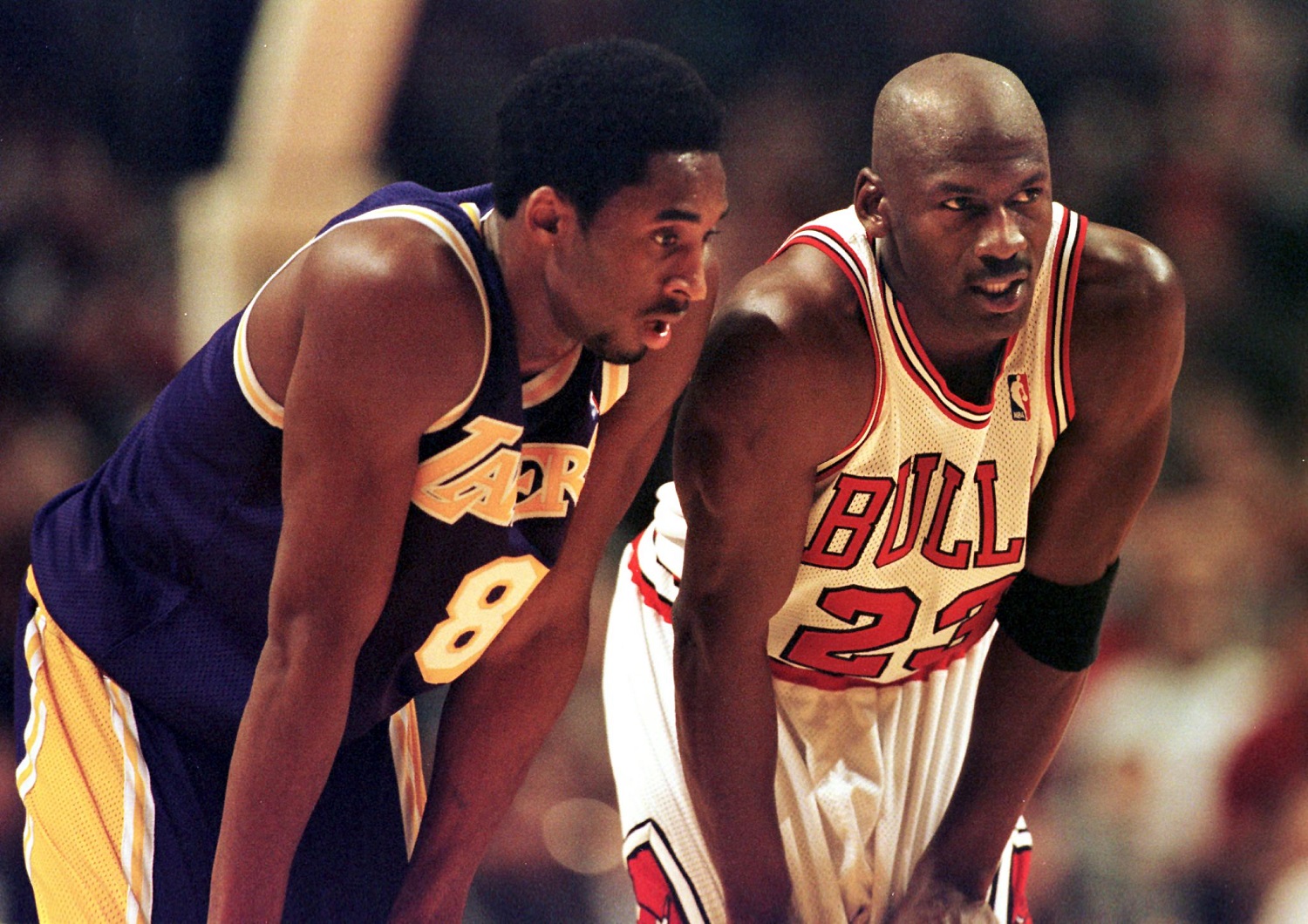 B.J. Armstrong Details the Kobe Bryant vs. Michael Jordan 1-on-1 Showdown That Nobody Witnessed But Him
Three-time NBA champion B.J. Armstrong recently shared details of a showdown between Michael Jordan and Kobe Bryant that only he witnessed.
Michael Jordan and Kobe Bryant are easily two of the greatest basketball players to ever walk the face of the planet and dominated the NBA for two decades. In a 20-year span from 1991 to 2010, MJ and Kobe combined to win 11 NBA championships with Jordan winning six from 1991 to 1998 and Kobe tacking on five of his own from 2000 to 2010.
While both were obviously insanely talented individuals, what truly set Michael Jordan and Kobe Bryant apart from their competition was their mental strength, the ability to see each game and each play unfold before they ever happened. Well, that and their crazy work ethic.
Kobe Bryant fully admitted during his interview in The Last Dance that Michael Jordan made him the player he was. And the two really were as similar as similar can be, which is exactly why they're two of the greatest players in history.
So many conversations have been had over the years about who would win in a one-on-one matchup between the two in their respective primes, which is always a pointless exercise, but Jordan's former teammate, B.J. Armstrong, did witness a one-on-one mental showdown at a dinner in 2014 that he says was way better than any physical matchup could have ever been.
Michael Jordan and Kobe Bryant both had amazing careers
It goes without saying but Michael Jordan and Kobe Bryant both had amazing careers.
In 15 seasons with the Chicago Bulls and Washington Wizards, Michael Jordan averaged 30.1 points, 6.2 rebounds, 5.3 assists, 2.3 steals, and won the aforementioned six NBA titles, all obviously coming with the Bulls. Jordan was a five-time NBA MVP, a 10-time scoring champion, a 14-time All-Star, a 10-time All-NBA First Team selection, a nine-time All-Defensive First Team selection, and won two Olympic gold medals.
In 20 seasons with the Los Angeles Lakers, Kobe Bryant averaged 25 points, 5.2 rebounds, 4.7 assists, 1.4 steals, and won five titles. He was an 18-time All-Star, a 15-time All-NBA selection (11 First Team, two Second Team, two Third Team), a 12-time All-Defensive selection (nine First Team, three Second Team), a two-time scoring champion, and a one-time NBA MVP.
The two had a big brother-little brother relationship
Michael Jordan and Kobe Bryant shared a special relationship over the years. Just a couple of months before his death, Kobe gave his interview for The Last Dance in which he shared that Jordan gave him plenty of advice throughout the years and that he wouldn't have won any of his five championships without him.
At the memorial following Bryant's death, Jordan also opened up about their relationship, saying that Kobe would call him in the middle of the night asking about footwork or situations or the triangle offense early in his career. Jordan knew how passionate Bryant was about the game of basketball and was happy to help as he saw something of himself in the youngster that would later become a carbon copy of him. Jordan said that Kobe was like a "little brother" to him and enjoyed the fact that someone seemed to love the game as much as he did.
"What Kobe Bryant was to me, was the inspiration that someone truly cared about the way that I played the game or the way he wanted to play the game. And as I got to know him, I wanted to be the best big brother that I could be."

Michael Jordan
As it turns out, big brother and little brother did have that game of one-on-one, just in a different way.
Michael Jordan and Kobe Bryant played a mental game of one-on-one at dinner with B.J. Armstrong
B.J. Armstrong recently appeared on the Los Angeles Times' "Legends of Sport" podcast with Hall of Fame photographer Andrew Bernstein and told an amazing story of a 2014 dinner that included only himself, Michael Jordan, and Kobe Bryant.
Armstrong, who was part of the Chicago Bulls' first three-peat, said that he really didn't speak at all as he watched Jordan and Bryant engage in a mental battle which he says was absolutely fascinating.
"It was great because you saw the respect that they both had for one another, but they couldn't help but turn on the competitive spirit. I didn't say a word. I just sat there and watched, where they were just saying how the game would be played if they caught the ball [in a certain spot]. 'Well if I catch the ball in the left wing with the live dribble, how would you defend me?'

"And the detail that they were going over with these abstract ideas, that's what really caught my attention. 'Okay, well how you going to catch the ball?' Like, who asks those questions? 'What's your pivot foot? What's the score of the game? How would you defend me if I had it here?'"

B.J. Armstrong on Michael Jordan and Kobe Bryant
In the end, MJ and Kobe could only agree that Jordan had bigger hands, although Bryant certainly wasn't about to concede a loss just because of that fact. Armstrong said that watching the two go at it like that was far better than any one-on-one matchup on an actual basketball court.
"They're geniuses. The fact they didn't have to actually play a game, that they could actually just play it in their mind, to me was way more impressive than actually watching them play. They were able to mentally play this game and it was one of the most beautiful things I've ever seen."

B.J. Armstrong on Michael Jordan and Kobe Bryant
Incredible.