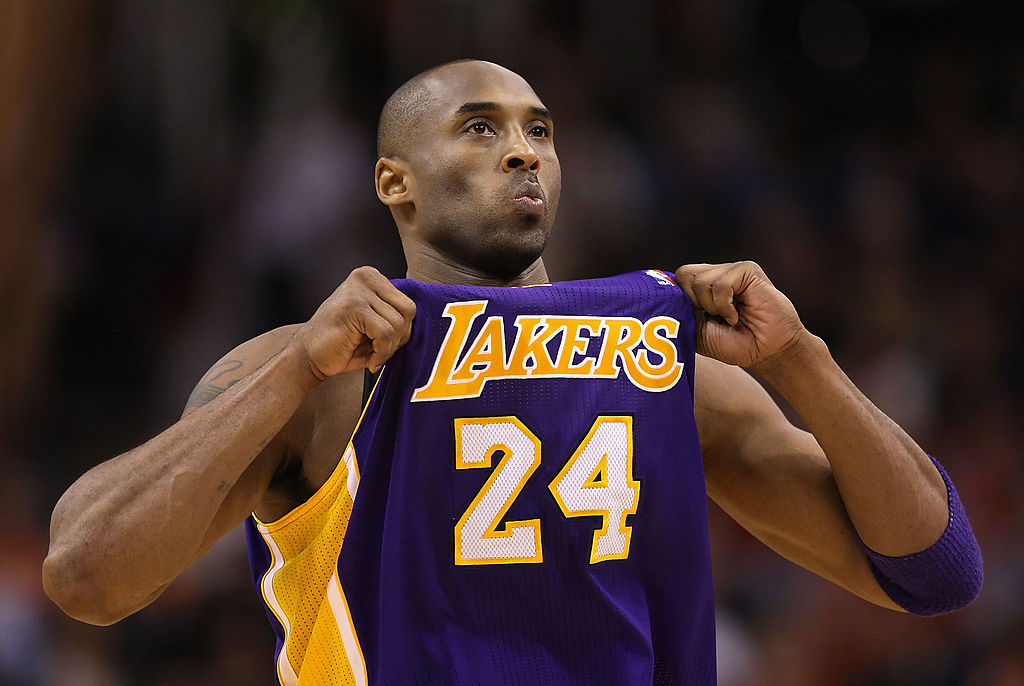 Kobe Bryant Had an Epic Michael Jordan-esque Moment at a Lakers Practice in 2015
Kobe Bryant, according to his former Los Angeles Lakers teammate Jeremy Lin, once had a Michael Jordan-like moment at a practice in 2015.
It's no secret that Los Angeles Lakers legend Kobe Bryant wanted to be like Michael Jordan. He played like Mike. He competed like Mike. And, at least according to one of his former teammates, he rode his teammates in practice like Mike, even when he wasn't playing.
The 2014-2015 LA Lakers were one of the worst teams in franchise history
To put it nicely, the 2014-2015 Los Angeles Lakers were simply not a good basketball team. To put it truthfully (without cursing), the 2014-2015 Los Angeles Lakers were freaking awful. Kobe Bryant had appeared in just six games the previous season after returning from an Achilles injury and the rest of his body was starting to show some wear and tear as well, which limited him to just 35 games in the '14-'15 campaign. And the Lakers just didn't have the talent to compete in the Western Conference.
With Bryant on the shelf for the majority of the season, the Lakers had to rely on the likes of Nick Young, Jordan Hill, Jeremy Lin, and an aging Carlos Boozer to fill the stat sheet, which didn't make for a great year. The Lakers finished the season with a 21-61 record, at the time the worst record in franchise history. But at least a great story came out of it.
Jeremy Lin says an injured Kobe Bryant showed up to Lakers practice, called some of his teammates 'bums' and then just left
As mentioned, Kobe Bryant played just 35 games for the 2014-2015 Lakers but he made sure that his presence was still felt. Like Michael Jordan, Kobe was known for being very intense in practice and sometimes belittled his teammates. Jeremy Lin, who spent just that one season in LA, recently appeared on "Inside The Green Room," which you can view in the video above, and told the story of how an injured Bryant showed up to Lakers practice just ahead of the NBA trade deadline and ripped into some of his teammates.
"He comes in, sweatsuit [on], he has a sling around for his hurt shoulder, he has his shades on, his Kobe shades. And he walks in and everyone's like, 'Ohhhh' and Booz, Carlos Boozer, is like 'Kob! Good to see you, bro! Dang, we haven't seen you in a bit, how come you came today?' And he was just stone-faced, and he was like, 'I just came by to say bye to some of you bums who are going to get traded tomorrow.' And then he sits down at the table where you control the scoreboard at the practice facility and he said a couple words to the coach, and then he left. And I remember one of my teammates was just like 'I lost all motivation to practice.'"

Jeremy Lin on Kobe Bryant
Classic Kobe.
The funny part is that nobody got traded
While I'm sure not a lot of people were laughing at the time, it's good that Jeremy Lin can look back on that classic Kobe Bryant story and laugh. But the funniest part of the whole thing might just be that the Lakers didn't actually trade anyone that season. But the team did go through a big reconstruction in the offseason, which actually resulted in an even worse year as LA went 17-65 in Bryant's final season. But at least Kobe went out with that 60-point gem, right?