Outside Scottie Pippen, Michael Jordan Eliminated All But 1 of His Dream Team Teammates From the NBA Playoffs During His Career
Over the course of 15 seasons, Michael Jordan took part in 37 NBA playoff series, all with the Chicago Bulls, winning 30 of them. In those 30 series victories, MJ eliminated 20 different players who would go on to be inducted into the Naismith Memorial Basketball Hall of Fame, six of whom lost to Jordan's Bulls on multiple occasions.
And of those 20 Hall of Famers His Airness eliminated from the postseason, seven of them teamed with Jordan at the 1992 Olympics as part of the famed Dream Team. That number would actually be eight if you include Christian Laettner but he was never inducted as an individual so we're not going to officially include him as a Hall of Famer.
Nevertheless, that's still quite impressive as Jordan eliminated two-thirds of the Dream Team roster from the NBA playoffs at one time or another. And that percentage actually goes up as you obviously can't include Jordan himself. Nor can you really include Scottie Pippen. So that just leaves two players on the roster who were never eliminated by Jordan in the postseason, one of whom never even got the chance to square off with the Bulls in the playoffs. As for the other, he actually twice eliminated Jordan from the playoffs as a player but later got bounced as a coach.
Michael Jordan eliminated eight of his Dream Team teammates from the NBA playoffs
Here's a look at the eight members of the Dream Team that Jordan eliminated from the NBA postseason during his career.
Charles Barkley: Jordan's Bulls defeated Barkley's 76ers in consecutive years in the Eastern Conference semifinals (1990, 1991) and then defeated Barkley's Suns in the 1993 NBA Finals.
Clyde Drexler: MJ and the Bulls defeated Drexler's Trail Blazers in the 1992 NBA Finals.
Patrick Ewing: With five series defeats, Ewing lost to Jordan in the postseason more than any other Hall of Famer (1989 Eastern Conference semifinals, 1991 first round, 1992 Eastern Conference semifinals, 1993 Eastern Conference Finals, 1996 Eastern Conference semifinals).
Magic Johnson: Jordan defeated Magic's LA Lakers in the 1991 NBA Finals.
Christian Laettner: MJ and the Bulls defeated Laettner's Hawks in the 1997 Eastern Conference semifinals.
Karl Malone and John Stockton: We're just going to go ahead and lump these two in together as Jordan's Bulls defeated Stockton and Malone's Jazz in both the 1997 and 1998 NBA Finals.
Chris Mullin: In just the second seven-game series of the Bulls' championship runs, Jordan & Co. defeated Mullin's Pacers in the 1998 Eastern Conference Finals.
Larry Bird and David Robinson are the two Dream Team members who were never beaten by MJ in the postseason
Outside of Scottie Pippen, David Robinson is the lone member of the 1992 Dream Team roster never to have been beaten by Jordan in the postseason as Jordan's Bulls and Robinson's Spurs simply never squared off in the NBA Finals.
Had Jordan returned to the Bulls for the lockout-shortened 1999 season, that would have been a very real possibility as Robinson & Co. claimed the Spurs' first-ever championship that year by defeating Ewing's Knicks. But that's just one of those "what-if" scenarios to which we'll never know what might have happened.
As for Larry Bird, he actually went 2-0 vs. Jordan in the playoffs as a player as his Boston Celtics swept the Bulls in the first round of the postseason in both 1986 and 1987. Technically, however, MJ did get his revenge as Bird was the coach of that Pacers team that took the Bulls to a seventh game in the '98 Eastern Conference Finals.
Jordan eliminated 20 future Hall of Famers from the NBA playoffs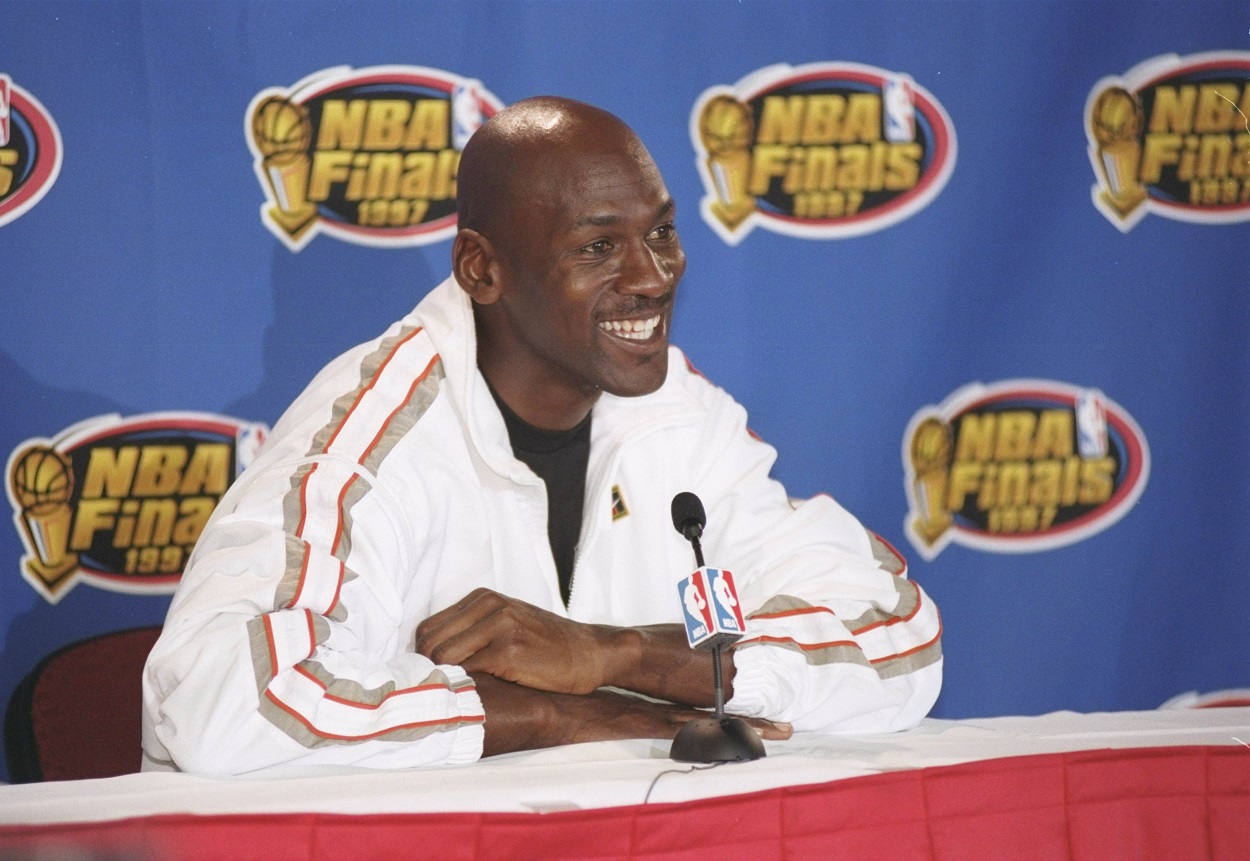 Seeing as how we mentioned that Jordan eliminated 20 Hall of Famers from the NBA postseason, we didn't want to deprive you of that information. So here's the full list, including the number of times each was eliminated by MJ's Bulls.
Charles Barkley: 3
Alonzo Mourning: 3
Karl Malone: 2
John Stockton: 2
Vlade Divac: 2
Joe Dumars: 1
Isiah Thomas: 1
James Worthy: 1
Magic Johnson: 1
Clyde Drexler: 1
Dominique Wilkins: 1
Shaquille O'Neal: 1
Gary Payton: 1
Dikembe Mutombo: 1
Reggie Miller: 1
Chris Mullin: 1
Jack Sikma: 1
Maurice Cheeks: 1
Stats courtesy of Basketball Reference