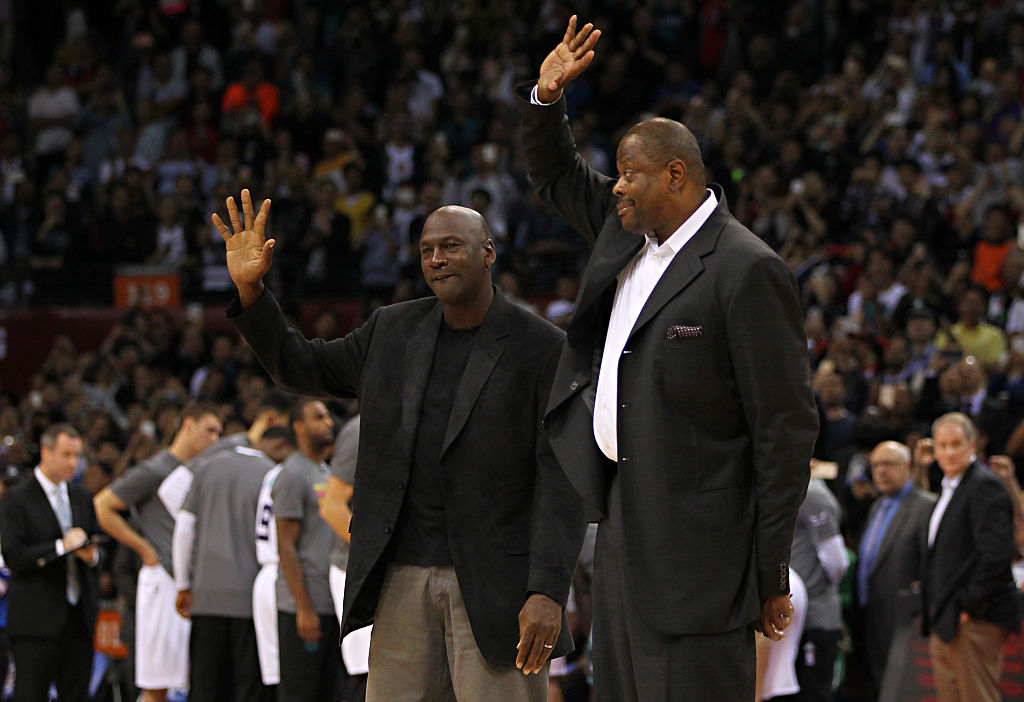 Why Patrick Ewing Refuses to Watch Most of Michael Jordan's 'The Last Dance'
Michael Jordan and Patrick Ewing have a long history with one another. They were two of the greatest players in the country while in college at the same time and were part of some epic battles between the Chicago Bulls and New York Knicks at the pro level. But Ewing could just never beat Jordan, …
Michael Jordan and Patrick Ewing have a long history with one another. They were two of the greatest players in the country while in college at the same time and were part of some epic battles between the Chicago Bulls and New York Knicks at the pro level. But Ewing could just never beat Jordan, which is why the Hall of Fame center says he's really not watching The Last Dance docuseries on ESPN that looks at Michael Jordan's career. I can't say that I blame him.
Patrick Ewing was standing right under the basket when Michael Jordan hit his game-winning shot for North Carolina in the 1982 NCAA Championship game
Both Michael Jordan and Patrick Ewing began their respective college basketball careers in 1981. Jordan had signed with North Carolina and Ewing with the Georgetown. Each had a solid freshman season, Jordan averaging 13.5 points for the Tar Heels and Ewing scoring 12.7 points and pulling down 7.5 rebounds for John Thompson' Hoyas.
They found themselves matched up in the 1982 NCAA Championship in what turned out to be a great back-and-forth battle. And then it happened. The legend of Michael Jordan began. With the Tar Heels down 62-61, Jordan put up a jumper from the left wing with 17 seconds remaining as Patrick Ewing, who ironically scored 23 points in the game, positioned himself for the rebound under the basket, a rebound that would never come as the shot hit nothing but net to give UNC a 63-62 lead, which would ultimately be the final score.
Jordan's Bulls beat Ewing's Knicks five times in the postseason
Michael Jordan entered the NBA in 1984 with the Chicago Bulls while Patrick Ewing made his pro debut a year later with the New York Knicks. As the pair became two of the best players in the league, their respective teams became two of the best in the Eastern Conference. Jordan and Ewing would meet five times in the postseason, with the Bulls coming out on top each and every time. In four of those instances, including every season of the first three-peat, Jordan's Bulls went on to win the NBA championship.
The only time Patrick Ewing did beat the Chicago Bulls came in 1994 when Michael Jordan had retired for the first time and was attempting a baseball career. Even then, it took the Knicks seven games. New York did make it to the NBA Finals that season but were defeated by Hakeem Olajuwon's Houston Rockets in a fantastic seven-game series. Patrick Ewing was just one of many players that had to deal with the "Jordan Effect" during the 1990s, although he might have had it worse than anyone.
So it's easy to understand why he really isn't watching that much of The Last Dance.
Patrick Ewing isn't watching much of 'The Last Dance'
In a recent appearance on "The Dan Patrick Show," Patrick Ewing revealed that he really isn't watching The Last Dance because he doesn't need yet another reminder that he could never get past his longtime rival. But at least he was laughing about it.
"I had to live through that. I had to live through all of the battles that we had to go through, and now you all have a documentary that you have to keep rubbing it in my face.

"I watch a little of it, then I shut it off to go do other things. I lived through it. I don't need to watch. I know he's great."

Patrick Ewing on watching "The Last Dance" and his battles with Michael Jordan
Well, at least Patrick Ewing got to win a gold medal with Michael Jordan on the Dream Team, right?