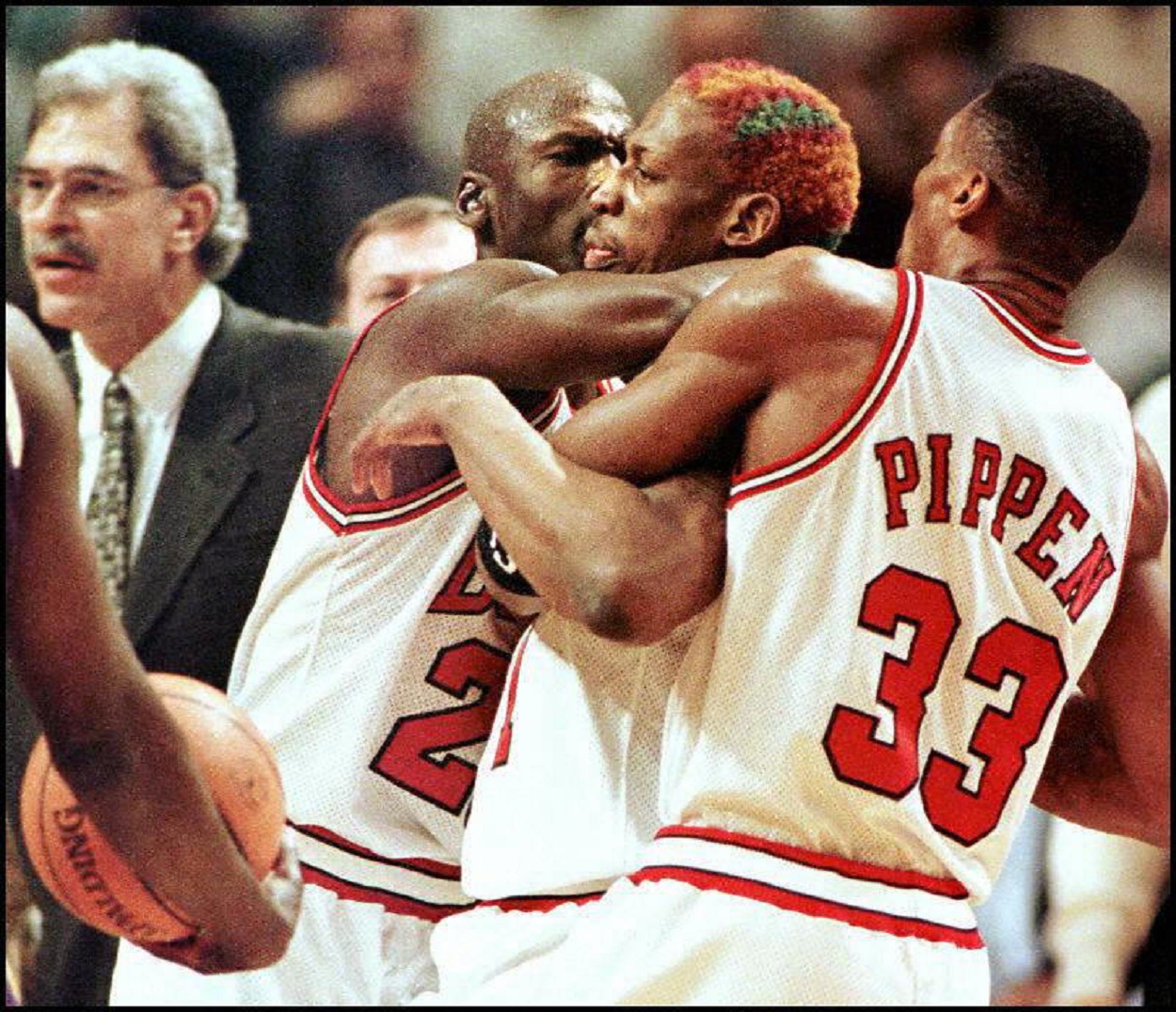 Michael Jordan and Scottie Pippen Legit Tackled Dennis Rodman During an Epic Bulls-Lakers Matchup That Featured a Big Moment for Kobe Bryant
Michael Jordan and Scottie Pippen tackling Dennis Rodman was part of a crazy Bulls-Lakers game that featured a big moment for Kobe Bryant.
The December 17, 1996, matchup between the Chicago Bulls and Los Angeles Lakers was a night to remember for a number of reasons. For starters, it was the very first time that Michael Jordan and Kobe Bryant squared off against one another. Secondly, the game was an absolute classic that had to be settled in overtime. And lastly, it was also a night when MJ and Scottie Pippen legit tackled Dennis Rodman in order to keep from fighting Shaquille O'Neal.
The Bulls-Lakers matchup on December 17, 1996, marked the first meeting between Michael Jordan and Kobe Bryant
Seen as "the next Michael Jordan" by many when he was drafted into the NBA in 1996, Kobe Bryant got his first chance to match up with his idol when the Lakers visited the United Center to square off with the defending champion Bulls on December 17, 1996.
But while many were excited to see Jordan and his appointed heir apparent square off, there really wasn't much to see as Bryant, who was just 18 years old at the time, wasn't yet getting a ton of minutes as Eddie Jones was still the starting shooting guard for LA at that time. Kobe played just under 10 minutes that night, shooting 2-for-5 from the floor for five points, while Jordan was one of three Bulls to score 30 or more points in what was a wild game.
The Bulls and Lakers staged an absolute classic
The Lakers got off to an extremely hot start against the Bulls that night and held a 14-point lead after the first quarter, which they extended by one heading into halftime. Shaquille O'Neal had a huge first half, scoring 23 points on 10-for-15 shooting, but was completely shut down by Dennis Rodman in the second half and finished with 27 points for the game.
At one point in the third quarter, the Bulls trailed by 22 but got the deficit down to 18 heading into the final frame, at which point they decided to make a game out of it as Michael Jordan, Scottie Pippen, and Toni Kukoc led a ferocious comeback. Chicago outscored LA 33-15 in the fourth to send the game into overtime and maintained their momentum in the extra period to earn a 129-123 victory.
Pippen led the way for the Bulls with 35 points with Kukoc adding 31 while Jordan went for 30 on the dot. Nick Van Exel had a phenomenal game, shooting 14-for-21 from the floor to lead the Lakers with 36 points, but it wasn't enough.
As for Dennis Rodman, he scored just two points, the final two points of the game, but pulled down 18 rebounds, including the final rebound of the game, and was at the center of a classic 90s Bulls moment.
Michael Jordan and Scottie Pippen tackled Dennis Rodman to keep him from fighting Shaq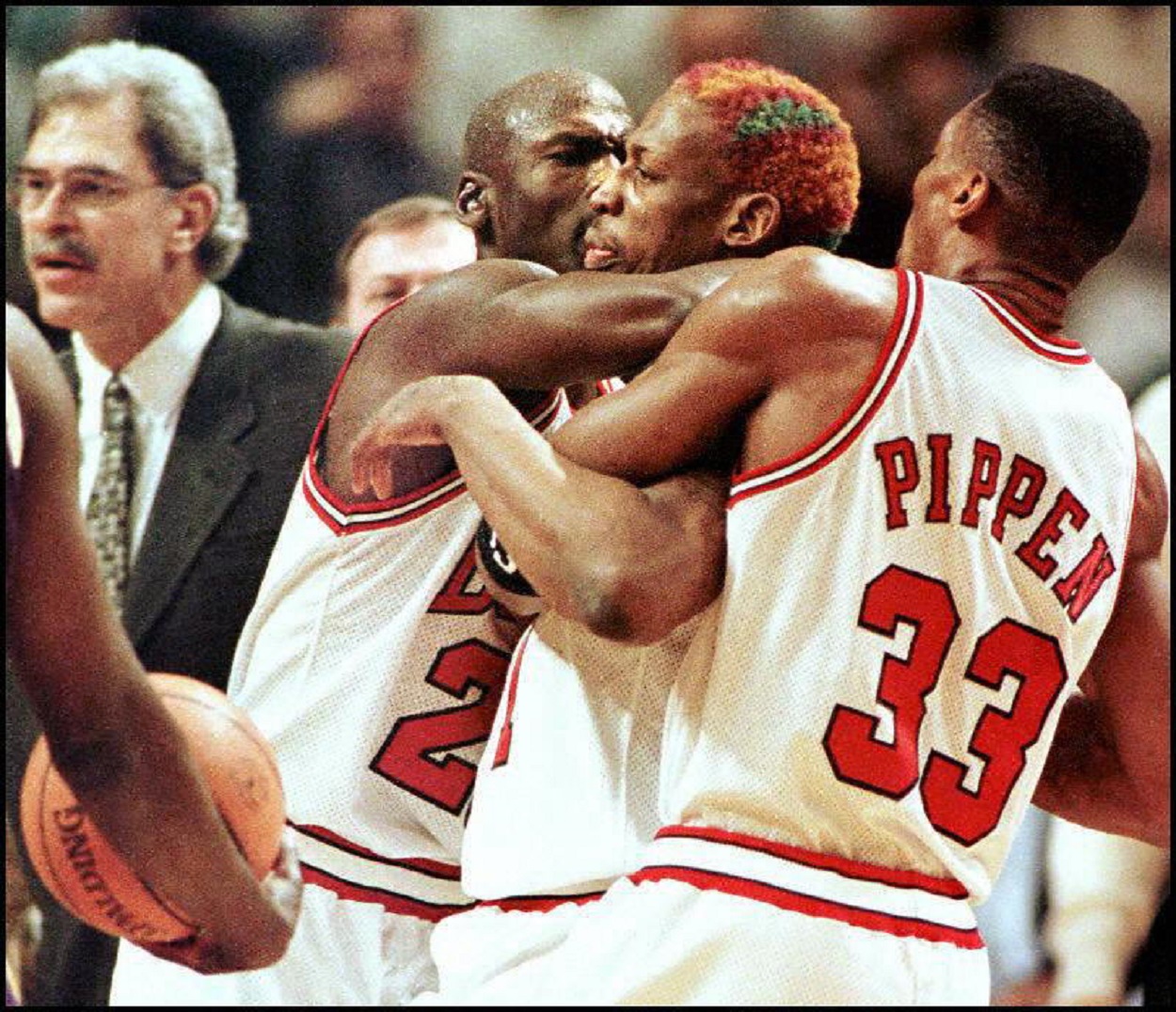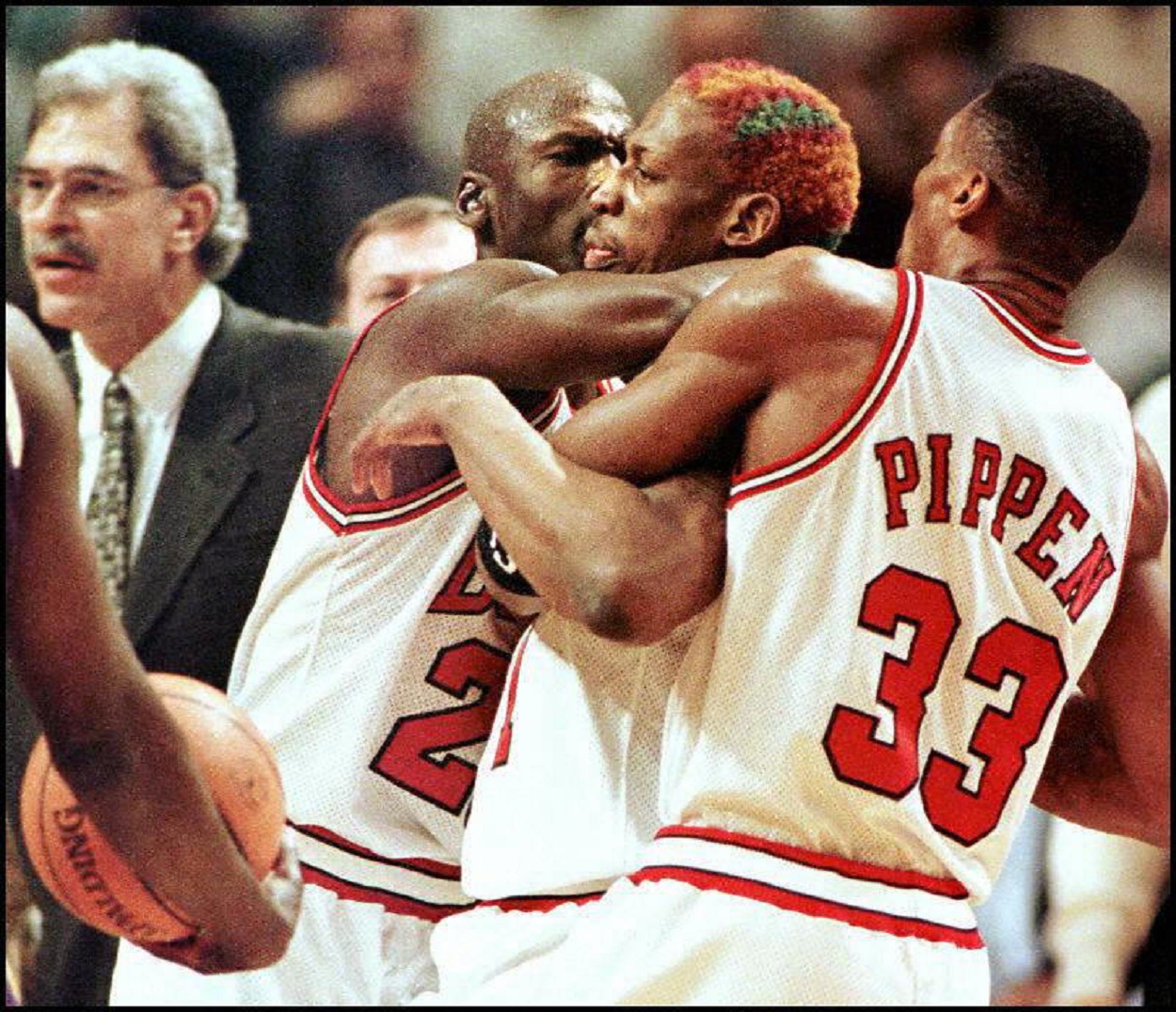 With about 22 seconds remaining in overtime, Dennis Rodman pulled down a rebound off a missed 3-pointer from Jones and immediately called timeout. However, Lakers forward Jerome Kersey proceeded to take a swipe at the basketball as the whistle was being blown, which led "The Worm" to have a few words with the veteran.
Seeing what could potentially go down given Rodman's history, Scottie Pippen jumped in and grabbed his teammate just before Shaq, who'd taken a hard foul from Rodman less than a minute earlier, got involved and shoved Rodman.
A millisecond later, Michael Jordan hit the scene and he and Pippen essentially tackled Dennis Rodman, who was laughing as he hit the floor. Cooler heads prevailed, at least for the time being as Shaq went on to say that he was willing to get suspended to keep that fight going, and the Bulls went on to close things out with Rodman hoisting the ball in the air as time expired on a crazy night in the Windy City.
Stats courtesy of Basketball Reference