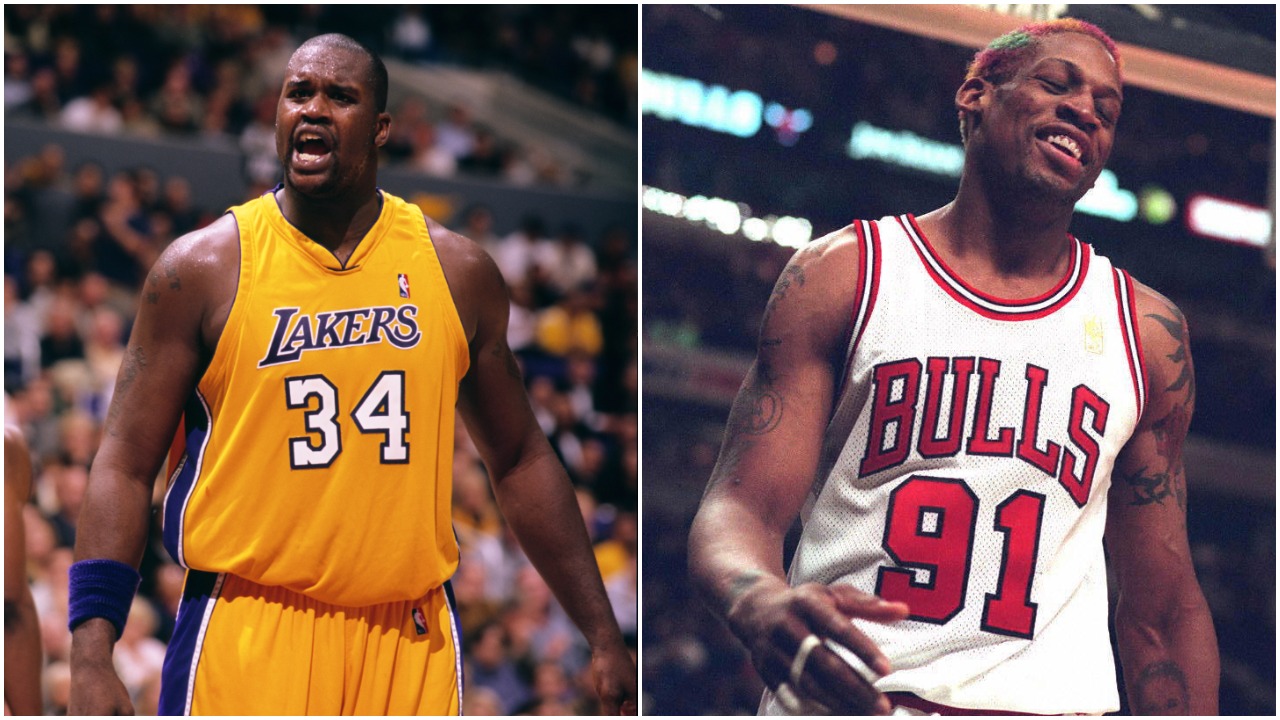 Shaquille O'Neal Was Ready to Give Up Hundreds of Thousands of Dollars to Fight Dennis Rodman
Following a scuffle with Dennis Rodman during a Bulls-Lakers matchup, Shaquille O'Neal said he was willing to get suspended to fight "The Worm."
On December 17, 1996, the Los Angeles Lakers visited the Chicago Bulls for what turned out to be an epic battle. Now, while some may remember this night as the first time Michael Jordan and Kobe Bryant shared an NBA court, it was also a night that saw Shaquille O'Neal and Dennis Rodman nearly throw down, an altercation Shaq wanted to go much further than it actually did.
Ahead of the Bulls-Lakers matchup, Dennis Rodman said Shaquille O'Neal wasn't worth the $120 million LA was paying him
In the summer of 1996, after spending the first four seasons of his NBA career with the Orlando Magic, Shaquille O'Neal signed a seven-year/$120 million contract with the LA Lakers, at the time the largest deal in NBA history.
The investment would obviously pay off as Shaq would eventually lead the Lakers to three consecutive NBA titles but at the time, there were a few people that didn't think the contract was warranted, one of those people being Dennis Rodman.
A day before Shaq and the Lakers were set to visit the Bulls in December 1996, Rodman made those feelings known, saying there was "no way in hell" that he'd "ever pay a man $120 million if he's not the total package," which he obviously thought O'Neal wasn't. Shaq would later say that Rodman was just jealous and that he didn't talk as much until he got "behind Jordan and Pippen."
So that sets the stage for this famous Bulls-Lakers matchup.
Shaq and 'The Worm' nearly got into it during the Bulls-Lakers overtime classic
The December 17, 1996, matchup between the Bulls and Lakers was an absolute classic.
Shaquille O'Neal came out hot, scoring 23 points on 10-for-15 shooting in the first half to give the Lakers a 15-point lead heading into the third quarter. But he wouldn't do much the rest of the way as Phil Jackson gave Dennis Rodman his wish and allowed "The Worm," who'd only guarded Shaq for four minutes in the first half, to truly take over defensive duties on O'Neal the rest of the way, which worked beautifully.
Shaq only put up five more shots the rest of the game and scored just four points as the Bulls staged a thrilling comeback to win in overtime, 129-123, behind 35 points from Scottie Pippen, 31 from Toni Kukoc, and 30 from Michael Jordan.
With about 25 seconds remaining in the extra frame, Lakers guard Eddie Jones missed a 3-pointer that was rebounded by Rodman, who immediately called timeout. But as the whistle was blowing, LA forward Jerome Kersey took a swipe at the ball, which led Rodman to have a few words with him. As Pippen came in to grab him, Shaq made his way into the mix as well and shoved Rodman just as Jordan was also entering the mini-brouhaha.
Rodman was tackled to the ground while Shaq made his way back to the bench and that was that. But O'Neal really wanted things to go a little further.
Shaquille O'Neal said he was willing to get suspended to fight Dennis Rodman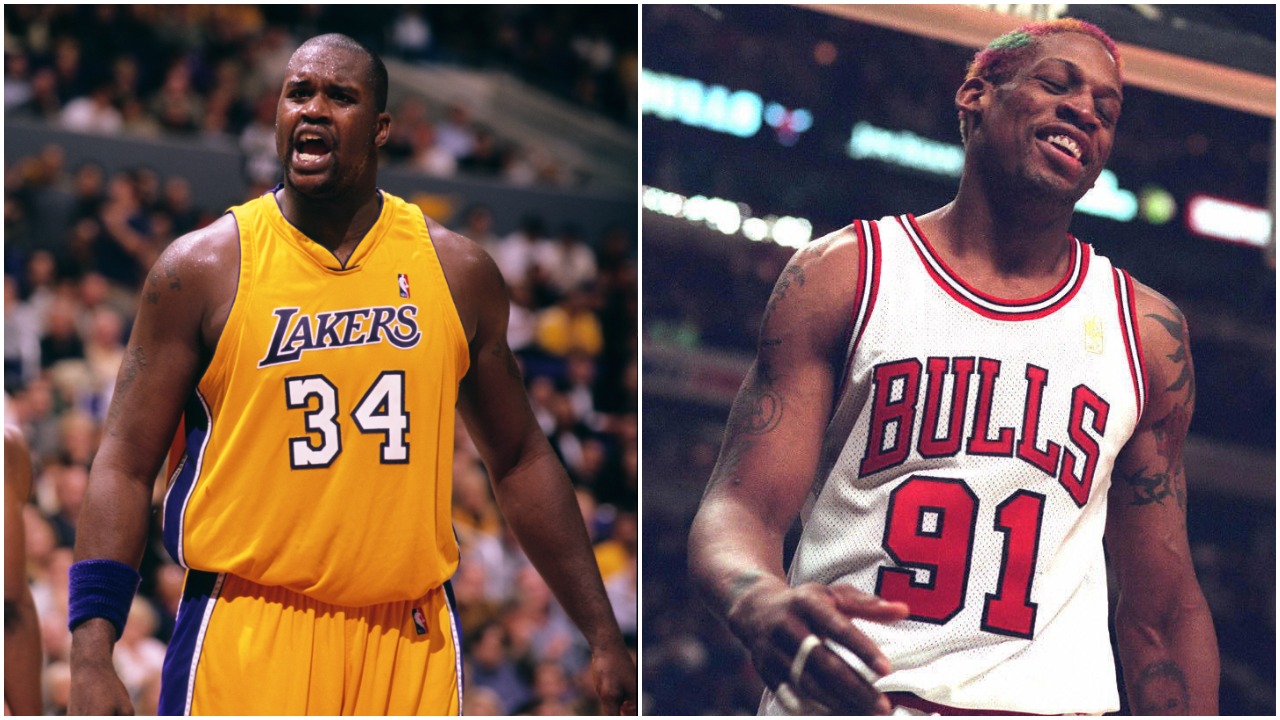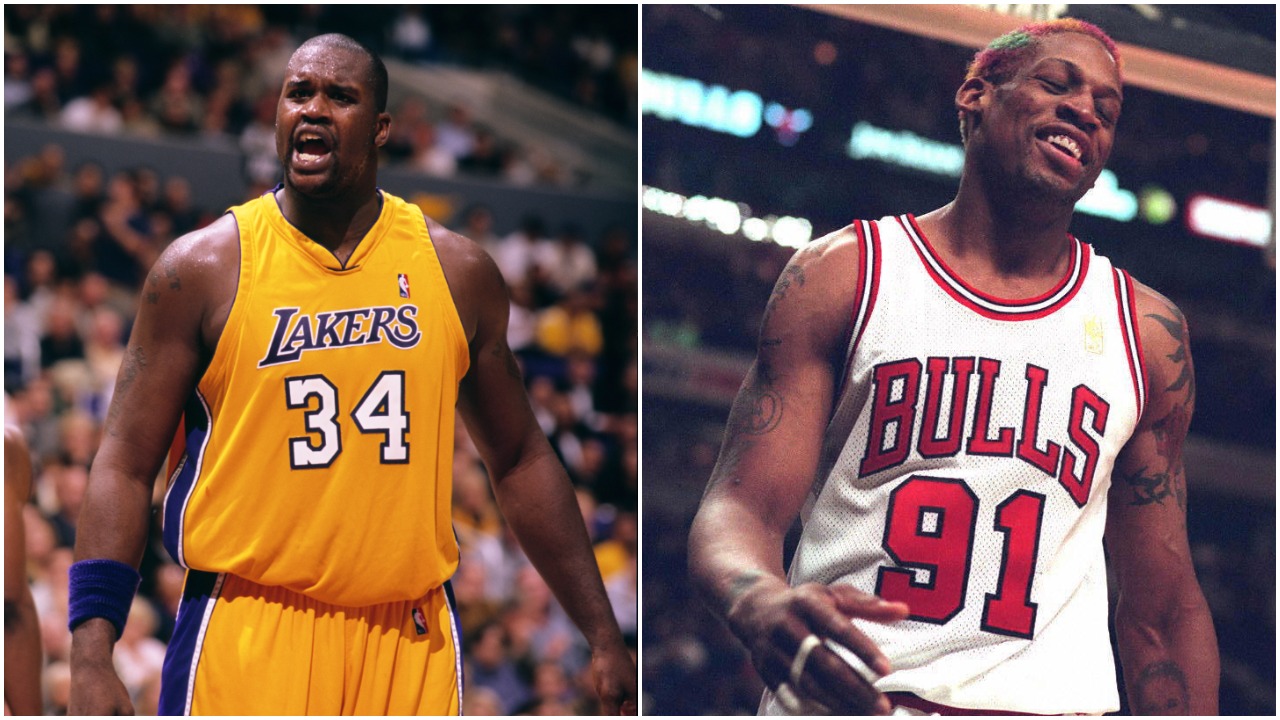 Following the Lakers' loss to the Bulls, Shaquille O'Neal was asked about the scuffle with Dennis Rodman and said he was willing to be suspended to fight "The Worm" that night, also saying, "It's one thing to talk tough and one thing to be tough."
So for the sake of argument, let's say that Shaq had actually thrown a punch at Rodman that night, perhaps the same kind of punch he threw in Chicago a few years later at Bulls center Brad Miller, which thankfully didn't land. That punch got him a $15,000 fine and a three-game suspension without pay.
So let's assume the punishment would have been the same. Shaquille O'Neal would have lost three game checks, a total of $391,975.61, plus the $15,000 fine, which means he was more than willing to drop more than $400,000 to get it on with Dennis Rodman. Now that's commitment. Think that incident ever came up when the two teamed up with the Lakers for that short time in 1999?
Stats courtesy of Basketball Reference, Contract info courtesy of Spotrac