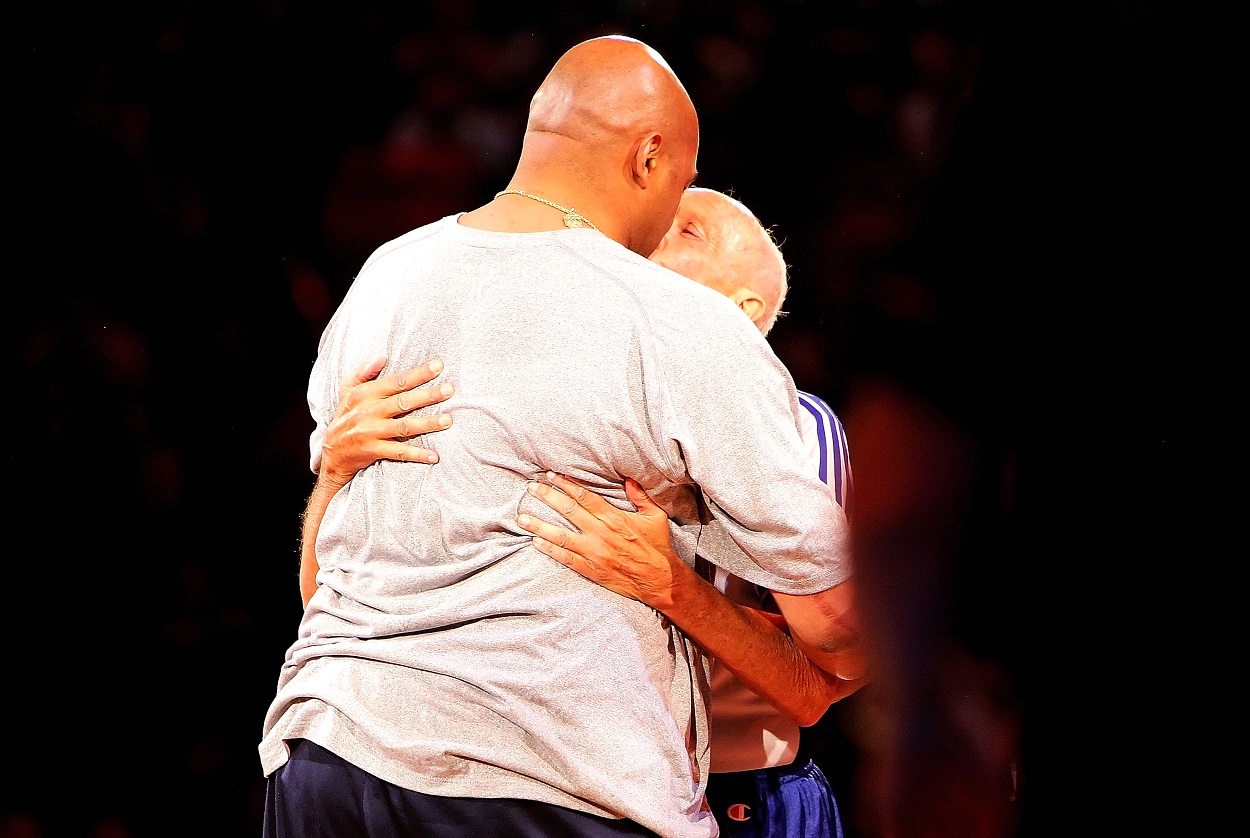 The Night Charles Barkley Kissed an NBA Referee On the Mouth After Winning $5,000
A look back on the night Charles Barkley and longtime NBA referee Dick Bavetta kissed after their race during the 2007 All-Star festivities.
Very few NBA players, if any, were as entertaining as Charles Barkley. And lucky for us, that entertainment didn't stop once his 16-year Hall of Fame playing career ended as he's now had an even longer career as an analyst for TNT's Inside the NBA, which has earned him multiple Emmy Awards.
Barkley has certainly never been afraid to speak his mind on…well, anything… and definitely has no problem making a fool of himself to get a chuckle either. So when you combine those two things together, we've obviously gotten some great moments from Chuck over the years, one of which was his epic $5,000 foot race against legendary NBA referee Dick Bavetta, which ended with a kiss.
How the Charles Barkley-Dick Bavetta race came to be
For those who may have forgotten (or for those who might be hearing this story for the first time, the Charles Barkley-Dick Bavetta race got rolling on January 4, 2007, during a matchup between the LA Lakers and Sacramento Kings.
Barkley was not in the Inside the NBA studios that night as he was filling in for Steve Kerr alongside Marv Albert in Sacramento. Bavetta, who was 67 years old at the time and in his 32nd year in the league, was working the game and at one point during the broadcast, Barkley took a little dig at him, saying, "I can outrun Dick Bavetta right now."
Albert disagreed but Barkley, who was 43 at the time, reiterated his belief and because it was Charles Barkley making the comment, the wheels started turning for this race to become an actual thing.
The race took place during the 2007 NBA All-Star festivities
As soon as Charles Barkley made the comment about Dick Bavetta, Inside the NBA producer Tim Kiely came up with the idea of making the race a reality and contacted the league, who then got in touch with Bavetta, who absolutely loved the idea, as did Barkley.
It was decided that the race would take place on All-Star Saturday night in Las Vegas and that, in conjunction with the event, $50,000 (half from the NBA and half from TNT) would be donated to the Boys & Girls Clubs of Southern Nevada. In addition, there was a $5,000 bet between the two participants with the loser donating that amount to a charity of Barkley's choosing.
Most picked Bavetta, who ran every day, even on off-days, to win but what most didn't know initially was that Barkley trained extremely hard and even brought in Olympic bronze-medal sprinter John Carlos to train him. The training paid off as Barkley won the 235-foot race, although he nearly blew it as he was ahead and ran the last 20 feet backwards, which caused him to fall down as he crossed the finish line.
Charles Barkley and Dick Bavetta kissed after the race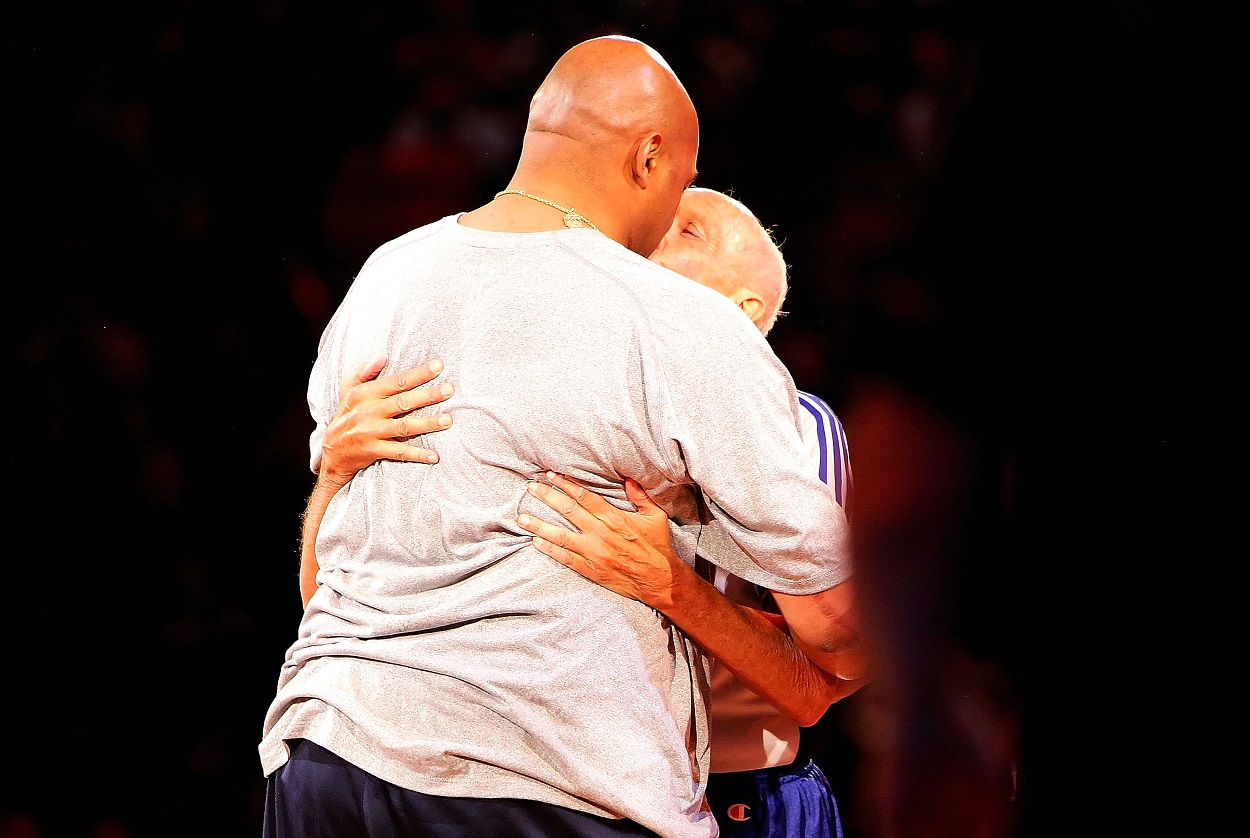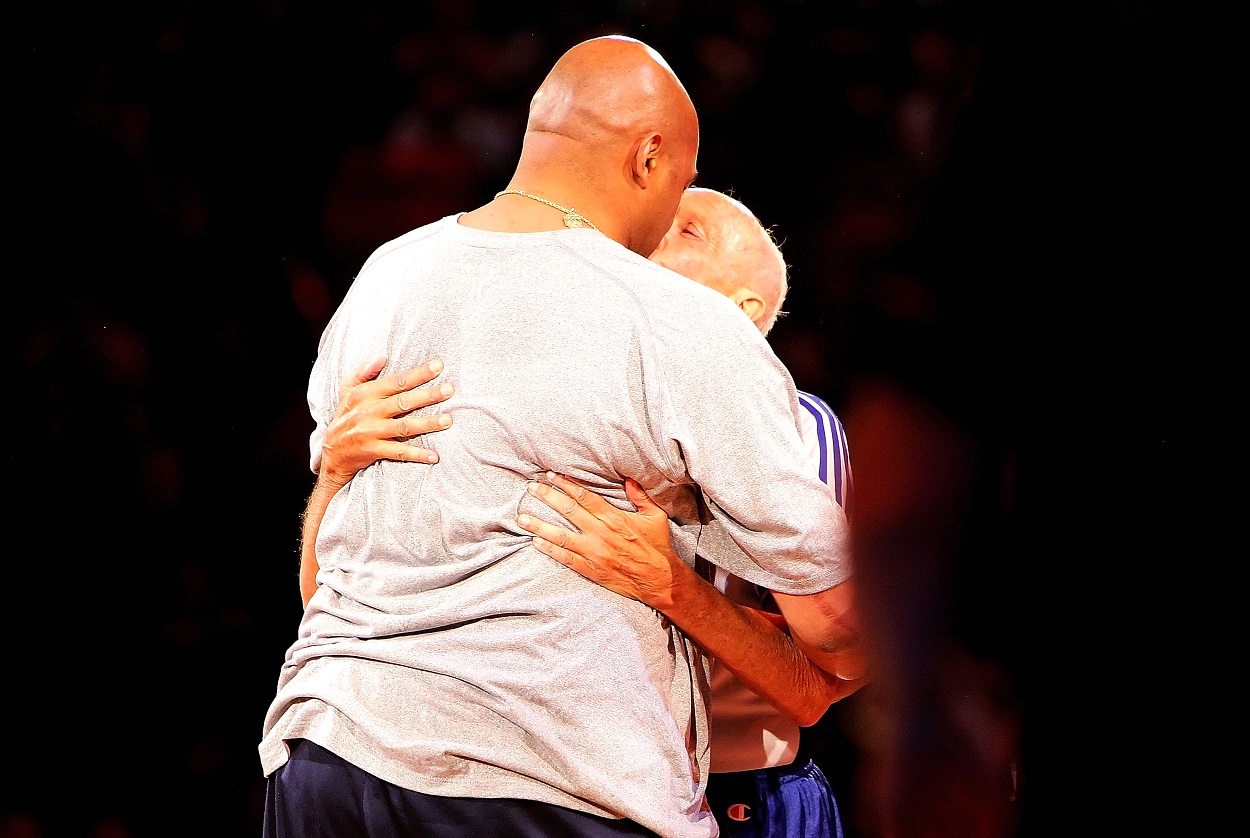 While the race was highly entertaining, the moment that followed was even better as Charles Barkley and Dick Bavetta embraced at half court and kissed, a moment that likely would have broken social media had it been as big of a thing as it is today.
Bavetta would referee for seven more seasons, finally retiring in 2014 after officiating an NBA-record 2,365 games. When he was inducted into the Hall of Fame the following year, Barkley was right there on the stage with him.