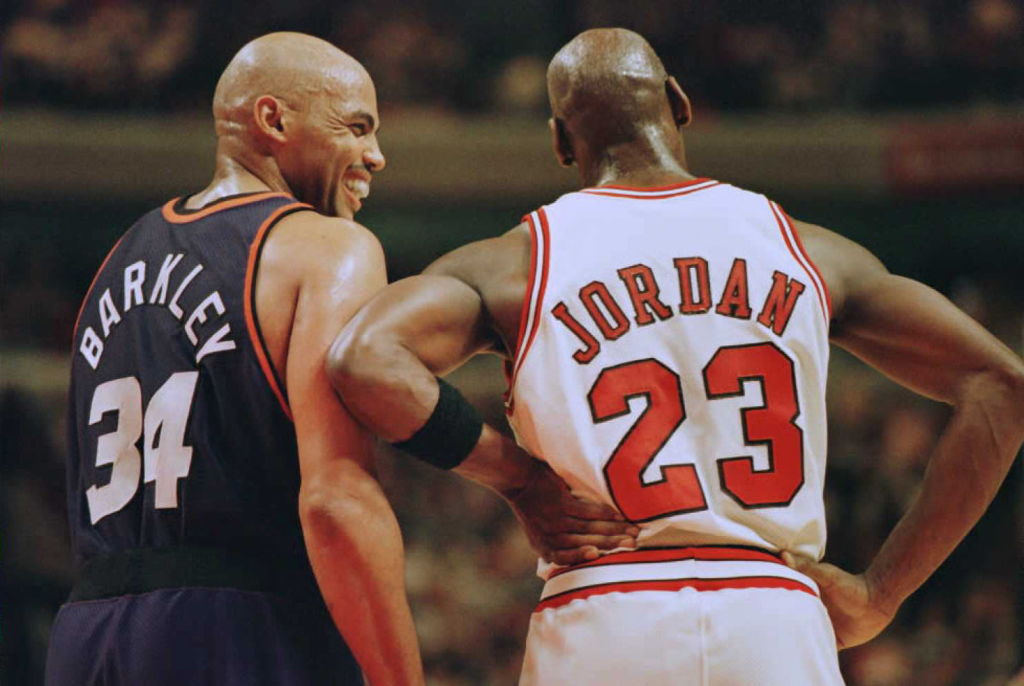 Charles Barkley Says His Longtime Feud With Michael Jordan Won't End Anytime Soon
Charles Barkley doesn't think that his spat with former friend and Dream Team teammate Michael Jordan will end anytime soon.
Charles Barkley and Michael Jordan were once the best of friends.
However, as we've seen during The Last Dance, MJ knows how to hold a grudge, which is what he's been doing with Sir Charles for years over some comments made by Barkley about Jordan's performance as an NBA executive.
And Barkley doesn't see that grudge ending anytime soon.
Michael Jordan and Charles Barkley came into the NBA together in 1984 and were teammates on the Dream Team
The 1984 NBA draft class will always go down as one of the best in history, a class that included numerous Hall of Famers. Michael Jordan and Charles Barkley were both a part of that famed class, Jordan being chosen at No. 3 by the Chicago Bulls, and Barkley at No. 5 by the Philadelphia 76ers. Both were instant sensations as Jordan's high-flying style captivated audiences while Barkley made his name as one of the most ferocious players in the league.
The pair became great friends over the years and both were a part of the famed 1992 Dream Team that won gold at the Barcelona Olympics in 1992, where Barkley was actually the better player for once. But, as usual, Jordan got the final word as his Bulls beat Sir Charles' Phoenix Suns in the 1993 NBA Finals in six games. Despite their competitiveness on the court in their playing days, they remained friends off the court.
With their playing days behind them, both remained close to the game in retirement, Jordan as an executive/owner with the Charlotte Bobcats/Hornets, and Barkley as an analyst for TNT. Unfortunately, it was Barkley's honest analysis of Jordan's flaws that deteriorated the friendship.
Why are Charles Barkley and Michael Jordan feuding?
In 2006, Michael Jordan became a part-owner of the Charlotte Bobcats, who joined the NBA as an expansion team ahead of the 2004-2005 season. Jordan took control of basketball decisions from then-head coach and general manager Bernie Bickerstaff and brought in his former Bulls teammate Rod Higgins to be the general manager in 2007, the same year he brought in another former teammate from Chicago, Sam Vincent, to be the head coach. Vincent's tenure only lasted a year, however, as Larry Brown was hired in 2008. Keep in mind that the Bobcats were a horrible basketball team this entire time.
By the time 2012 rolled around, Michael Jordan had taken controlling interest of the team, a team that had made just one playoff appearance, a first-round exit in 2010. The 2011-2012 season had been shortened to 66 games due to a lockout and the Bobcats were simply atrocious that season. Exactly halfway through the year, Charlotte was 4-29 and Charles Barkley appeared on ESPN 1000's "The Waddle and Silvy Show" and gave his thoughts on why his pal's team was so horrible.
"I think the biggest problem has been I don't know if he has hired enough people around him who he will listen to. One thing about being famous is the people around you, you pay all their bills so they very rarely disagree with you because they want you to pick up the check. They want to fly around on your private jet so they never disagree with you. I don't think Michael has hired enough people around him who will disagree.

"I love Michael, but he just has not done a good job. Even though he is one of my great friends, I can't get on here and tell you he's done a great job. He has not done a great job, plain and simple."

Charles Barkley on Michael Jordan
As "Sports Illustrated" knows quite well, Michael Jordan doesn't appreciate anyone knocking him and Charles Barkley suffered the same fate as "SI" as MJ essentially ended their friendship over the comments. But Barkley was absolutely right in what he said. The Bobcats ended the season with a 7-59 record and the .106 winning percentage is the worst in NBA history.
Sir Charles still feels 'sadness' and doesn't see the grudge ending anytime soon
Soon after Charles Barkley made his appearance on The Last Dance to discuss the Dream Team and the 1993 NBA Finals matchup with Michael Jordan, he again appeared on "The Waddle and Silvy Show" and still believes that he didn't say anything that wasn't true. Barkley is also a bit upset that Jordan reconciled with Phil Jackson, who made essentially the same type of comments, but hasn't bothered to mend his relationship with him. While hurt, he also knows that there's nothing that he can do about it and said that Jordan has his number if he ever wants to reach out. But he also knows that he has a job to do as an analyst and thought that his honesty was one of the big things Jordan respected about him.
"The guy was like a brother to me for, shoot, 20-something years. At least 20-something years. And I do, I feel sadness. But to me, he's still the greatest basketball player ever. I wish him nothing but the best. But, there's nothing I can do about it, brother.

"I thought that was one of the reasons we were great friends. Like, 'I can ask Charles anything and I know he's going to give me a straight answer.' But part of my job [as an analyst] is, because I can't go on TV and say 'Another general manager sucks' and then just because Michael's like a brother to me say 'He's doing a fantastic job.' That would be disingenuous."

Charles Barkley on Michael Jordan
Once again called the Hornets, Michael Jordan's Charlotte franchise hasn't won a single playoff series since he became an owner.