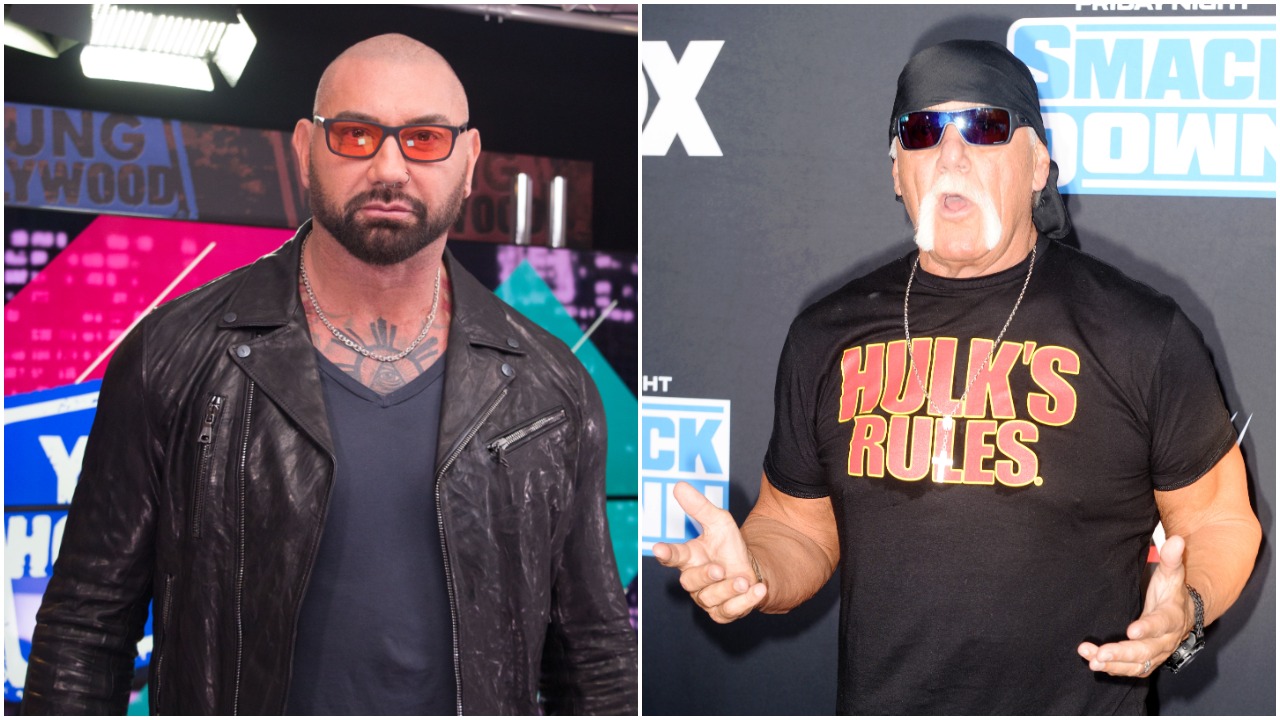 Hulk Hogan Used to Think Dave Bautista Was Making Fun of Him in Promos
Former WWE wrestler turned actor Dave Bautista says that Hulk Hogan thought he was making fun of him in interviews and promos.
Dave Bautista and Hulk Hogan have quite a few things in common. Both were multiple-time WWE champions. Both were (and still are) very large human beings. And both have attempted to find success outside the ring as actors.
While Hogan may have a more impressive resume as far as professional wrestling is concerned, Bautista has certainly edged the Hulkster in the acting department. While pretty much all of Hogan's film and television projects were universally panned by critics, Bautista garnered rave reviews for his role of Drax the Destroyer in the Guardians of the Galaxy franchise, which are seen by many as some of the best films in the Marvel Cinematic Universe.
Dave Bautista, who dropped a letter and simply went by Batista in WWE, has long said that Hulk Hogan was a big influence on his wrestling promos and that he still sometimes channels the six-time WWE champion in his acting career, even if he doesn't want to. He says that his promos and interviews sounded so much like Hogan at one point that the Hulkster himself once asked if he was making fun of him.
Hulk Hogan and 'Macho Man' Randy Savage were Dave Bautista's first influences in pro wrestling
When Dave Bautista was a teenager in the mid-to-late 1980s, Hulk Hogan and "Macho Man" Randy Savage were the two biggest stars in WWE. On and off as friends on the screen and off, Hogan and Savage were the two biggest draws in the company and just about every wrestler that came after them in the next 10 to 15 years was influenced by at least one of them in one way or another, including Dave Bautista.
It took longer than most for Bautista to begin his pro wrestling training, not starting until he was close to 30, but once he got to the main roster in WWE in 2002, the same year in which Hulk Hogan won his last WWE Championship, he became an instant star. At 6'6″ and 290 pounds of pure muscle, he was a menacing force and quickly became one of the company's top draws. He honed his craft in Evolution alongside Ric Flair, Triple H, and Randy Orton, which prepared him for a great singles career.
Over the course of his career, Bautista, like Hogan, was a six-time WWE Champion and a two-time Royal Rumble winner. Bautista also held the tag titles on four occasions.
He was originally scared to get on the microphone
What hinders a lot of careers in the professional wrestling business is their inability to cut promos. There are so many people that have the look of a pro wrestler or unbelievable in-ring talent but can't get on the microphone and truly sell themselves to the viewing audience, which is a huge part of the industry if you want to be successful. Like it or not, marks, it's true.
Dave Bautista was originally one of those people. He was obviously an amazing specimen and played the part of an unstoppable monster very well. But it took a little while for him to get used to the promo part of things, which is why it was so helpful to be with Ric Flair and Triple H early in his career. The same could be said for Randy Orton. Both learned from two of the best the business has ever seen and both got so much better as their careers progressed.
But every so often, Bautista found himself going back to Hulk Hogan-type promos, you know, that high-octane style that he was never truly comfortable with but always channeled when he was nervous. One was so spot on that Hogan actually thought Bautista was making fun of him.
Hulk Hogan thought Dave Bautista was making fun of him in promos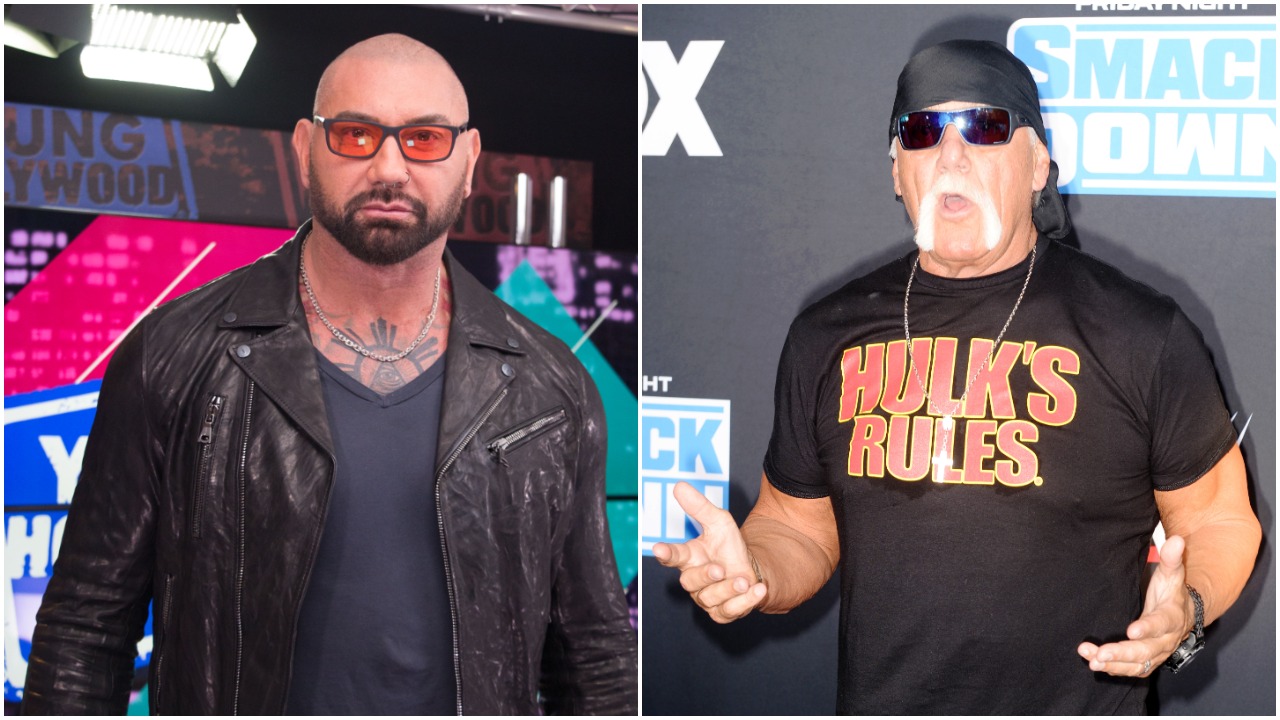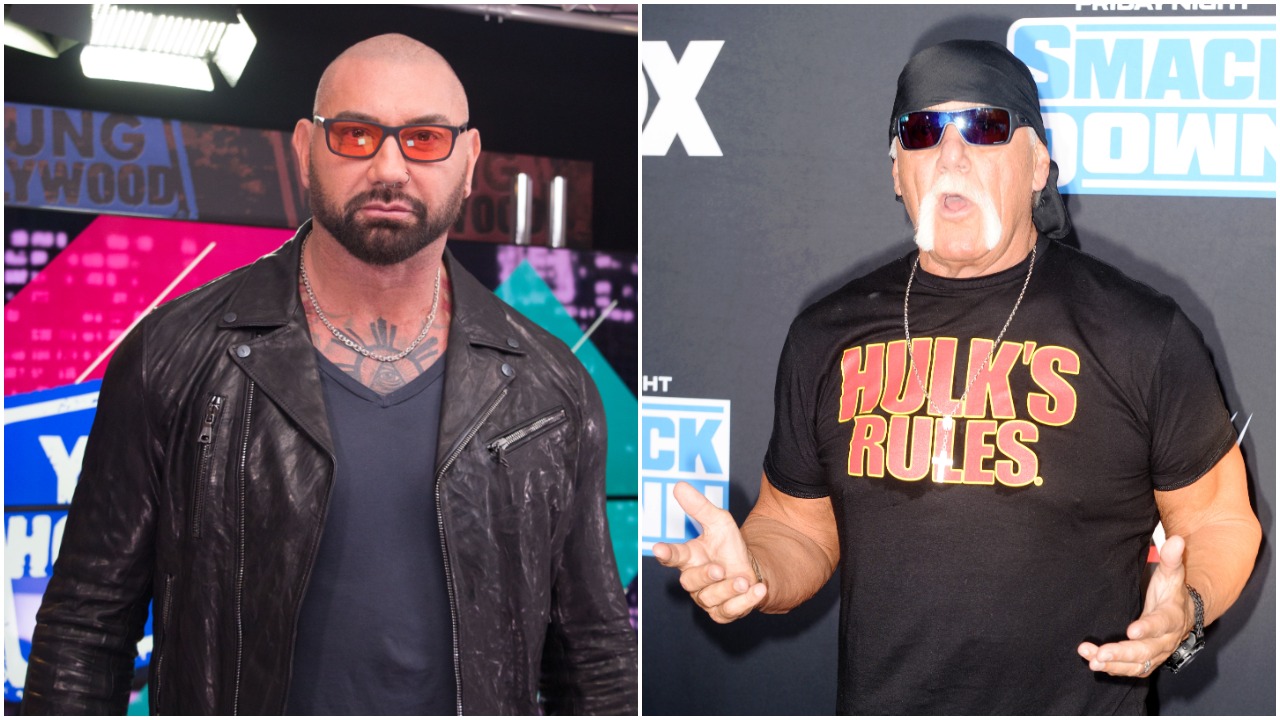 In an interview with Sports Illustrated to promote his latest acting project, an episode of HBO's Room 104, in which he plays a former pro wrestler dealing with brain damage and memory loss, Dave Bautista explained how Hulk Hogan influenced his promos and how he still sometimes goes back to that in his acting career.
"Since the beginning of my wrestling career, I was so terrified to be on the microphone, so I'd subconsciously channel a bit of Hulk Hogan and the Macho Man. Even when filming Room 104, and it isn't intentional, that's who I channel. That is my first childhood connection to professional wrestling.

"I remember I did this interview years ago where it came across like I was doing this impersonation of Hulk Hogan. It wasn't my intent but that's the way it came off, and I remember saying, 'This just isn't me. I'm just not that guy.' I later saw Hogan at a show and he asked if I was making fun of him. I said no, I didn't mean that at all. That's just my first connection to professional wrestling. They did promos a certain way, and it still impacts my work."

Dave Bautista
Dave Bautista was set to join Hulk Hogan in the WWE Hall of Fame this year but the ceremony, which was to be held over WrestleMania weekend, was canceled. No new date has yet been set.