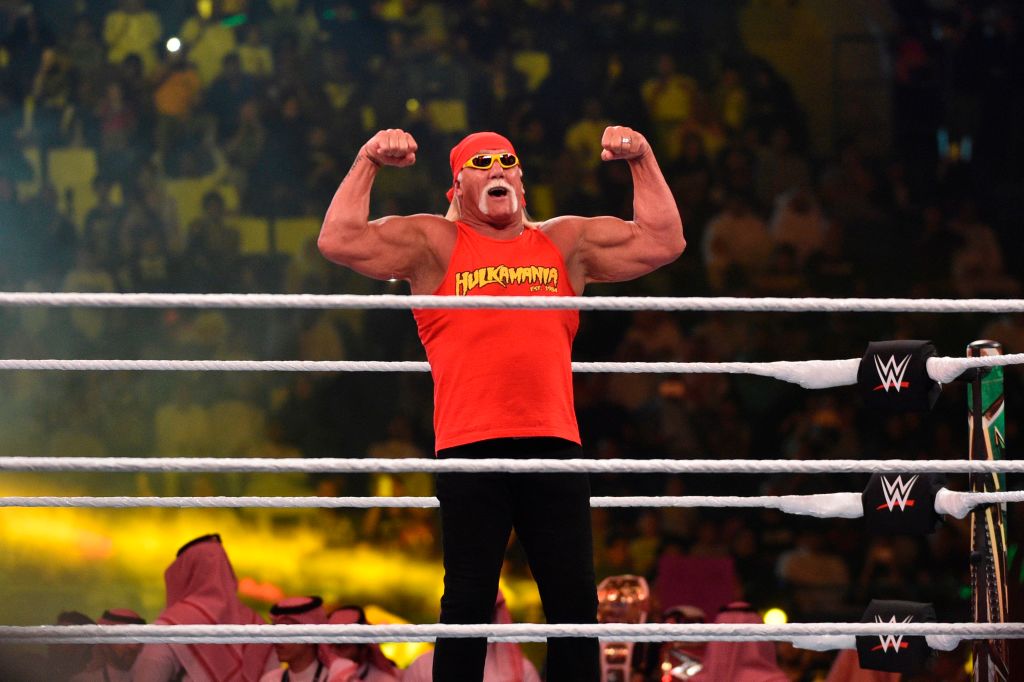 Hulk Hogan Could Have Been a Baseball Star, If Not for an Unfortunate Injury
If not for an elbow injury, Hulk Hogan could have been running wild on the baseball diamond rather than the wrestling ring.
While it's easy to write professional wrestling off as an elaborate spectacle rather than a real sport, wrestlers still have to be pretty athletic. For some guys, however, that athleticism goes beyond the ring. Hulk Hogan, for example, showed plenty of talent on the baseball diamond.
Although it's almost impossible to think of Hogan doing anything other than running wild on his opponents and breaking out leg drops and big boots, he almost had a different calling. If not for a serious injury, Hulkamaniacs everywhere could be packing baseball stadiums rather than tuning into to Wrestlemania.
Hulk Hogan's rise to wrestling prominence
Long before Hulk Hogan was towering over the wrestling circuit, Terry Eugene Bollea was spotted by the Brisco brothers. They convinced him to train as a wrestler; after appearing alongside Lou Ferrigno on a talk show, he took on the moniker "the Hulk."
Bollea briefly appeared in the WWF as a heel, before spending several years wrestling in Japan; after a brief spell in the American Wrestling Association, he returned to the WWF; this time, however, things would be different. In 1984, Hogan escaped from the camel clutch and defeated the Iron Shiek at Madison Square Garden. While that victory gave him the WWF Championship, it proved to be the start of something more: Hulkamania.
From then on, Hulk Hogan was a force of pop culture representing pure Americana. Whether he was ripping his shirt off, imploring the little Hulkamaniacs out there to follow his four demandments, or dominating at Wrestlemania, it was impossible to escape his presence. While knee injuries and some notable scandals slowed the Hulkster down, he's still a fixture in the wrestling space.
Hulk Hogan's burgeoning baseball career
Hulk Hogan didn't always use his brawn in the wrestling ring, though. Growing up, Terry Bollea had another calling: baseball.
While Bollea wasn't the best athlete, he had plenty of pure power; at the West Tampa Little League, he established himself as a home run hitter. Moving on to high school, he played third base and pitched; while scouts from the New York Yankees and Cincinnati Reds reportedly came to watch him, an injury prevented Bollea from going any further.
"I was playing third base," Hogan explained to Daniel Brown of the Mercury News. "The bases were loaded. I moved in on the infield. The guy stepped outside the box and hit one off the handle. And as it dribbled down the third-base line, I ran in—this was the bottom of the seventh inning, and the score was 0-0—and I picked it up. As I threw underhanded to first base, I broke my arm. My arm was never the same."
While the injury was crushing at the time, everything ended up working out for the Hulkster. "It was the best thing that ever happened to me because I segued into wrestling," he told MLB.com. "Once my arm wasn't what it was, I started chasing the wrestling dream around, and it finally happened. But baseball was the first love."
He's not the only pro wrestler with an athletic past
While Hulk Hogan's story might be colorful, it's far from unique. Some other notable wrestlers found success in more conventional sports before hitting the ring.
Dwayne "The Rock" Johnson, for example, dreamed of being an NFL star; while he played for the Miami Hurricanes, he wasn't able to cut it in the pros. It's safe to say, however, that becoming a pro wrestler turned out to be the right move.
Randy Poffo also had a burgeoning baseball career, but never was able to make it to the majors. While that name might not sound familiar to the casual fan, Poffo eventually his famous sunglasses, becoming Macho Man Randy Savage.
While sports purists might look down as pro wrestling as more of a soap opera than anything else, one thing is clear: the guys in the ring are impressive athletes.