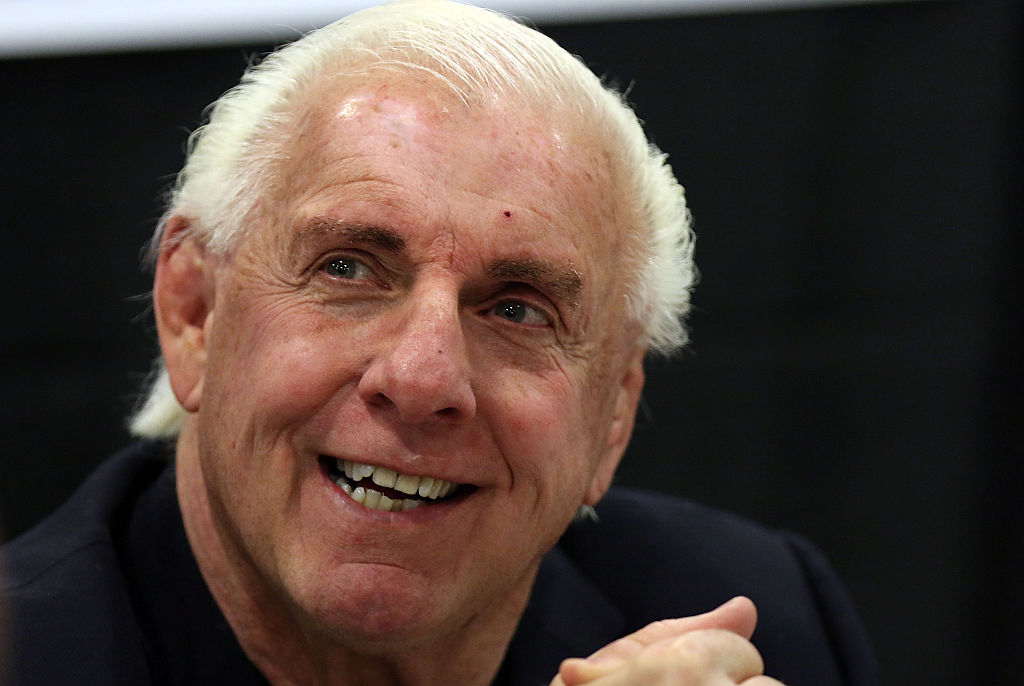 Ric Flair Reveals His Pick For the Greatest Wrestling Match Ever
Two-time WWE Hall of Famer and 16-time world champion Ric Flair has revealed his pick for the greatest wrestling match in history.
Ric Flair is considered by many to be the greatest professional wrestler in history. Over the course of a 40-year in-ring career, which is just insane in itself, the 16-time world champion and two-time WWE Hall of Famer was involved in some of the greatest matches in history and became a worldwide icon, even getting his own "30 for 30" documentary on ESPN, the only pro wrestler thus far to get the treatment. No, Dennis Rodman doesn't count.
As WWE is billing this Sunday's match at Backlash between Edge and Randy Orton as the "Greatest Wrestling Match Ever," which is just absurd, Ric Flair has revealed what he believes to be the best match of all time, which unsurprisingly includes himself.
Ric Flair predicts Randy Orton will defeat Edge at WWE Backlash
Ahead of the Edge/Orton matchup at WWE Backlash, Ric Flair was recently featured on an episode of "Monday Night RAW" in which he gave his prediction on the match. Flair is just one of a number of legends who've appeared on the red brand to hype the matchup and this is what he had to say. (h/t ComicBook.com)
"So the WWE reaches out to Naitch. And they say, 'Naitch, what in your opinion will be the outcome of what many consider to be the greatest wrestling match ever, Edge vs. Orton?' I said to myself, 'Ever since I quit limousine riding and jet flying, kiss stealing and wheelin' dealin,' and hung up my tights, the greatest in-ring performer today is Randy Orton. My main man, and the man who will beat Edge at Backlash."

Ric Flair
It's certainly not a surprise that Ric Flair went with Randy Orton for this match given the history between these two as stablemates in Evolution, although it was interesting to hear that he believes The Viper is the best in-ring performer in WWE today. While Flair says that Orton and Edge will put on a good show, he knows that it'll take quite a bit to match up with what he believes is the greatest wrestling match ever.
Ric Flair reveals what he believes is the greatest wrestling match ever
This past Wednesday, Ric Flair took to Twitter to reveal what he thinks is the greatest wrestling match ever and it's not surprising that he posted a picture of himself and fellow WWE Hall of Famer Ricky "The Dragon" Steamboat, essentially challenging Edge and Orton to step up.
"Edge and Randy Think They Are Going to Have the Greatest Wrestling Match Ever? Have They Not Seen My Match With Ricky Steamboat? Now That Was the Greatest Wrestling Match Ever. What Does the @WWE Universe Think? #GreatestWrestlingMatchEver"

Ric Flair on Twitter
What's interesting here is that the match he chose as the best of all time, at least with the picture that's included in the tweet, is his match with Steamboat at 1989's Chi-Town Rumble, an event produced by WCW under the NWA banner. It was the first match in an epic trilogy between the two that year and it wouldn't surprise me if he's just using this picture to represent all three matches.
The Nature Boy's trilogy with Ricky Steamboat is the greatest of all time
It would be difficult to find a large number of people that don't believe that the Ric Flair vs. Ricky Steamboat trilogy in 1989 is the greatest in history. Beginning with the aforementioned match in Chicago in February 1989, a 23-minute battle that saw Steamboat win the NWA title from The Nature Boy, the duo put on a fantastic series of matches that year.
Following the Chi-Town Rumble, the rematch came in the form of a two-out-of-three-falls match at Clash of the Champions VI in April, which many people say was the greatest match in the series. Flair and Steamboat wrestled for close to an hour, battling back and forth in a grueling contest of stamina. The finish was set up perfectly as both men's shoulders were down in the final seconds of the match. But Steamboat got one of his up just before the three-count to get the win. However, a replay showed Flair's leg was under the rope, which was a brilliant way to set up the third match.
The trilogy bout took place in May 1989 at WrestleWar in Nashville. Once again, Flair and Steamboat put on a wrestling clinic, battling for more than half an hour with The Nature Boy finally winning back his title in yet another epic bout. All three matches are still looked at by many as some of the greatest matches in pro wrestling history and it seems that Ric Flair himself is one of those people.