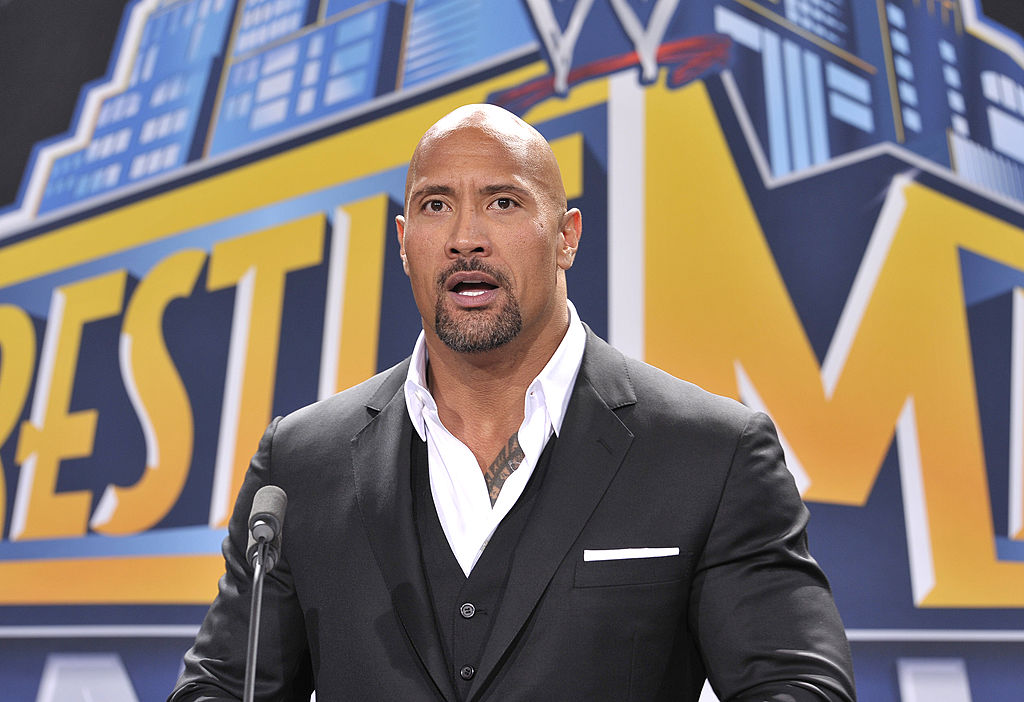 Dwayne Johnson Reveals the Moment He Hit Rock Bottom in His WWE Career
Dwayne Johnson, better known in WWE as The Rock, recently revealed the lowest point in his professional wrestling career.
As most people are aware, Dwayne Johnson wasn't always called The Rock during his time in WWE. He debuted in 1996 as Rocky Maivia, a name he was convinced to use by Vince McMahon and Jim Ross that combined his father (Rocky Johnson) and grandfather's (Peter Maivia) in-ring personas.
Billed as WWE's first third-generation performer, Dwayne Johnson came in as a clean-cut babyface just as WWE was shifting into the Attitude Era to compete with WCW and it didn't take fans long to turn on him, which The Rock now admits really got to him, leading to the low point of his wrestling career.
Dwayne Johnson got off to a hot start in WWE in 1996-1997
After appearing at various house shows for WWE in 1996, Dwayne Johnson made his television debut on "Monday Night RAW" on November 4, 1996, appearing as a member of Marc Mero's entourage. A few weeks later at Survivor Series, he teamed with Mero, WWE Hall of Famer Jake "The Snake" Roberts, and The Stalker (an awful character for Barry Windham) to take on the team of Crush, Goldust, Jerry "The King" Lawler, and Intercontinental Champion Triple H in a traditional Survivor Series elimination matchup at Madison Square Garden.
Dwayne Johnson looked fantastic in his debut. Dubbed "The Blue Chipper" by Jim Ross, he performed well and fought off a 2-on-1 disadvantage at the end of the match to emerge as the sole survivor, eliminating Crush and Goldust within 32 seconds of one another.
Wanting to keep the momentum going, Vince McMahon put the Intercontinental Championship on Johnson a few months later, a big honor for someone so new. In what would later become one of the great rivalries in WWE history, Johnson defeated Triple H for the title in February 1997. In a recent Q&A session with fans on Instagram, Johnson spoke about the whirlwind that was his first few months in WWE.
"So it was my very first night in the company, Survivor Series. I win the whole thing at Madison Square Garden. I got 22,000 people chanting, 'Rocky. Rocky.' I was on a high, it was like a dream because I could not believe what was happening. I was so grateful. It was so humbling. A few months later, the company decides they were gonna make me Intercontinental Champion. That's how much I was getting over, ascending in the world of professional wrestling."

Dwayne "The Rock" Johnson on his early days in WWE
The high wouldn't last very long.
The fans turned on Dwayne Johnson, which led to the lowest point of his WWE career
Not long after winning the Intercontinental Championship, WWE fans turned on Dwayne Johnson. Stone Cold Steve Austin had recently won the Royal Rumble and was becoming the hottest thing in pro wrestling. He was a rebel. He was anti-authority. He cussed and flipped the bird to anyone with eyes. Essentially, he was everything Rocky Maivia wasn't.
The days of the clean-cut babyface were coming to an end and fans made sure that Dwayne Johnson knew that. At WrestleMania 13 in Chicago, the "Rocky Sucks" chants were extremely loud and only got louder in the weeks after. They also got worse in nature as "Die, Rocky, Die" got added to the mix. He lost the Intercontinental Championship to Owen Hart at the end of April and then got legitimately hurt in a match with Mick Foley, which put him on the shelf for months. With all of these things combined, it was the low point in Dwayne Johnson's WWE career, which he told fans in the same Instagram Q&A.
"I represented everything, at that time, that was wrong with pro wrestling, and the fans turned on me. They started chanting, 'Rocky sucks' at every arena that I went to. Now imagine, I'm the champion and at every arena that I went to they were chanting, 'Rocky sucks.' And it was hard for me, as you can imagine, psychologically, but also hard as a company.

"It was my very first WrestleMania as Intercontinental Champion. I wrestled The Sultan, who's also Rikishi. He's my family, my ainga. And 15,000 people in Chicago were chanting 'Rocky sucks.' And this is WrestleMania. And I remember Rikishi telling me, 'Don't listen to them.' But you can't help it. You're listening to them. That was the culmination that the company felt like we can't do anything anymore with Rocky — me — Rocky Maivia. They took the belt off me. They gave it to somebody else — Owen Hart I think it was. My dear friend. Rest in peace. And I got hurt and was sent home for the summer.

"Now, that was my low because now I'm at home, I have no money, and I'm thinking my wrestling career is just like my football career. It's all just gonna end before it actually begins. So I had a lot to reconcile."

Dwayne Johnson on the low point of his WWE career
And reconcile he did.
'The Rock' was born and the rest is history
As Dwayne Johnson sat at home in the summer of 1997, he knew something had to change. He contemplated a career change but finally figured out what was wrong: he wasn't being himself. That's why the fans were booing him. They saw right through the Rocky Maivia character and upon his return to WWE in August, he simply killed the character, turning heel by joining forces with the militant Nation of Domination, at the time led by Faarooq, WWE Hall of Famer Ron Simmons.
It was at this time when he started referring to himself in the third person as The Rock and the wrestling world changed forever. After cutting an amazing promo on "Monday Night RAW" blasting WWE fans for turning on him, he knew things had changed for the better, especially on a night back in Chicago, the same city that had booed him out of the building at WrestleMania 13.
"I get in the middle of the ring. I pause. I want to see what happens to this crowd. 'Rocky sucks!' It got stronger. And all I did, I kind of turned around. I look, look this way. It got so strong. That place was f**king vibrating, that arena. I knew in that moment that I was in rarefied air. And that rarefied air in professional wrestling is me doing absolutely nothing and having the crowd right there in the palm of my hand. Did nothing. 'Rocky sucks!' Looked at them. 'Rocky sucks!' And all I did was go, 'Mmm-mmm. No, no, no, no.' And when I went home that night, back at the hotel, I realized that I had something special, and I was so elated. It was like a weight was lifted off my body. It was almost like a resurrection like a religious experience when you catch the holy ghost because then I realized ah, now with the people, we can dance. Now with the people, we're gonna have a real relationship."

Dwayne Johnson on 'The Rock' character changing his WWE career
And that relationship with the fans grew stronger and stronger each and every week. The Rock was a hit and became one of the biggest stars in WWE history. As he's done so many times in his life, Dwayne Johnson took a low point and turned it into a positive.