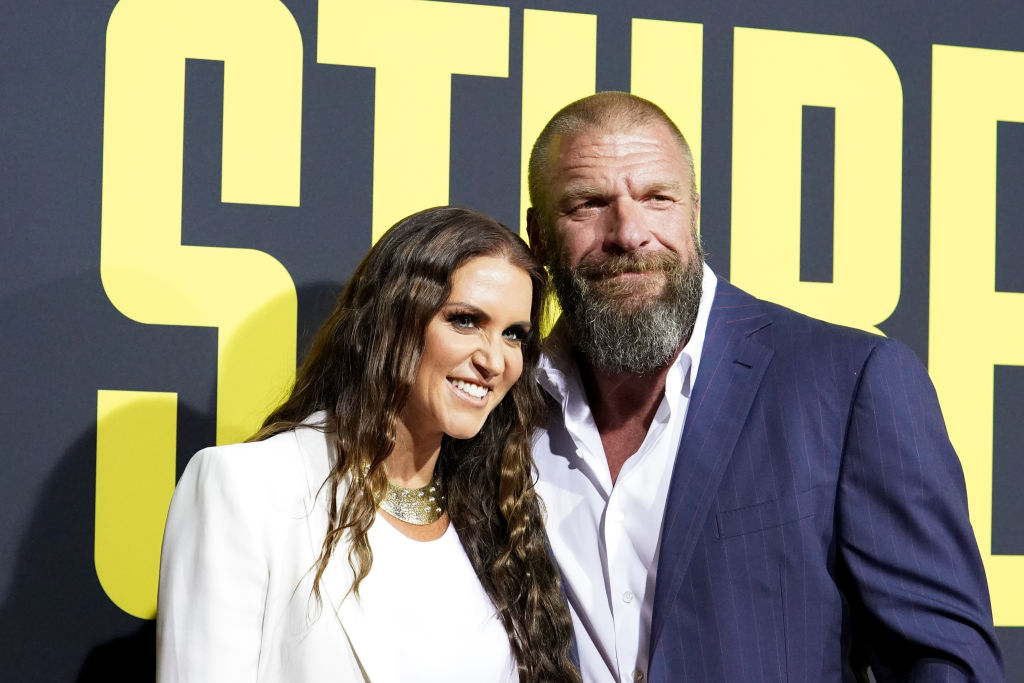 Triple H and Stephanie McMahon Have Combined to Make an Absolute Fortune with WWE
Triple H and Stephanie McMahon have been married on the screen and off in WWE and have combined to make a fortune.
On the screen or off, there has never been a power couple in the history of professional wrestling bigger than Triple H and Stephanie McMahon. First paired together as part of a WWE storyline in the late 1990s during the famed "Monday Night War" with rival World Championship Wrestling, a time during which famously turned against her father, Vince McMahon, the couple married in real life in the early 2000s and have built a massive fortune in front of the camera and behind the scenes as well.
Stephanie McMahon began her career in WWE at the age of 13
Stephanie McMahon first began working for WWE at the age of 13 when she modeled merchandise for the company's now-defunct magazine. After attending college at Boston University, she returned to her father's company in an on-screen role in the late '90s, getting involved in a number of major storylines, including one where she was married to Triple H, which came true in real life in 2003.
Throughout the years, Stephanie has been a big part of WWE. On the air, she's been a WWE Women's Champion, the General Manager/Commissioner of both "Monday Night RAW" and "SmackDown" and truthfully has been one of the best on-screen villains in the history of the company. Behind the scenes, however, she isn't the villain at all. She's held numerous positions in WWE over the years and has worked her way up to being the Chief Brand Officer of the company. She's involved with numerous charities as part of WWE's outreach programs, has won numerous awards for her efforts in the community, and has been named as one of the most influential women in business.
Triple H just celebrated 25 years in WWE
During a recent episode of "Friday Night SmackDown", Triple H, whose real name is Paul Levesque, celebrated 25 years in WWE. After a short time in WCW, he joined WWE in 1995 and became one of the biggest stars in company history. He teamed with Shawn Michaels to form D-Generation X, which became one of the most popular factions of all time, as did his Evolution group, which also featured Ric Flair, Randy Orton, and Batista.
Throughout the years, Triple H held the WWE Championship 14 times, the Intercontinental Championship five times, the tag titles twice, and was also a two-time winner of the Royal Rumble. He's been a part of some of the biggest and best matches in company history, including three great matches with The Undertaker at WrestleMania.
He's also been a mentor to many wrestlers behind the scenes and has been the driving force behind NXT since its inception in 2012. He also currently serves as the Executive Vice President of Global Talent Strategy & Development for WWE.
Triple H & Stephanie McMahon have made a fortune in WWE
Triple H was one of WWE's highest-paid wrestlers in his prime and now earns close to $3 million per year in salary to go along with the stock he owns with the company. The couple's net worth, however, can mainly be attributed to the 2.5 million shares of stock owned by Stephanie McMahon, which has at one time been worth upward of $225 million. Currently, according to Celebrity Net Worth, Triple H and Stephanie McMahon are worth a combined $150 million. The couple has three daughters together: Aurora, Murphy, and Vaughn.