How Much Was 'Macho Man' Randy Savage Worth When He Died?
A look back on the career of former WWE and WCW star "Macho Man" Randy Savage, who built a fortune as one of the best wrestlers in history.
"Macho Man" Randy Savage is considered by many to be one of the greatest in-ring performers in the history of professional wrestling. Responsible for some of the most memorable matches in WWE history, including his classic bout with Ricky "The Dragon" Steamboat at WrestleMania III, which some consider the greatest match of all time, Savage became one of the most popular wrestlers of his era, thanks in part to his real-life wife of eight years, the lovely Miss Elizabeth.
The couple divorced in 1992 but still worked together when Randy Savage made the move to WCW, where he enjoyed a career renaissance and became a four-time world champion, continuing to build a massive fortune. Savage tragically passed away in 2011 after suffering a heart attack while driving in Florida.
Here's a quick look back on the career of "Macho Man" Randy Savage.
Randy Savage was one of the most popular wrestlers in WWE history
Following a brief minor-league baseball career in the St. Louis Cardinals organization, Randy Savage (real name Randy Poffo) joined the family business and began his professional wrestling career in 1973. For a dozen years, he worked in various promotions throughout the U.S., including International Championship Wrestling, which was run by his father, the legendary Angelo Poffo. He worked alongside Jerry "The King" Lawler in the famed Memphis territory before joining WWE in 1985.
Upon his arrival in WWE, the "Macho Man" quickly became one of the top stars in the company, especially after he introduced his real-life wife, Miss Elizabeth, as his valet. Savage won the Intercontinental Championship in February 1986, defeating Tito Santana, a title he went on to hold for 414 days, still the third-longest reign in history. He finally lost the title at WrestleMania III in his famous bout with Steamboat.
He turned face later in 1987, forming an alliance with Hulk Hogan, and won his first WWE Championship in 1988 at WrestleMania IV. After turning on the Hulkster in February 1989, he lost the title to Hogan at WrestleMania V, the culmination of arguably the greatest storyline in WWE history. The "Macho Man" was also featured in a high-profile match at WrestleMania VII against The Ultimate Warrior and again at WrestleMania VIII against Ric Flair where he regained the WWE title.
However, Vince McMahon began to lose faith in Savage as an in-ring performer and moved him to the announce table. Unhappy with how his career was going, Savage jumped ship to WCW in 1994.
The 'Macho Man' resurrected his in-ring career in WCW
Upon his arrival in WCW, "Macho Man" Randy Savage took part in numerous high-profile feuds, many of which involved Hogan. When Hogan turned heel for the first time in over a decade and started the nWo, he did it by double-crossing Savage. Savage later joined Hogan in the famed faction but the two ended up on opposite sides when the nWo split, facing off on numerous occasions for the Big Gold Belt, a title Savage won four times in his WCW career. His feuds with Hogan, Flair, and Diamond Dallas Page were some of the best in WCW history.
Following a hiatus due to knee surgery in 1998, Savage returned to WCW in April 1999, debuting a new look and a new valet, his real-life 23-year-old girlfriend known as Gorgeous George. Savage feuded with Dennis Rodman for a short time and had a minor role in the Millionaire's Club vs. New Blood storyline before exiting the company in 2000, one year before WCW was bought out by WWE.
Randy Savage wrestled the final match of his career for TNA in 2004.
How much was 'Macho Man' Randy Savage worth when he died?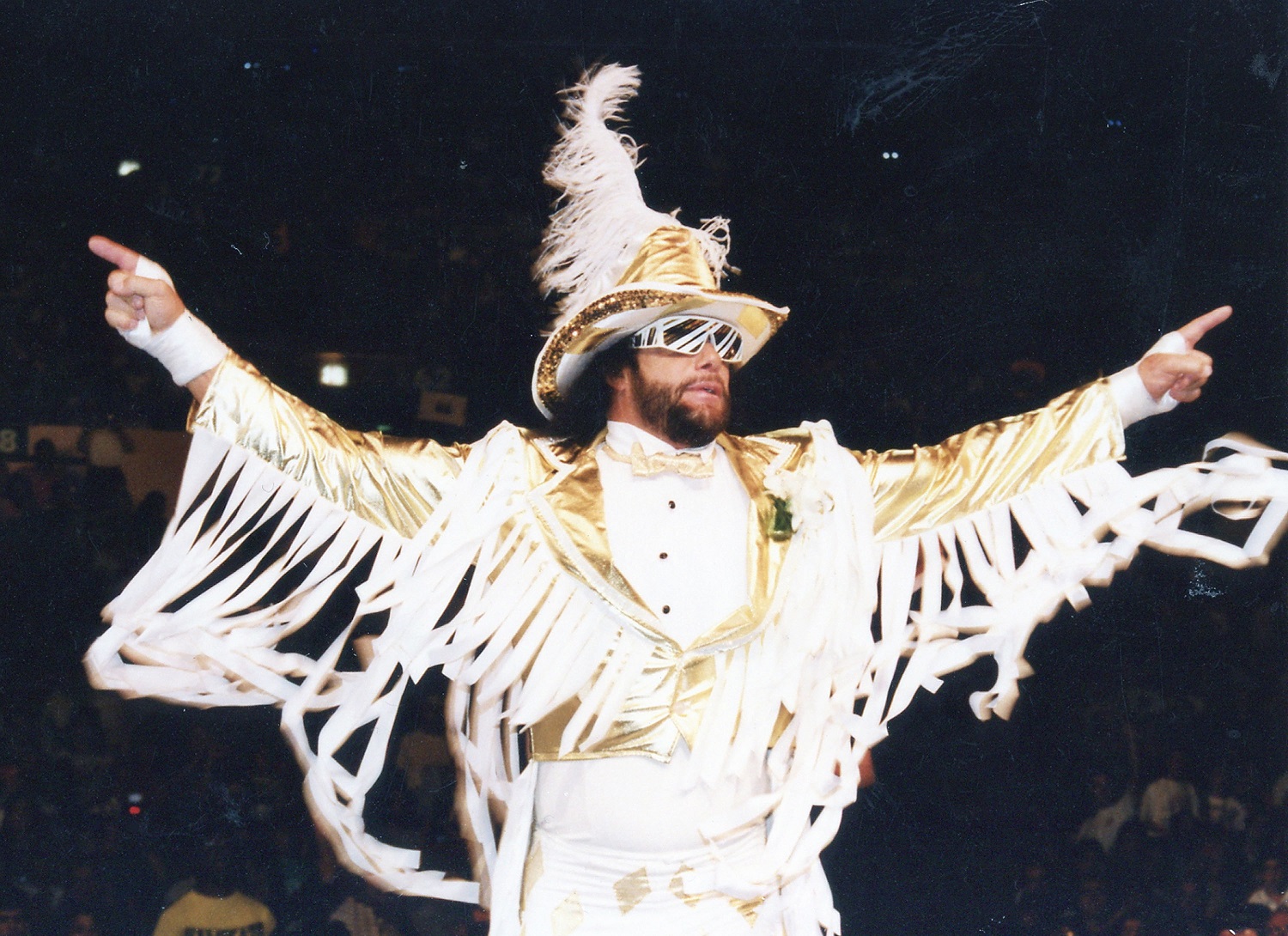 While he obviously had a great career in the ring, "Macho Man" Randy Savage also enjoyed success out of it. His commercials for Slim Jim over the years were wildly popular and he lent his signature raspy voice to numerous animation projects, also appearing in a few live-action films as well, most notably the first Spider-Man film starring Tobey Maguire in 2002.
Randy Savage married Lynn Payne, whom he had met during his baseball days, in 2010. Content with life away from the spotlight, he lived a quiet life in Florida in retirement. Tragically, on May 20, 2011, he suffered a heart attack while driving with his wife in Seminole, became unresponsive, and crashed into a tree. He was transported to a nearby medical facility and pronounced dead. An autopsy revealed that he had an enlarged heart and suffered from advanced coronary disease. The "Macho Man" was posthumously inducted into the WWE Hall of Fame in 2015.
According to Celebrity Net Worth, Randy Savage was worth $8 million at the time of his death.