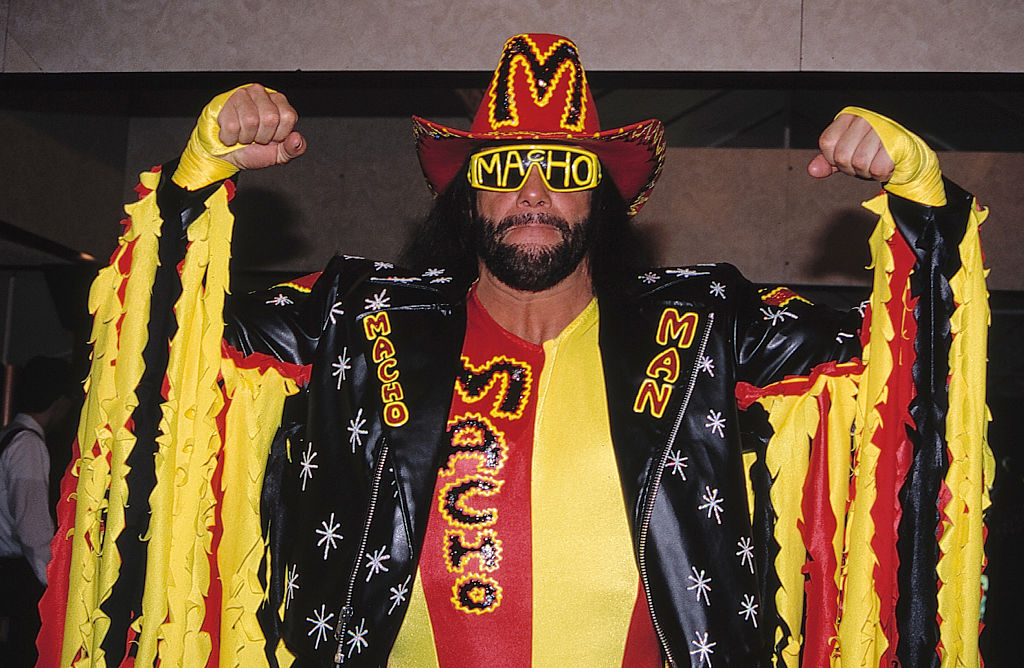 Macho Man Randy Savage Signed a Contract With the St. Louis Cardinals Before He Ever Stepped Into the Ring
Before Macho Man Randy Savage every stepped into the wrestling ring, he played professional baseball in the St. Louis Cardinals organization.
There are two types of people in the world: those who love pro wrestling and those who consider it a glorified soap opera. If you're a member of the former group—or if you grew up in the 1980s and 1990s, you definitely know Macho Man Randy Savage. But did you know that the former WWF and WCW champ could have gone pro playing another sport?
Before Macho Man ever stepped into the squared circle, there was Randy Poffo, the baseball player. He might not have made it to the pros, but he did sign a contract with the St. Louis Cardinals organization.
Macho Man Randy Savage is a pro wrestling legend
If you're a pro wrestler, having a larger than life persona is simply part of the deal. Macho Man Randy Savage, however, took things to the next level.
After starting out as "The Spider," Poffo eventually adopted the name Randy Savage. According to an IGN interview, he later added "Macho Man" after his mother read a Reader's Digest article claiming it would be the next hot phrase.
Regardless of his name, however, Savage made a name for himself in the ring. After cutting his teeth on some smaller pro wrestling circuits, he joined the WWF in 1985; he promptly became a star and claimed the Intercontinental Heavyweight title. He would also win the World Heavyweight Championship on two separate occasions and become the "Macho King" before making the switch to WCW.
Regardless of where he wrestled, though, Macho Man became a pop culture icon. Between his outfits, bizarre prop-laden interviews, his famous Slim Jim commercial, and his signature "Oh Yeah!" Savage became a prototypical pro wrestler. He might have been cheesy and over the top, but you could help but pay attention.
Macho Man tried to become a Major League Baseball player
Randy Poffo's calling wasn't always professional wrestling, though. In fact, he spent some time as a professional baseball player before ever setting foot in the ring.
As chronicled by Sports Illustrated's Scott Tinley after Macho Man's untimely death, Poffo dreamed of becoming a big-league baseball player. He batted above .500 during the final two years of his high school; despite those stats, however, he went undrafted. The catcher was crushed but undeterred. He then attended an open try-out held by the St. Louis Cardinals and impressed, earning a "$500-per-month contract and an invitation to join the organization's rookie league club in Tampa."
While he never made it to the show—Poffo spent four seasons in the minors, getting as high as A ball, batting .254 with 16 home runs and 129 RBIs—his baseball career still featured plenty of Macho Man moments. He taught himself to throw left-handed in case he ever needed to pitch, did thousands of sit-ups to remain in shape, and dominated his teammates at the card table, among other exploits.
Macho Man Randy Savage wasn't the only baseball player turned wrestler
Macho Man Randy Savage isn't the only pro wrestler who dreamed of playing baseball, though. Hulk Hogan, who feuded with Savage before they became a tag-team duo, also hoped to make it big on the diamond.
Growing up in Florida, a young Hulkster named Terry Bollea attracted scouts from the New York Yankees and Cincinnati Reds. An injury in high school, however, ended any hopes of making it to the big leagues.
"I was playing third base," Hogan explained to Daniel Brown of the Mercury News. "The bases were loaded. I moved in on the infield. The guy stepped outside the box and hit one off the handle. And as it dribbled down the third-base line, I ran in—this was the bottom of the seventh inning, and the score was 0-0—and I picked it up. As I threw underhanded to first base, I broke my arm. My arm was never the same."
While it's never easy to fall short of a dream, things worked out for both Macho Man Randy Savage and Hulk Hogan. A Major League Baseball career may be more lucrative than pro wrestling, but it definitely wouldn't have been as entertaining as joining the WWF.
Stats courtesy of Baseball-Reference