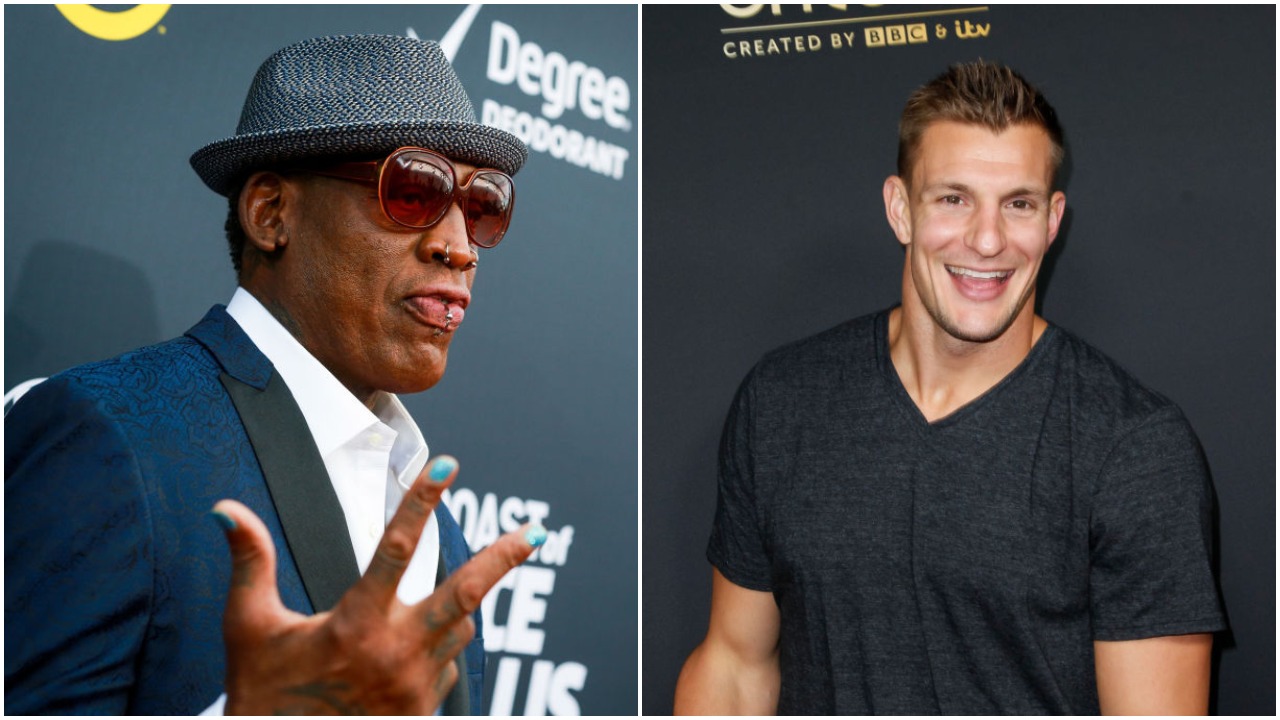 Dennis Rodman Seriously Wants to Fight Rob Gronkowski in WWE
Five-time NBA champion Dennis Rodman wants a WWE match with three-time Super Bowl champion Rob Gronkowski.
Dennis Rodman and Rob Gronkowski have been two of the most entertaining athletes of the last 30 years. Rodman was a five-time NBA champion with the Detroit Pistons and the Chicago Bulls, also entertaining fans off the court with a countless amount of crazy antics. Gronkowski won three Super Bowl championships alongside Tom Brady with the New England Patriots and has never made it a secret that he likes to enjoy himself. Both also have professional wrestling experience and Rodman wants to set up a dream match in WWE. Just think of the possibilities of Dennis Rodman vs. Rob Gronkowski. Wow.
Dennis Rodman wrestled three matches in WCW in the 1990s
Dennis Rodman first appeared on the professional wrestling scene in 1997 in World Championship Wrestling (which was bought by WWE in 2001) alongside Hulk Hogan as a member of the famed New World Order faction. He made his in-ring debut that summer at the "Bash at the Beach" pay-per-view, teaming with Hogan in a loss to Lex Luger and The Giant, who would later become The Big Show when he made the jump to WWE.
Rodman wrestled again the following summer in a highly-publicized tag team match that also featured his NBA rival, Karl Malone. Rodman and Malone had battled in two consecutive NBA Finals in 1997 and 1998 and put aside their differences to make a ton of money in WCW. Hogan and Rodman defeated Malone and Diamond Dallas Page, a match that was also at "Bash at the Beach". He returned to WCW one final time in 1999 to feud with WWE Hall of Famer "Macho Man" Randy Savage, losing his only singles bout with the company.
Rob Gronkowski has been a part of two WrestleMania events
A guy like Rob Gronkowski was made for WWE. He's big. He's athletic. He's entertaining. So it wasn't a surprise to see Gronk show up in WWE in 2017 at WrestleMania 33 in Orlando. During the Andre the Giant Memorial Battle Royal, he was sitting ringside watching his on-screen pal, Mojo Rawley, when Jinder Mahal confronted him. Gronk jumped the barricade and roughed up Mahal a bit, helping his buddy win the match.
Earlier this year, it was announced that Rob Gronkowski had signed an actual contract with WWE. He debuted on an episode of "Friday Night SmackDown" in March, one year removed from his NFL retirement, and was later announced as the official host of WrestleMania 36, which was a two-night event taped at the WWE Performance Center in Orlando with no fans in attendance due to the COVID-19 outbreak. And he was as entertaining as could be. Gronk also won the 24/7 Championship on the second night of the broadcast and actually still holds the title at the time of this writing.
Dennis Rodman wants a match with Rob Gronkowski in WWE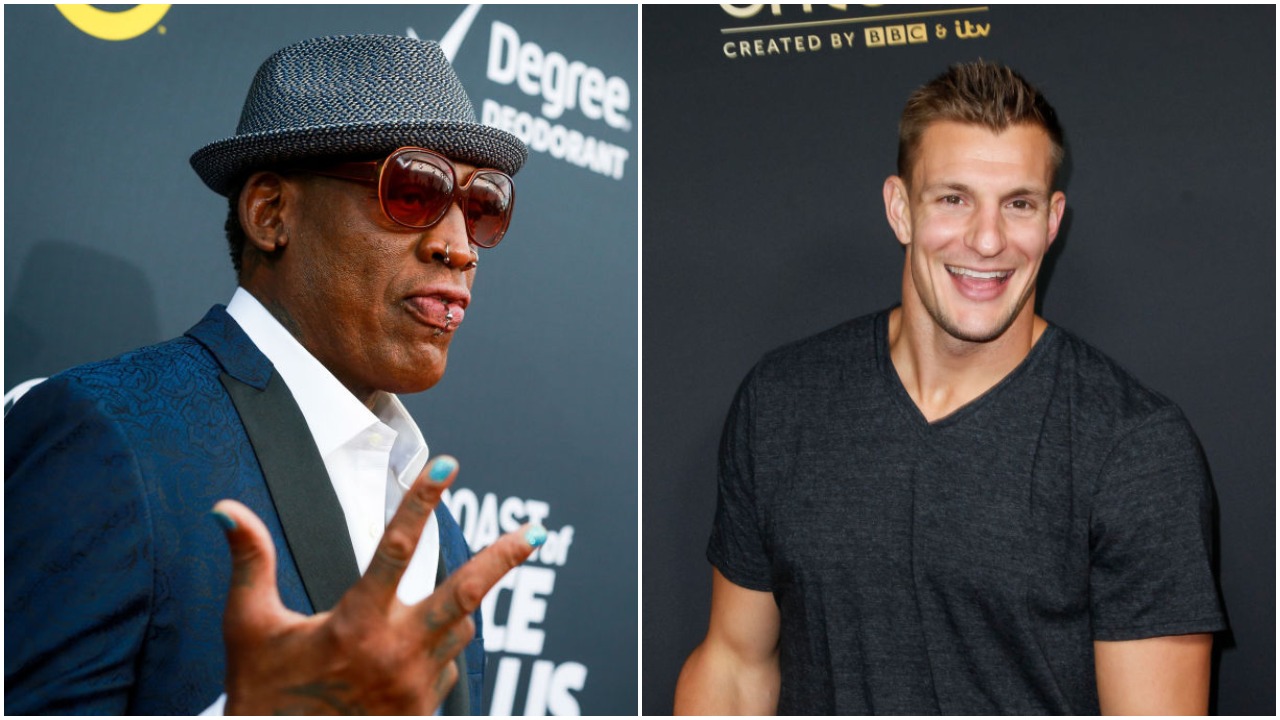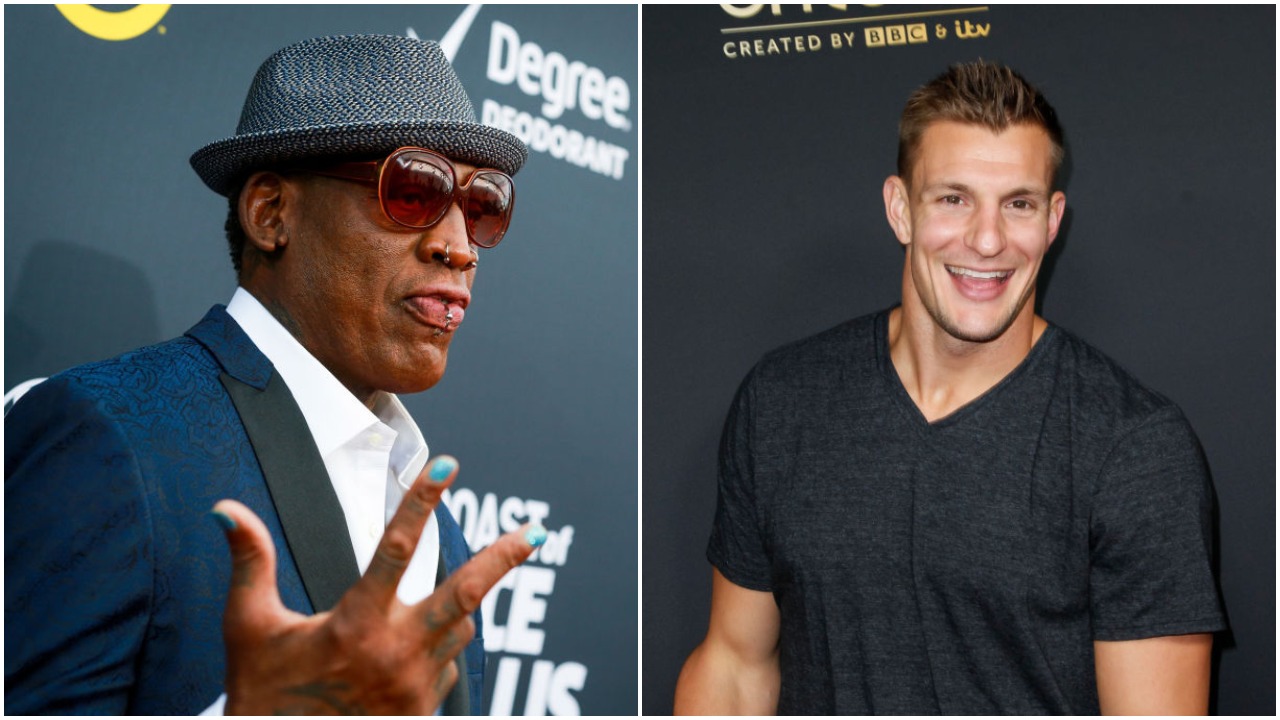 On a recent episode of "WWE Untold" on the WWE Network, an episode titled "Rodzilla Runs Wild", which documented his run in WCW, Dennis Rodman, who is now 58 years old, talked on the topic of stepping into a professional wrestling one more time and had a very interesting opponent in mind.
"Somebody asked me, 'Dennis, do you wanna wrestle again?' I can tell you a guy I'd really want to wrestle. That's 'Markowski.' I mean, Rob…that guy from New England.

"He talks a lot of s–t. I'm 50 years old, you're like 32, 33 years old, great. It don't matter to me, let's go ahead and do this s–t. This ain't about me making no money, I'll just go in there and wrestle his ass. F–k it, let's go in there and do it."

Dennis Rodman on wrestling Rob Gronkowski in WWE
Yes, you read that correctly. Dennis Rodman is calling out Rob Gronkowski. I know Rodzilla is 58 years old but just even seeing these two cut a promo together would be absolute gold.
Of course, it might be a little trickier now for Vince McMahon to make this happen (if he actually would anyway) as it looks like Rob Gronkowski is headed to the Tampa Bay Buccaneers to join Tom Brady. As for Dennis Rodman, he'll be the focus this weekend in the third episode of "The Last Dance" documentary on ESPN.
The common motto in the wrestling business is "never say never." So we'll just have to wait and see if this crazy bout ever happens.