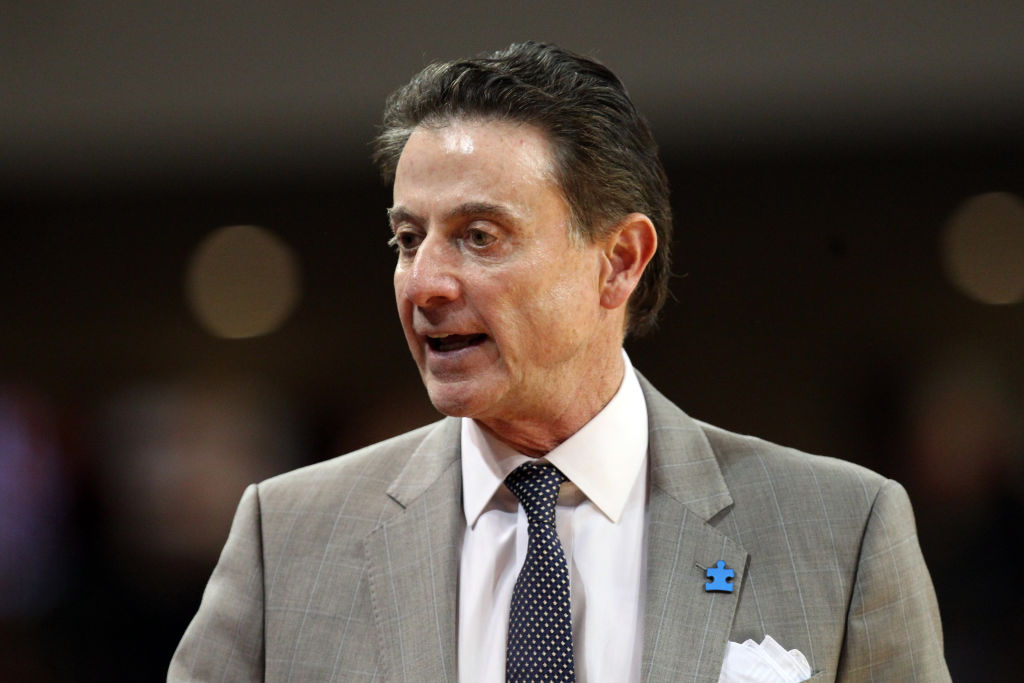 How WWE WrestleMania 36 Helped Rick Pitino Get a Home Game for Iona Against His Son
Rick Pitino and his son, Richard Pitino, made a friendly wager on the outcome of a WWE WrestleMania 36 match.
New Iona head coach Rick Pitino has notched his first victory for the Gaels.
In a friendly wager with his son, University of Minnesota head coach Richard Pitino, Rick Pitino assured that Iona would host a Big 10 team in New Rochelle next season based on the outcome of the WWE Championship match that took place on night two of WrestleMania 36 on Sunday night.
Has Rick Pitino ever coached against his son?
It's been three years since Rick Pitino last roamed the sidelines in college basketball. He was fired by Louisville in 2017 after being implicated in an investigation involving bribes to recruits but had done some coaching in Greece before surprisingly signing on at Iona in mid-March.
After years of various assistant coaching positions, including a year under Rick Pitino at Louisville, Richard Pitino was the head coach of Florida International for the 2012-2013 season and he faced off with his father for the first time while with the Panthers. Rick Pitino got the better of his son that day, 79-55, but that win actually isn't official as all Cardinals wins from 2011 to 2014, including the 2013 national title, were vacated. That also means that the 2014 early-season win for Louisville against Richard Pitino's Golden Gophers, with whom he began coaching in 2013, didn't count either. So the official record of Rick Pitino vs. Richard Pitino is actually 0-0.
The bet on WWE WrestleMania 36
Ahead of this past weekend's WWE WrestleMania 36, which for the first time had to be split into two nights due to the coronavirus outbreak, Rick and Richard Pitino made a friendly wager on a future game between Iona and Minnesota.
Rick Pitino tweeted out a picture of his grandchildren holding WWE signs and bet his son that WWE Champion Brock Lesnar would beat challenger Drew McIntyre and put the host site on the line. If Lesnar won, Minnesota would have to come to Iona. If McIntyre won, the Gaels would travel to Minneapolis. However, seeing as how Brock Lesnar won the 2000 NCAA Heavyweight Wrestling Championship for Minnesota, Richard wanted to flip the wager, saying he couldn't bet against a Golden Gopher.
Rick Pitino won the bet when McIntyre beat Lesnar
Brock Lesnar vs. Drew McIntyre for the WWE Championship was the main event on night two of WWE WrestleMania 36, which had to be pre-taped as the WWE Performance Center in Orlando, where most of the show was filmed, was recently shut down due to being non-essential during the COVID-19 crisis.
In a match that lasted less than five minutes, McIntyre emerged victorious, winning his first-ever WWE Championship. That also meant that Rick Pitino was the winner of the bet with his son, which means that Richard Pitino and the Golden Gophers will travel to New Rochelle, New York whenever that matchup between Iona and Minnesota takes place. Rick tweeted out a YouTube video of Frank Sinatra's "New York, New York" and thanked McIntyre for the win.