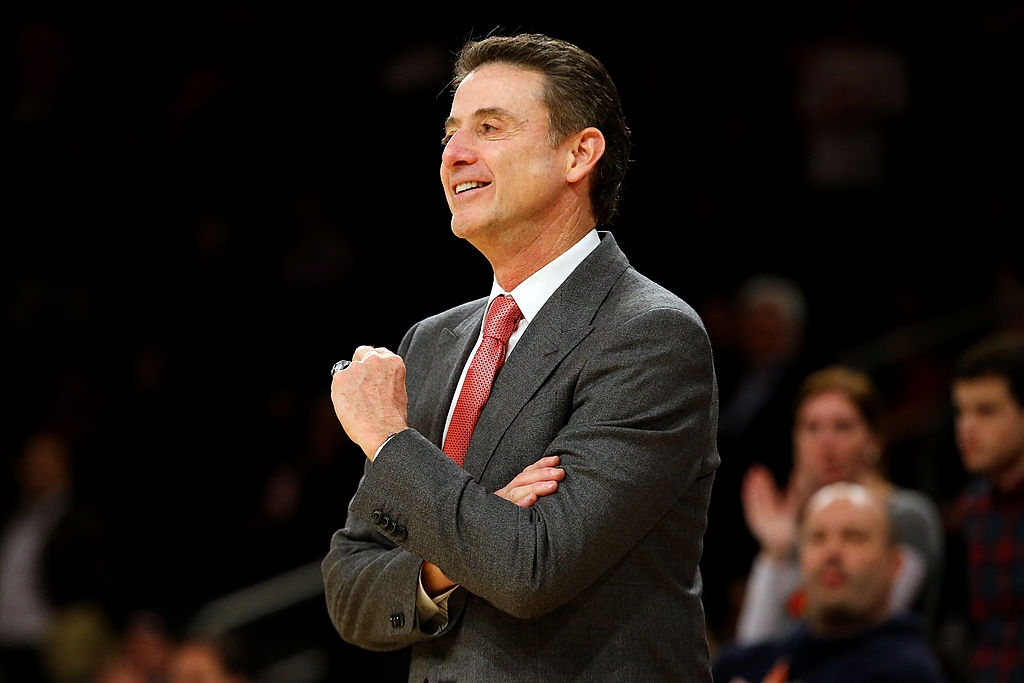 Rick Pitino Is Already Building His Dream Team at Iona
Rick Pitino is starting a new chapter of his coaching career at Iona next season, and he has wasted no time acquiring talent a week into the job.
After a short hiatus, Rick Pitino is back coaching college basketball. The former Louisville and Kentucky head coach will be returning to the bench next season at Iona College. The announcement came just over a week ago, but Pitino is wasting no time getting to work. He has already locked up two college transfers and a high school recruit in 10 days on the job.
Expectations are understandably high for the legendary coach in his first season back in the NCAA since 2017. Pitino is already making a major impact for Iona in the early stages of his tenure with the Gaels.
Rick Pitino is one of the greatest college basketball coaches ever
Rick Pitino started coaching college basketball in 1975. He got his start at the University of Hawaii before securing the head coaching position at Boston University. Pitino held the Boston job for five seasons and moved on to Providence afterward. There, he led the Friars to a Final Four appearance in just his second year at the helm.
Pitino's success at Providence landed him the Kentucky job in 1989. He coached the Wildcats to four regular-season SEC titles and a national championship in the 1995-96 season. Then Louisville came calling two years later.
Pitino immediately found success at his new home, winning the C-USA conference tournament in his second season at Louisville. He later led the Cardinals to a national title in 2013. Pitino was the first coach in NCAA Division I history to win a national championship with two different schools, but the Louisville title was later vacated due to an NCAA scandal.
Pitino has accumulated 770 wins in his NCAA coaching career, which would rank as the 16th-most in Division I history had some of his wins not been vacated as well. Louisville fired Pitino in 2017 for his role in the scandal.
Pitino has been coaching in Greece for the past 2 years
Although Pitino was fired from Louisville and couldn't find another NCAA job, that didn't stop him from coaching. Pitino went overseas and landed the head job of the Greek basketball team, Panathinaikos. He led the team to a Greek Cup and Greek Basketball League Championship in his short time there.
Under Pitino, Panathinaikos went 18-2 this past season. They scored the most points in the Greek league by far. The team's point differential was an incredible plus-538. Pitino's squad was beating teams by an average of 26.9 points per game in league play.
Pitino proved in his short stint in Greece that he can win anywhere. Iona noticed, and they decided to take a shot on the scandal-ridden coach.
Rick Pitino has already added 3 players to his new Iona team
It only took a week for Pitino to land his first three additions to Iona's roster. High school senior Ryan Myers was Pitino's first recruit to sign with the Gaels. Tahlik Chavez and Berrick JeanLouis will also be joining the program as college transfers.
Myers is a three-star recruit out of Christ the King high school in New York. He had 12 scholarship offers before Iona, but Myers immediately flipped to the Gaels once Pitino called.
Chavez was a prized community college transfer who spent his first collegiate season at Garden City Community College in Kansas. He averaged 20.4 points and 5.5 rebounds per game last year while shooting 44.3 percent from three. Chavez has three years of NCAA eligibility remaining.
JeanLouis is the most recent pickup for Pitino. He joins Iona as a junior college transfer out of Florida Southwestern State. Previously, he spent his freshman season at New Mexico State in 2018.
Pitino is hitting the ground running at Iona. The Gaels would have missed the NCAA Tournament last season for the first time since 2015, but with Pitino in charge, there's no reason why they won't be back there in 2021.