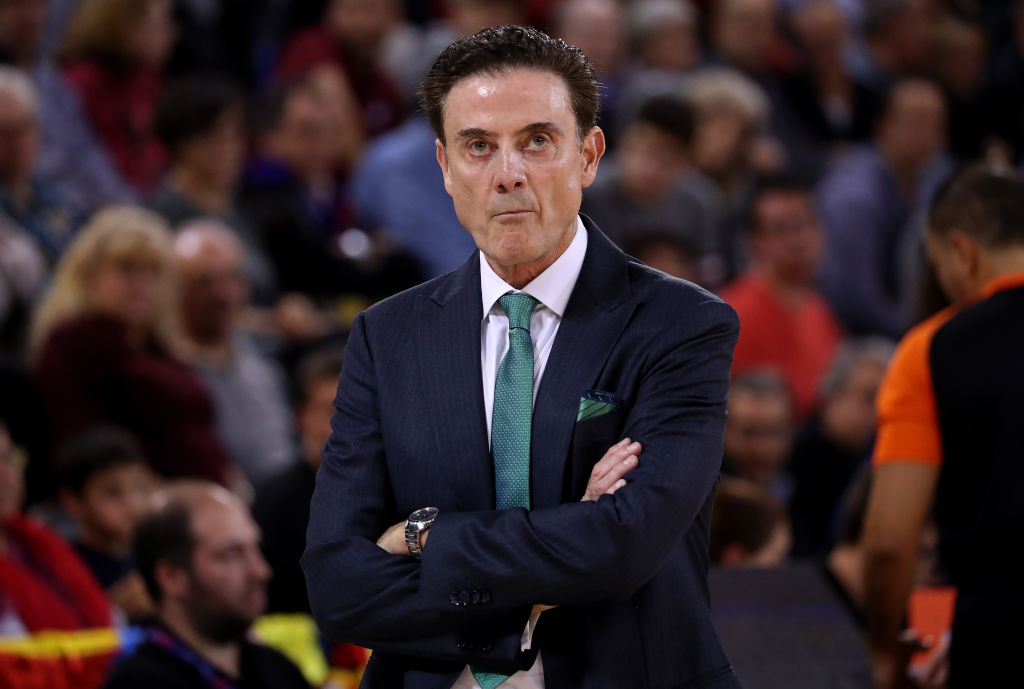 How Many Teams Has Rick Pitino Coached?
Rick Pitino has been named the head coach at Iona. Exactly how many teams has he coached throughout his career?
Rick Pitino is back in college basketball as the new head coach for Iona.
Just days after March Madness was canceled due to concerns over the coronavirus, NCAA basketball finally had another big story as former Kentucky and Louisville head coach Rick Pitino is back in the college ranks after three seasons away. Pitino, who has also spent time in the NBA and overseas, was fired by Louisville in October 2017 after allegations surfaced that Louisville was involved in a pay-for-play scandal, which resulted in the university being stripped of the 2013 national championship, the first and only NCAA Tournament title to ever be vacated.
So exactly how many teams has Rick Pitino coached now?
Rick Pitino will be the next head coach at Iona College
News broke on March 14 that Rick Pitino will be the next head coach for Iona College, which is located in New Rochelle, New York. The Gaels had been coached by Tim Cluess for the past decade. Cluess, who stepped down due to health reasons, led Iona to the NCAA Tournament from 2016-2019. The Gaels have been to the Big Dance 14 times in their history.
For how many schools has Rick Pitino coached?
The Iona College job will be the sixth Division I program for which Rick Pitino has served as the head basketball coach in some capacity. He first served as an interim head coach at the University of Hawaii in 1976 after serving as an assistant there for two years. He left Hawaii to serve as an assistant under legendary Syracuse coach Jim Boeheim from 1976-1978.
Pitino was given the head coaching job at Boston University in 1978 and coached the Terriers until 1983. He coached the Providence Friars from 1985-1987, leading them to the Final Four in 1987. His next stop in the college ranks was for the University of Kentucky. Pitino coached the Wildcats from 1989-1997 and led the team to a national championship in 1996 and a runner-up finish in 1997.
In 2001, Pitino returned to the state of Kentucky. Only this time, he was the head coach of the Louisville Cardinals. In his longest tenure of any coaching job he's had, Pitino coached Louisville from 2001-2017, when he was dismissed for his role in the aforementioned scandal.
Minus the scandal, Rick Pitino would have 770 wins as a college basketball head coach. However, once all Louisville records from 2011-2015 were vacated, 123 wins were taken from Pitino, which gives him 647 official victories, which just cracks the top 40.
Pitino also spent time in the NBA and overseas
Rick Pitino had his first run in the NBA as an assistant coach with the New York Knicks from 1983-1985, just after his time at Boston University. He returned to the Knicks in 1987 as the head coach after leading Providence to the Final Four. In three seasons in New York, he was 126-120 with one playoff appearance.
In 1997, after leading Kentucky to its second consecutive Final Four, Pitino took the head coaching job with the Boston Celtics and also served as team president. In four seasons in Boston, including the lockout-shortened season in 1999 and his final year in 2001 when he resigned as head coach, he amassed a 102-146 record.
Before taking the job at Iona, Pitino most recently was the head coach of Panathinaikos in Greece in the EuroLeague.