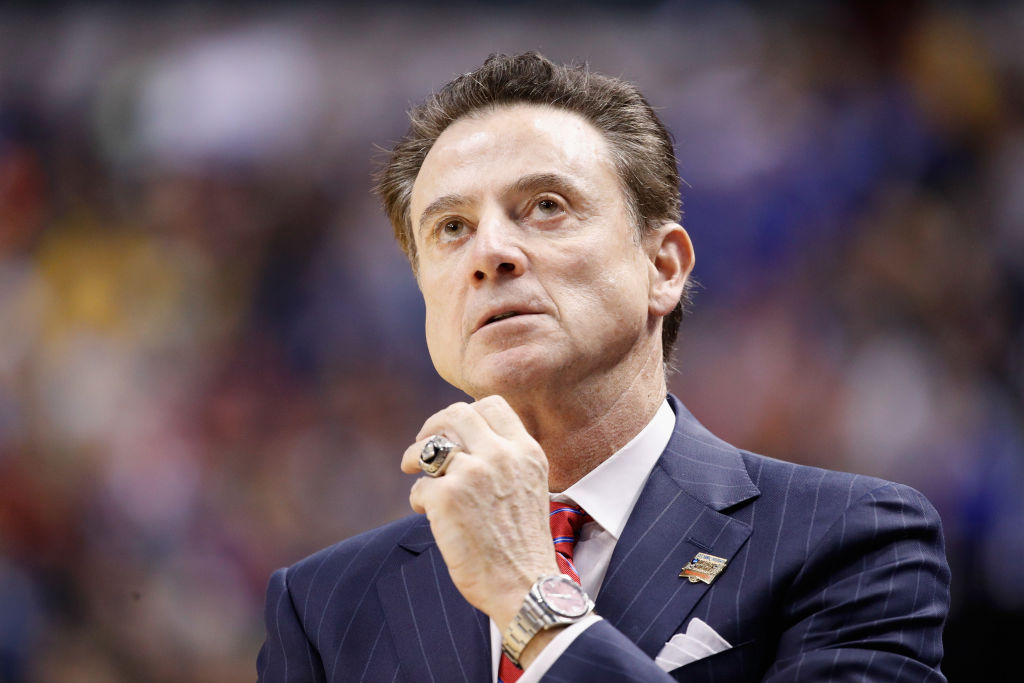 Will Rick Pitino Return to Coaching at 1 of These Schools?
Rick Pitino has been mentioned as a candidate for two lower-level Division I coaching jobs that opened up hours apart.
Is a big-name basketball coach who's resided in the penthouse of the profession at more than one level looking to get back in the business on the ground floor?
The same name surfaced at schools on opposite of the country within a matter of hours, raising the possibility that Rick Pitino wants to get back into college basketball.
Rick Pitino will have to overcome one lengthy line on his resume
Rick Pitino's name was linked Friday to two Division I basketball vacancies, neither of which is on the high-major level. Tim Cluess, who did not coach this season due to a medical issue, resigned in Iona College in New Rochelle, New York, and Grand Canyon University in Phoenix has an open position after firing Dan Majerle.
Under ordinary circumstances, both jobs would be beneath a man who's coached at Louisville and Kentucky in the NCAA and the Boston Celtics in the NBA, but the circumstances surrounding the end of Pitino's tenure at Louisville in 2017 makes it unlikely he could re-enter the business at a top school.
Louisville self-imposed a postseason ban for the 2015-16 season as the NCAA investigated allegations of prostitutes being provided to prospective recruits from 2010-14. The NCAA accused Pitino in 2017 of failing to properly monitor his program and followed up in 2018 by stripping the Cardinals of the 2013 national title.
Parallel to that, federal prosecutors announced in September 2017 that the school was part of a widespread investigation of allegations that recruits were being paid.
The formal criminal complaint did not name the school or coach, but Pitino was placed on administrative leave the next day. He was subsequently fired, leading to a lengthy battle ensued as Pitino sought to collect the remaining money on his contract.
Does hiring Rick Pitino make sense for either school?
Interest in the Iona College vacancy makes sense for Rick Pitino because of his connections to the Northeast beginning with being born in New York City. He was a Syracuse University assistant under Jim Boeheim and a head coach at Boston University and Providence College in addition to NBA stints with the New York Knicks and Boston Celtics.
Tim Cluess had coached the Gaels to six NCAA Tournament appearances, including four straight from 2016-2019, so the school does have a proven appeal for potential recruits.
The Grand Canyon University vacancy could be the better opportunity. Former NBA standout Dan Majerle had the Antelopes going in the right direction with a 123-72 overall record until stumbling to a 13-17 mark in his seventh season. The school's administration sees basketball as a way of raising Grand Canyon's regional profile and might have more resources to offer.
The downside for either school is that Pitino could undoubtedly pile up some victories quickly but he might want that one last shot with a high major and could bolt after a couple of seasons.
Where has Rick Pitino been recently?
Rick Pitino has been coaching professionally in Greece, where his Panathinaikos team won the Greek Cup Championship last year. He agreed in November to coach that country's national team as it looked to qualify for the 2020 Olympics in Tokyo.
He came back to his home in Florida after Greece's professional league suspended play because of the coronavirus outbreak.