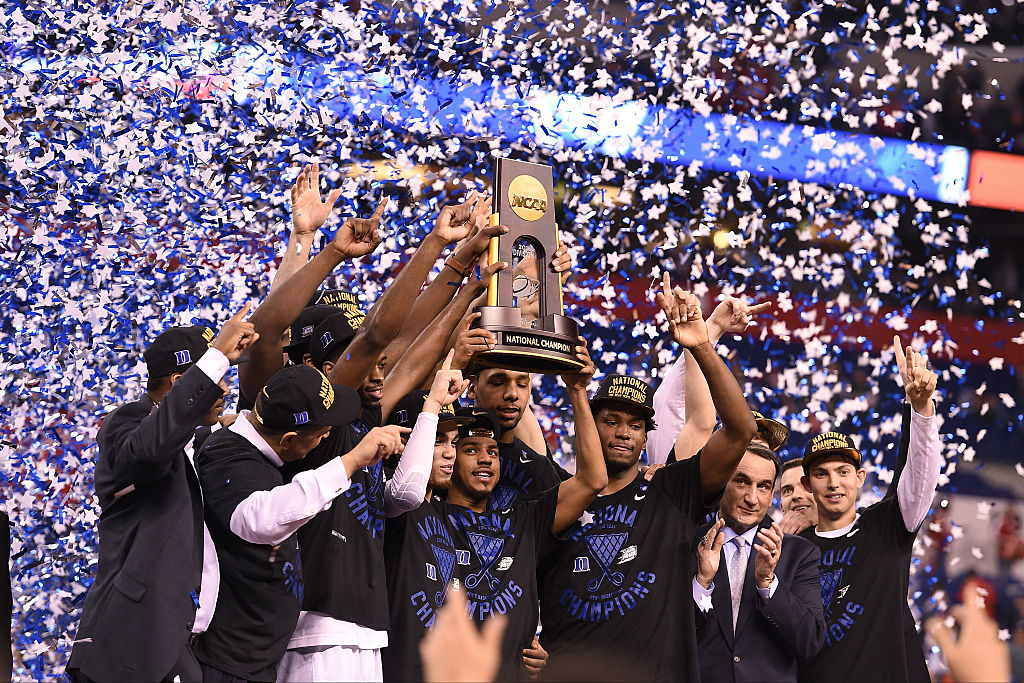 The 5 Schools With the Most NCAA Men's Basketball Championships
Here's a look at the five college programs that have won the most NCAA Men's Basketball Championships in history.
The NCAA Men's Basketball Tournament is easily one of the highlights on the sports calendar.
Known to the world as March Madness, 68 teams vie for college basketball supremacy over three weeks of action, with one cutting down the nets.
It's wild to think that with over 360 Division I programs, only 15 schools have won multiple national championships. And just six have won five or more — and here they are. Yes, we're aware that this headline says five schools. And when I first wrote the article, there were only five with five or more. But the UConn title in 2023 made it six, so there you go.
T4. UConn — 5
As the University of Connecticut is the most recent school to hit the five-title mark, we'll kick things off with the Huskies.
UConn won its first national championship in 1999 under Jim Calhoun, who deservedly receives the credit for turning the program into a perennial contender. The Hall of Famer also led the program to titles in 2004 and 2011.
Calhoun's replacement, Kevin Ollie, led the Huskies to an improbable title in 2014 as they were the first No. 7 seed to win the NCAA Tournament, besting eighth-seeded Kentucky in the finals. And Ollie's replacement, Dan Hurley, led UConn to its most recent title in 2023.
T4. Indiana — 5
The Indiana Hoosiers have also won five championships, the first coming back in 1940 in just the second NCAA title game in history. Coached by former player Branch McCracken, Indiana defeated coach Phog Allen's Kansas Jayhawks. The two coaches met again in 1953 with the title on the line, with McCracken and the Hoosiers again coming out on top.
Seven years after McCracken left the university, Bob Knight would take the helm in Bloomington and lead Indiana to three national titles. The first came in 1976 as the Hoosiers finished 32-0, still the last team to win an NCAA title with a perfect record. Led by Isiah Thomas, Indiana would win the school's fourth title in 1981 and won number five in 1987 behind All-American Steve Alford and a clutch jumper from Keith Smart in the title game against Syracuse.
T4. Duke — 5
Before the arrival of Mike Krzyzewski, Duke had been to just two NCAA title games in 1964 and 1978. They lost both. Since Coach K took over in Durham, the Blue Devils have won 15 ACC Tournament championships, 12 regular season championships, been to a dozen Final Fours, and won five national titles, tying them for fourth on the all-time list.
After losing to UNLV in the title game in 1990, Duke ousted the Rebels from the NCAA Tournament the following year, ending UNLV's undefeated season. They would win their first national title, defeating Roy Williams and the Kansas Jayhawks. They won again the following year, beating Michigan's Fab Five by 20. Duke's next title came in 2001 with a win over Arizona.
The Devils' fourth title came in an instant classic with Butler in 2010. Leading 61-59, they watched as Gordon Heyward's half-court prayer just missed the mark to clinch the victory. Duke's last title came in 2015 with a five-point win over the Wisconsin Badgers.
3. North Carolina — 6
Sitting in third on the all-time NCAA Men's Basketball Championship win list are the North Carolina Tar Heels. They won their first title in 1957 with a 29-0 record, just the second undefeated championship season in NCAA history. Twenty-five years later, a freshman named Michael Jordan hit a big jumper late to seal UNC's second national title.
Head coach Dean Smith would win his second title and third overall for UNC in 1993 with a win over Michigan featuring one of the wildest finishes of all time. Roy Williams would lead North Carolina to their next title in 2005 with a victory over Illinois, the first of three championships for Williams in Chapel Hill. The Tar Heels also cut down the nets in 2009 and 2017.
2. Kentucky — 8
Adolph Rupp's Kentucky Wildcats are considered by many to be the first major powerhouse of college basketball. It took Rupp 18 years to win his first NCAA championship, the first coming in 1948, but the Kentucky legend would retire with four titles to his name. The Wildcats repeated in 1949, won again in 1951, and then again in 1958.
Joe B. Hall would lead the Wildcats to their next title in 1978. Rick Pitino followed suit in 1996. When Pitino bolted for the NBA following a title-game loss in 1997, Tubby Smith was hired and promptly led Kentucky back to glory, coming back from double digits down in each of their last three games to win their seventh NCAA title.
Championship number eight came in 2012 under coach John Calipari. Behind the stellar play of a young freshman named Anthony Davis, who won the Most Outstanding Player award that tournament, Kentucky bested Bill Self's Kansas Jayhawks to win their most recent title.
1. UCLA — 11
In professional or college sports, there has never been and never will be a dynasty that can touch the UCLA Bruins from 1964 to 1975. Like Adolph Rupp, it took head coach John Wooden some time before rising to stardom. But once he did, he and his teams dominated.
In that dozen-year span, UCLA won 10 NCAA titles, taking the trophy in 1964, 1965, 1967, 1968, 1969, 1970, 1971, 1972, 1973, and 1975. The Bruins are the only men's program in history to win more than two consecutive national championships. At one point during this stretch, Wooden and the Bruins won 88 straight games, and four of the titles came at the end of undefeated seasons. The Bruins' overall record during this run was 335-22.
Twenty years after Wooden's last game, which was the NCAA final in 1975, Jim Harrick led the Bruins back to the top of the mountain with an 89-78 win over Arkansas, clinching UCLA's 11th national championship.