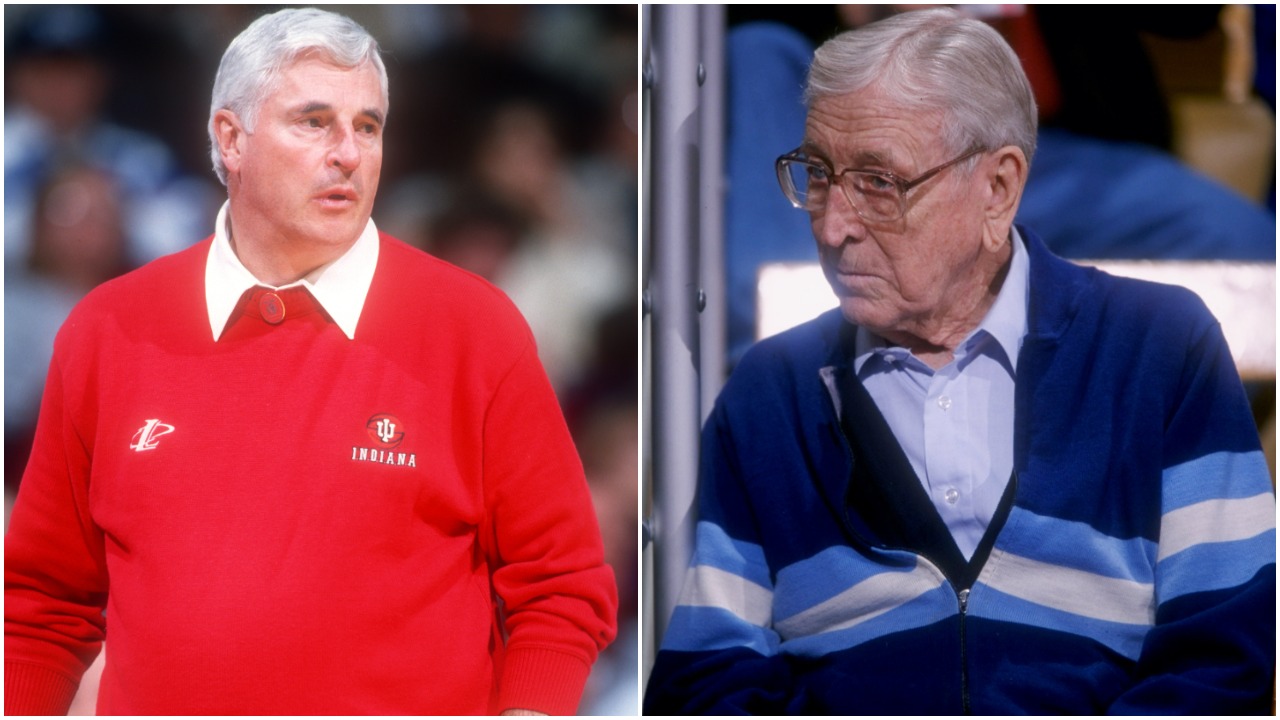 Why Bob Knight Wasn't a Fan of Legendary UCLA Coach John Wooden
A look at why longtime Indiana Hoosiers coach Bob Knight wasn't a fan of legendary UCLA head coach John Wooden and the Bruins dynasty.
No program in men's college basketball history has seen more success than that of the UCLA Bruins. Since the program was first established in 1919, UCLA has won an NCAA-record 11 national championships with 10 of those coming in a 12-year span under legendary head coach John Wooden, including seven in a row, obviously also a record.
But while Wooden, who passed away in 2010 at the age of 99, was beloved by many, there's at least one person who wasn't a fan of "The Wizard of Westwood," that being none other than fellow NCAA title-winning coach Bob Knight, who had an issue with how UCLA recruited players during their glory days.
John Wooden and Bob Knight combined for 1,566 wins and 13 national championships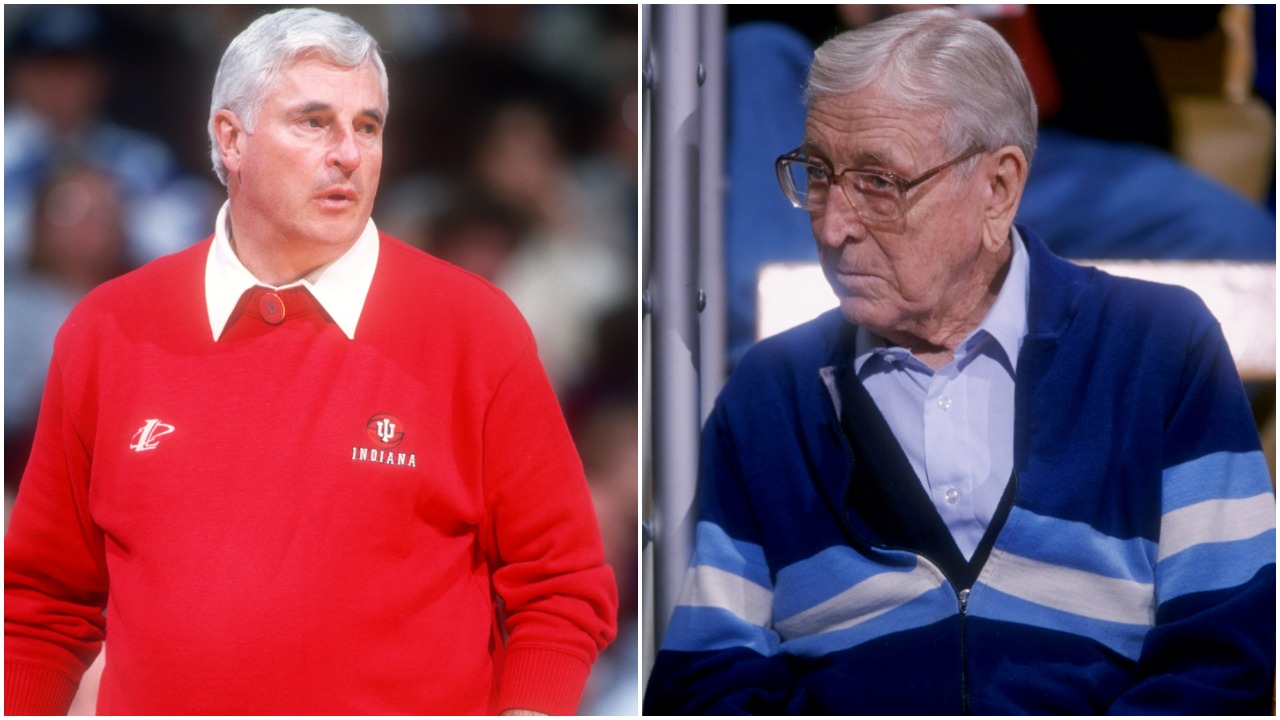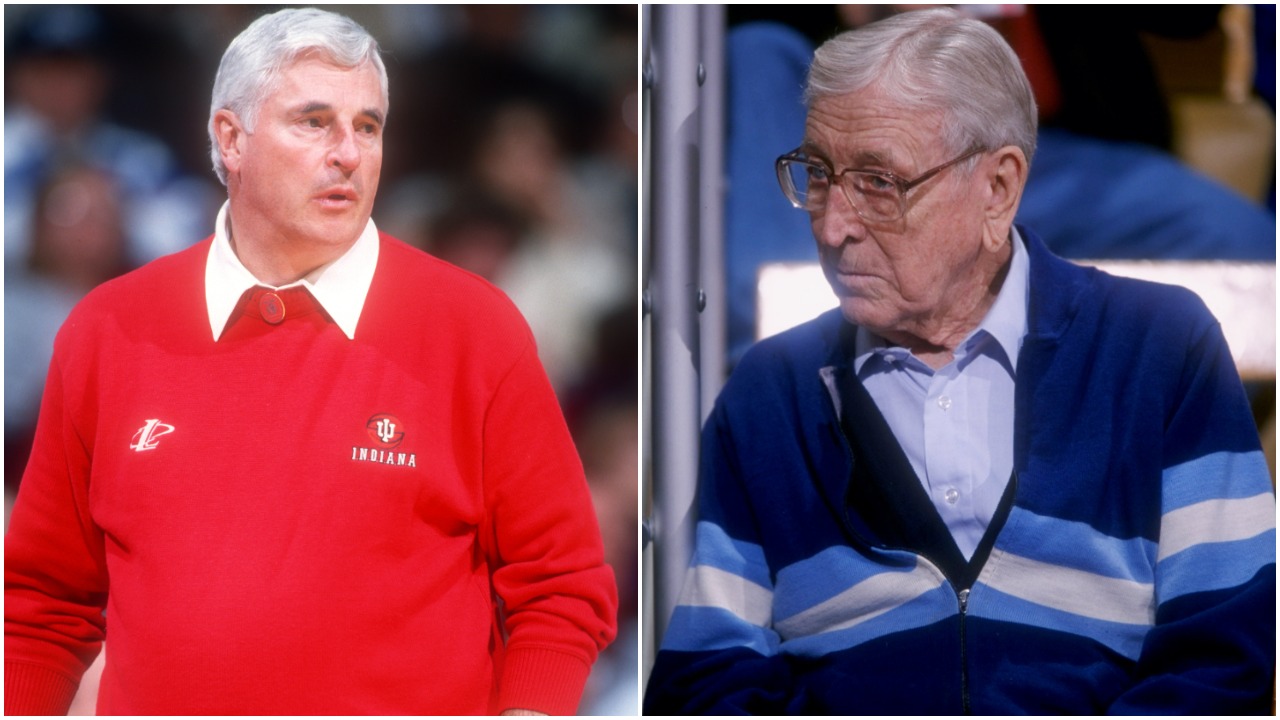 With a combined 71 years of experience at the Division I level, John Wooden and Bob Knight combined to win 1,566 games and 13 national championships.
Wooden began his Division I coaching career in 1946 at Indiana State, where he also served as the coach of the baseball team and the athletic director, and coached the Sycamores for two seasons before accepting the head coaching job at UCLA ahead of the 1948-1949 season.
He immediately turned around the faltering program and went on to coach the Bruins for 27 seasons, winning 10 national championships in 12 years from 1964 to 1975, including seven in a row from 1967 to 1973. Wooden retired following the 1974-1975 season, which ended with UCLA winning their 10th title, with a career record of 664-162.
As for Bob Knight, he spent six seasons as the head coach at Army before taking the job at Indiana, where he spent 29 seasons. "The General" led the Hoosiers to three national championships (1976, 1981, 1987) before famously being dismissed by the university just ahead of the 2000-2001 season. After a season away from the game, he returned to the sidelines as the head coach at Texas Tech, where he coached parts of seven seasons before retiring during the 2007-2008 season, at which point his son Pat took over the program. Knight ended his career with a record of 902-371.
The UCLA recruiting scandal
In 1981, six years after John Wooden retired and the same year Bob Knight won his second national championship at Indiana, the Los Angeles Times conducted an investigation into the UCLA basketball program and its relationship with an LA businessman named Sam Gilbert, a former UCLA student who was known around the program as "Papa Sam."
The investigation concluded that Gilbert had "helped players get cars, clothes, airline tickets, and scalpers' prices for UCLA season tickets," which clearly violates NCAA rules, and had even "arranged abortions for players' girlfriends."
To make a very long story short, the Bruins were eventually put on probation for two years and were forced to vacate their Final Four appearance in 1980.
However, none of the titles won by Wooden were taken away as the investigation also concluded that "The Wizard of Westwood" had no direct knowledge of Gilbert's activities. However, many believed that the legendary coach knew what was happening all along and simply chose not to acknowledge it. Wooden himself said that maybe he had "tunnel vision" but he still didn't believe that Gilbert "had any great impact on the basketball program," which Bob Knight just didn't buy.
Bob Knight respected John Wooden as a coach but hated how UCLA recruited players
Anyone that's ever heard Bob Knight say anything knows that he's never had a problem with speaking his mind. So in a 2017 interview with Joe Buck during an episode of Undeniable, the longtime Hoosiers head coach didn't mind sounding off on what he truly thought about John Wooden and the UCLA basketball program (h/t Daily News).
"I've never been a Wooden fan. I have a lot of respect for Wooden as a coach, how he coached, he was a good coach, but from then on, and I don't mind saying it, I don't respect Wooden, because he allowed Sam Gilbert to do whatever it took to recruit kids. And one time he told me, he said 'I just didn't know how to deal with Sam Gilbert.' And I'm saying to myself 'I damn sure could have dealt with him.'

"Personally, I liked John, as a person, but it isn't just John, it's a whole UCLA approach to recruiting. I think John was called in and told he didn't have to worry about recruiting, that they had people that would take care of that for him. And that's coming from people who really know the circumstances."

Bob Knight on John Wooden
And there you have it.
Stats courtesy of Sports Reference