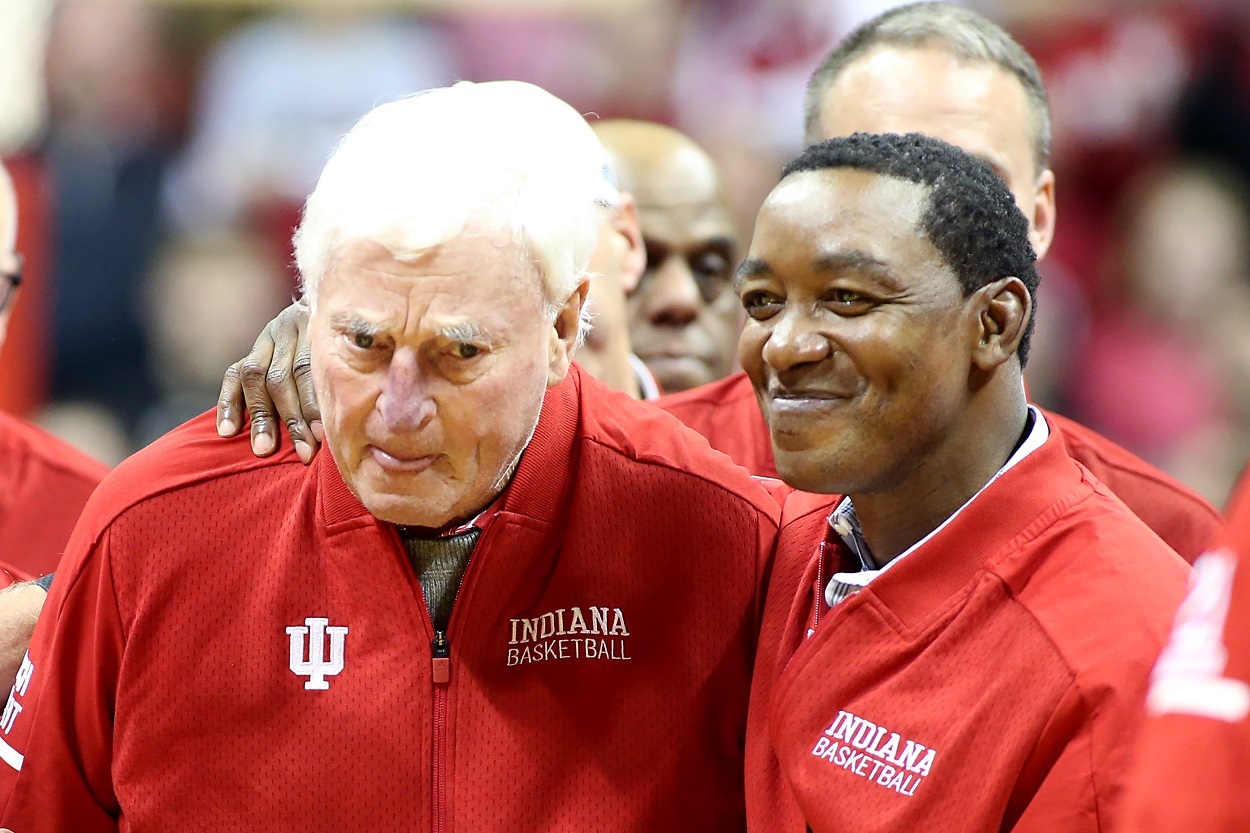 Bob Knight 'Rolled Up His Sleeves' and Was Ready to Fight Isiah Thomas' Brother While Recruiting Zeke to the Indiana Hoosiers
Isiah Thomas' brother nearly came to blows with longtime Indiana Hoosiers head coach Bob Knight during a recruiting visit at the Thomas home.
Over the course of college basketball history, very few individuals — if any — have been as intense as longtime Indiana Hoosiers head coach Bob Knight. While not everyone agreed with his brazen style, there's certainly no denying that he got results, as evidenced by his 899 career victories between Indiana, Army, and Texas Tech, good for fourth on the Division I all-time wins list. And we certainly can't forget the five Final Four appearances and three national championships with the Hoosiers, the second of which was won with the help of Isiah Thomas, who was easily the most successful player Knight ever coached.
But getting Thomas to attend Indiana certainly wasn't the easiest task for Knight. Most assumed Isiah would remain in his hometown of Chicago to play for DePaul, a program that was quite the powerhouse in the late '70s and early '80s. Isiah wasn't completely sold on playing for Knight as he'd heard the rumors of how "the General" treated his players. And he wasn't even the one to make the announcement that he was going to Indiana as his legendary mother did that for him not long after a crazy night at the Thomas household when Knight was legit ready to throw down with Isiah's brother.
Bob Knight was ready to fight Isiah Thomas' brother during a recruiting visit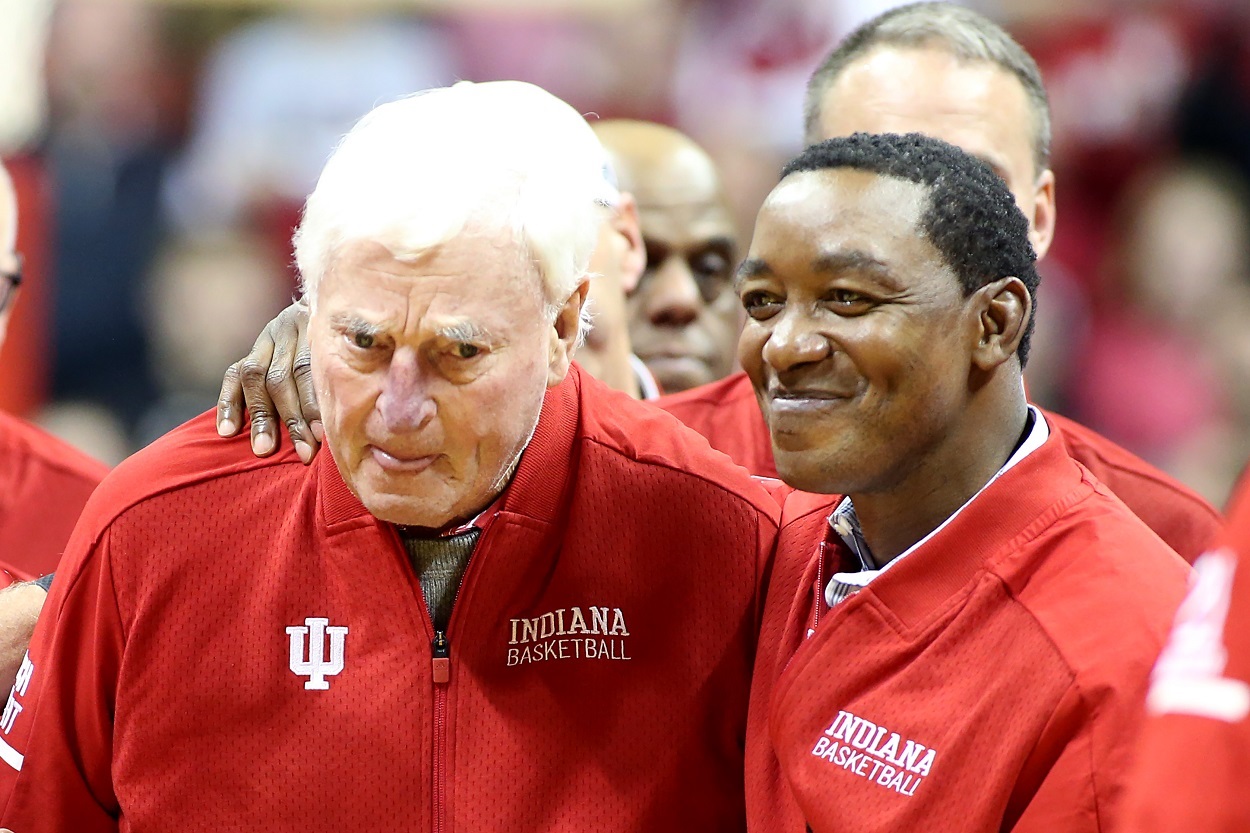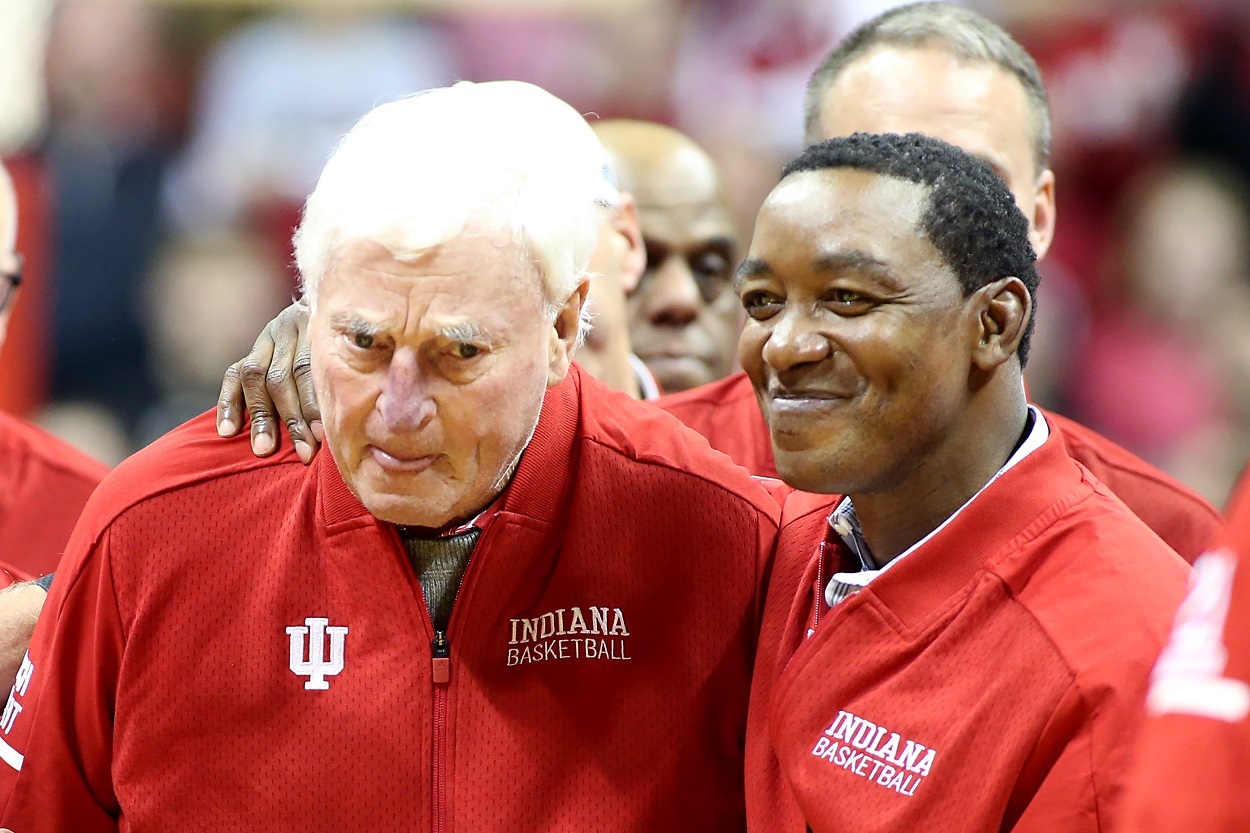 Not long ago, Isiah told an incredible story of how Knight nearly got into it with his older brother when the legendary Hoosiers coach visited the Thomas home in an attempt to get Zeke to attend Indiana.
During the visit, Isiah's brother brought up the fact that Bloomington, Indiana, where IU is located, isn't far from the city of Martinsville, which has an unfortunate history of racism and had a strong KKK presence. So Thomas' brother asked Knight who was going to take care of Isiah, to which Knight replied, "Well if we're winning, they will."
Isiah says he thought Knight's answer was funny but his brother apparently did not and actually challenged the Hoosiers coach to a fight, as Thomas told Shannon Sharpe on an episode of the Club Shay Shay podcast.
"My brother didn't think that was funny, and they got into a back and forth. Then my brother said, 'Hey, we can take this outside.' Coach Knight stood up, took his jacket off, rolled up his sleeves, and went 'Yeah, let's take this outside.'"

Isiah Thomas
Isiah went on to say that while everyone else in the house started to panic, his mother, Mary Thomas, didn't move at all and actually had a little smile on her face.
Knight made Mary Thomas a promise that sealed the deal
Once the pandemonium died down, Knight made Mary a promise, telling her Isiah would graduate, become a gentleman, and would be taught everything he knew about the game of basketball.
And that was apparently enough for the Thomas family matriarch. When it came time for Isiah to make his announcement on where he'd be taking his talents, it was Mary that told the world the news her son would be attending Indiana. But it's not as if Isiah wasn't there for the press conference. He was just sitting off to the side somewhat sulking.
But it's safe to say that Mary made the right choice in picking the Hoosiers for her son.
Thomas and Knight won a national championship together in 1981
It took some time for Isiah Thomas and Bob Knight to gel but they eventually got past their early run-ins and had quite a successful two-year run together at Indiana.
As a freshman in 1979-1980, Thomas started every game and helped the Hoosiers to a 21-8 record, averaging 14.6 points, 5.5 assists, and four rebounds per game. Indiana entered the 1980 NCAA Tournament as a No. 2 seed but was upset by Big Ten rival Purdue in the Sweet 16.
In 1980-1981, Isiah was even better, averaging 16 points, 5.8 assists, 3.1 rebounds, and 2.2 steals in leading the team to a 26-9 record and a national championship, Knight's second title in five seasons. While Knight went on to win another title in 1987, Thomas went on to have a Hall of Fame career in the NBA, winning two championships with the Detroit Pistons.
Stats courtesy of Sports Reference