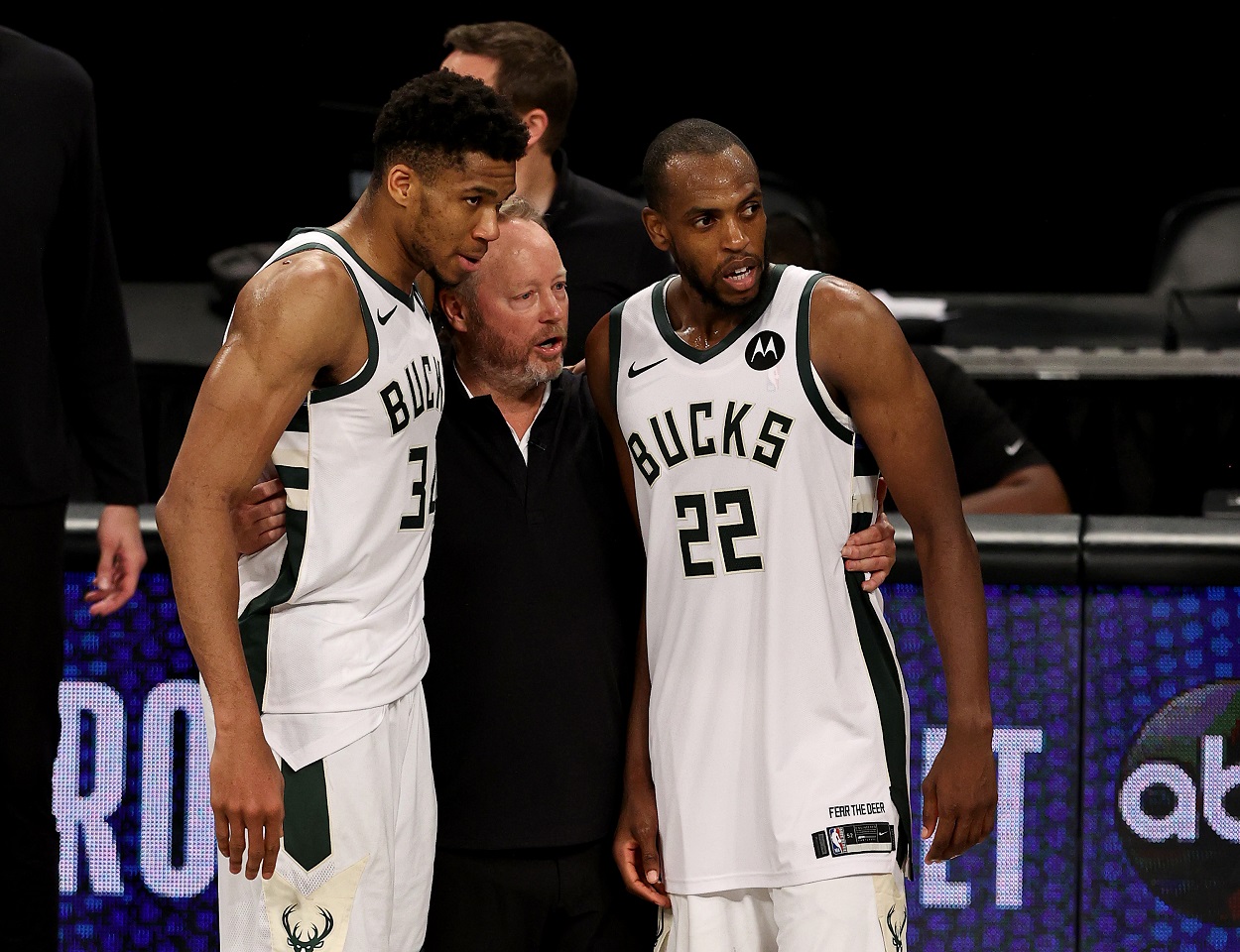 Khris Middleton and Giannis Antetokounmpo 'Hated Each Other' During Their Early Days With the Milwaukee Bucks
Giannis Antetokounmpo and Khris Middleton did not get along very well during their early days with the Milwaukee Bucks.
Over the last few years, Giannis Antetokounmpo and Khris Middleton have easily been one of the best 1-2 punches in the NBA and have put the Milwaukee Bucks in position to win their first championship in four decades. Of course, that will certainly be a challenge given the fact that Antetokounmpo may miss the entire series against the Phoenix Suns with a left knee injury that kept him from playing the final two games of the Eastern Conference Finals against the Atlanta Hawks.
Luckily for the Bucks, Middleton stepped up and averaged 29 points in those two games to clinch the series for Milwaukee. And regardless of whether Giannis suits up or not during the NBA Finals, Middleton will need to do so again as even if Antetokounmpo can go, he won't be anywhere near 100%.
If the Bucks can find a way to win their first NBA title since 1971, with or without the two-time NBA MVP, it will complete a journey that began eight years ago when Antetokounmpo and Middleton first came to Milwaukee, each looking to prove himself. But while the two have become great teammates and friends over the years, that certainly wasn't the case as both have admitted that they hated one another early on as they were fighting for minutes, which meant fighting in practice to earn those minutes.
Giannis Antetokounmpo and Khris Middleton both came to the Milwaukee Bucks in 2013
On June 27, 2013, the Milwaukee Bucks used the 15th overall pick in the NBA draft to select then-18-year-old Antetokounmpo, who'd made a name for himself playing for the Filathlitikos club in his home country of Greece. While he averaged under 10 points in the Greek A2 League in 2012-13, it was easy to see his potential as his combination of size, speed, and athleticism was impossible to ignore.
One month and four days later, the Bucks sent point guard Brandon Jennings to the Detroit Pistons and received Brandon Knight, Viacheslav Kravtsov, and Middleton in return. The Pistons had selected Middleton with the 39th overall pick in the 2012 draft but were content to let him go as he'd only appeared in 27 games in 2012-13 (he split his time between the NBA and what was then known as the D-League), averaging just 6.1 points and 1.9 rebounds per game.
Antetokounmpo and Middleton 'hated each other' in their early days as teammates
Both eager to prove themselves with the Bucks, Antetokounmpo, and Middleton often found themselves on opposite sides in practice and often found themselves guarding one another. And if you've ever watched either, you know that these aren't guys that like to take it easy. So they got after each other and neither had any problem getting physical.
Antetokounmpo later told The Athletic that when his family visited from Greece, he'd show them the scratches he'd gotten from Middleton and admitted to not being his biggest fan.
"I used to hate him. You know: 'F— this motherf—er. I'm going to take his f—ing minutes.'

"I hated playing against him and practicing against him because he was playing hard. And I was playing hard. And we'd always clash at each other."

Giannis Antetokounmpo on Khris Middleton
And the feeling was certainly mutual.
"We hated each other on the court because we were fighting for minutes. Me and him were kind of in the same position. It was a battle every day in practice. We were making each other better, but we were really trying to get into that rotation and start playing."

Khris Middleton on Giannis Antetokounmpo
As time went on, the two didn't have to battle for minutes as both eventually cracked the starting lineup on a full-time basis. And it's safe to say that both have proved themselves.
Both have become superstars and have the Bucks in the NBA Finals for the first time since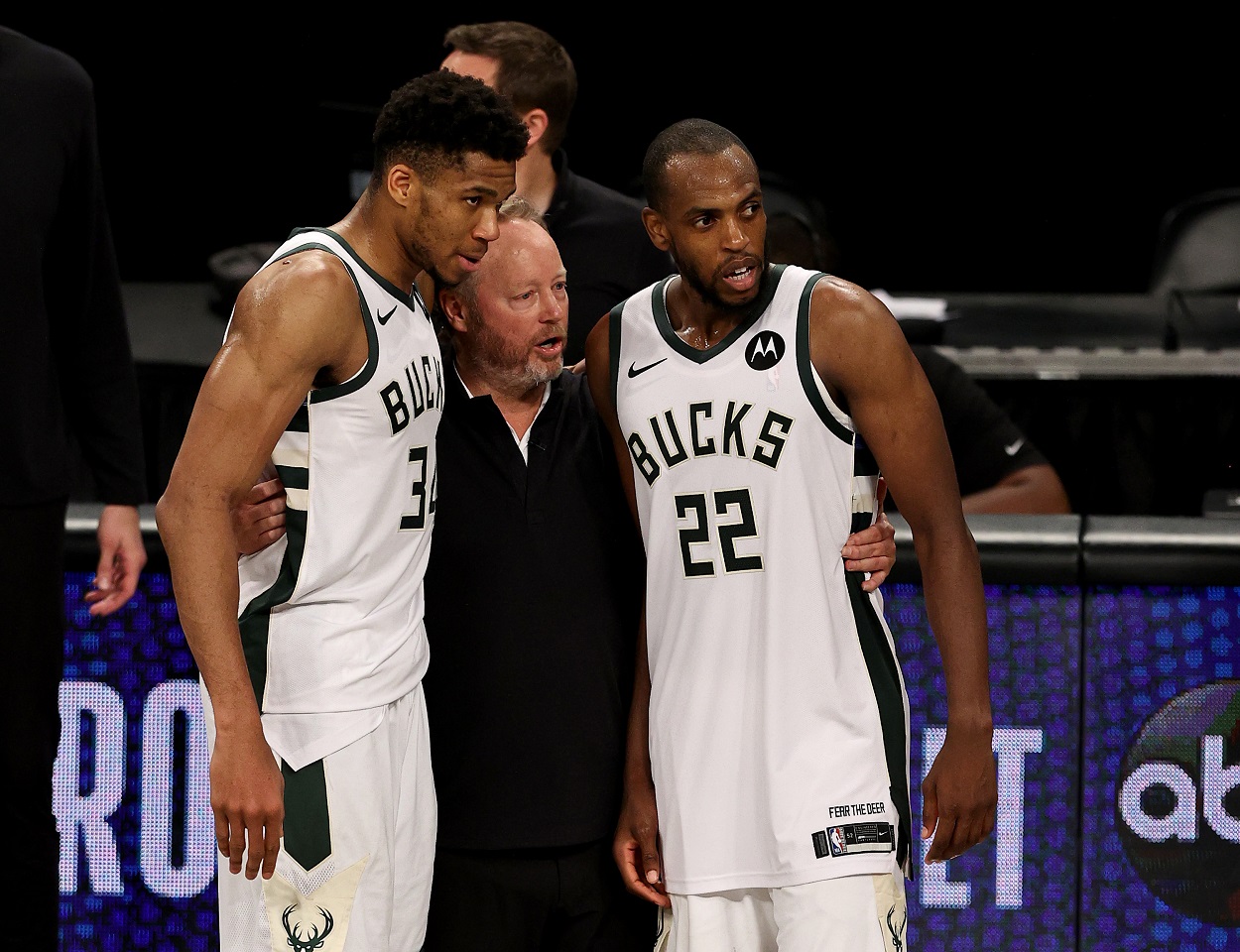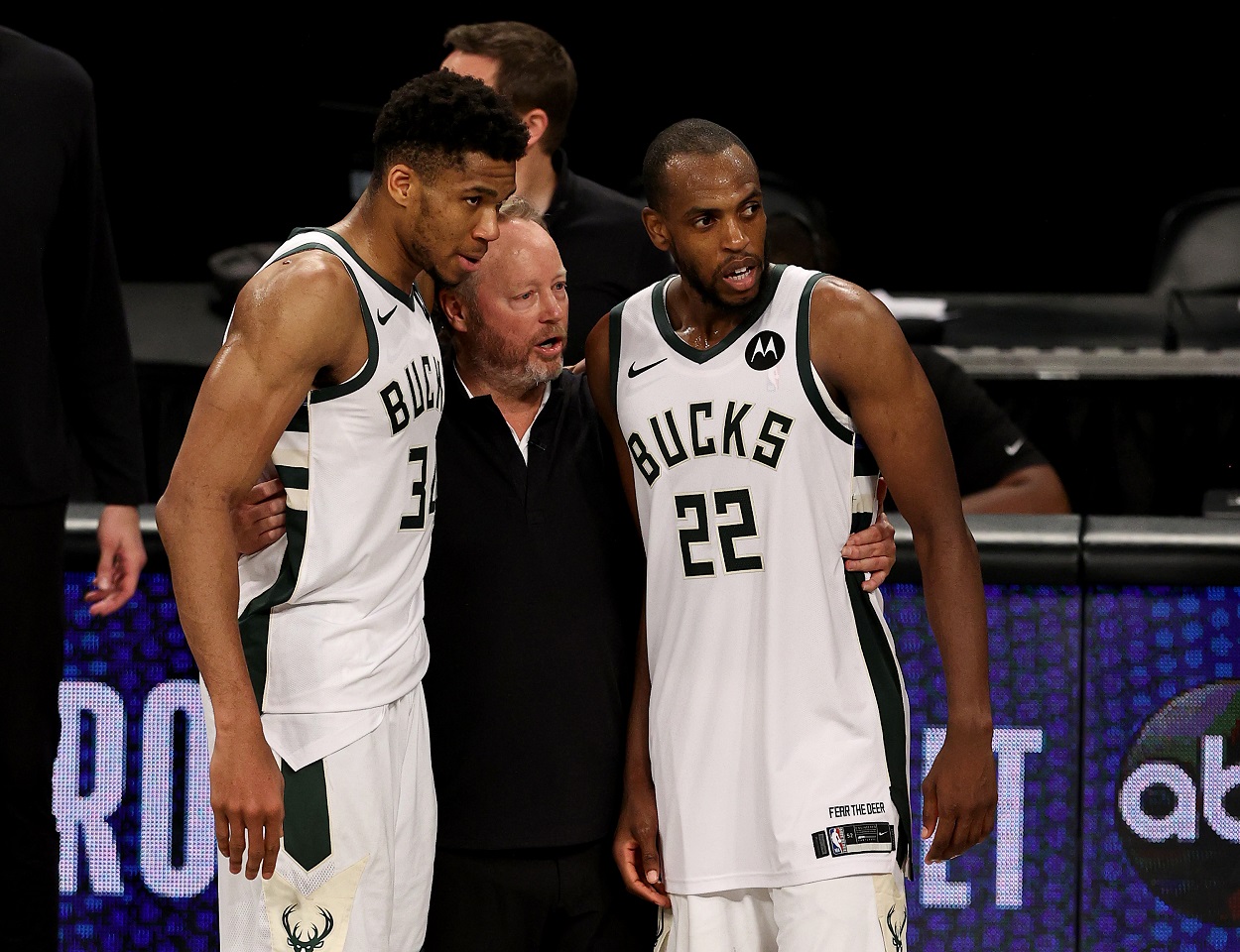 In that 2013-14 season in which Antetokounmpo and Middleton first teamed together, the Bucks had the worst record in the NBA, going 15-67. And here we are now with Milwaukee in their first NBA Finals since 1974. Over the last eight years, Giannis has become a two-time NBA MVP, a five-time NBA All-Star, a five-time All-NBA selection, a four-time All-Defensive selection, and a one-time Defensive Player of the Year.
While Middleton hasn't earned nearly as many awards or accolades, he's still a two-time All-Star and has established himself as one of the league's elite players and a dynamite No. 2 for the Bucks, averaging 19.9 points over the last four seasons. And, as mentioned, he's proven that he can handle the pressure of that No. 1 spot as he stepped up in Giannis' absence in the Eastern Conference Finals.
Whether or not the Bucks win the NBA Finals remains to be seen and those odds obviously go up if Antetokounmpo is on the floor. But even if they don't, Milwaukee is going to remain competitive for the foreseeable future and it's likely this won't be the last time we see them in this situation. It's been quite a ride for Antetokounmpo and Middleton, who have endured losing seasons, numerous coaching changes, injuries, and so many other things along the way.
And considering how they used to feel about one another, it just makes their story that much better.
Stats courtesy of Basketball Reference