Paul George Accomplished Something No NBA Player Ever Has With His Game 5 Performance and Also Joined a Club That Includes Only Michael Jordan, Kobe Bryant, and Kevin Durant
The Los Angeles Clippers needed a big game from Paul George on Monday night in Game 5 of the Western Conference Finals and they certainly got one as the seven-time NBA All-Star dropped a playoff career-high 41 points to help the Clips stave off elimination with a 116-102 victory over the Phoenix Suns.
But not only did George keep LA's season alive, he also did something no other NBA player in history ever has before, while also joining a highly exclusive club that only includes Michael Jordan, Kobe Bryant, and Kevin Durant.
Paul George scored a playoff career-high 41 points to lead the Clippers to a Game 5 win in the Western Conference Finals
Down 3-1 in the WCF heading into Monday night's Game 5 matchup in Phoenix, the Clippers were once again without the services of Kawhi Leonard, who didn't even travel to Arizona and missed his seventh straight game as he continues to battle a knee injury. To make matters worse, LA also didn't have center Ivica Zubac, who missed his first game of the entire season with an MCL sprain in his right knee.
But that didn't matter as George put the team on his back with arguably the greatest game of his 11-year career, the details of which we'll get into in just a moment. But while PG-13 led the way for the Clippers, he certainly got some help as Reggie Jackson had his best shooting night of the series, hitting eight of 14 shots from the floor, including four of seven from beyond the arc, and three of four from the foul line for 23 points. Marcus Morris added a series-high 22 points, and DeMarcus Cousins chipped in with 15 points off the bench.
Devin Booker led the way for Phoenix with 31 with Chris Paul adding 22 points and eight assists.
George made NBA postseason history with his performance in Game 5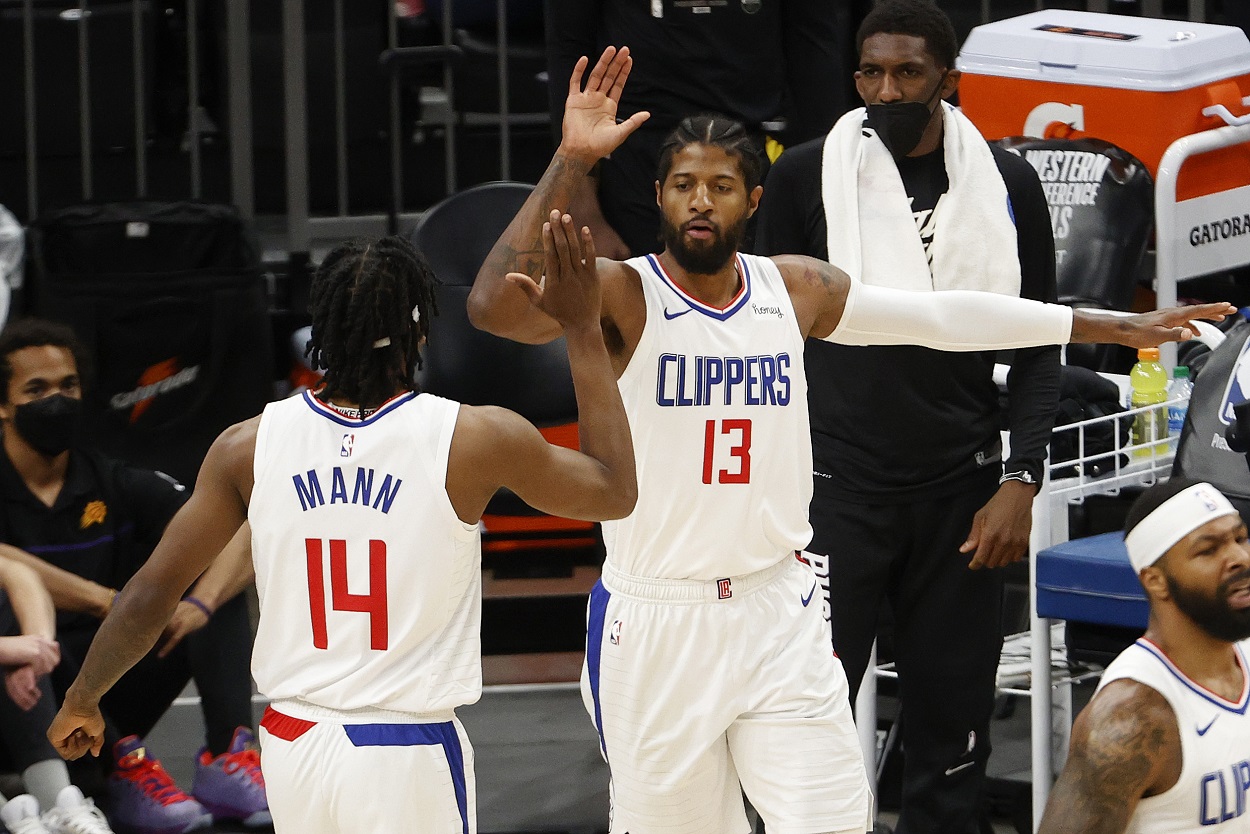 In the previous two games coming into Monday night, George had hit just 14 of 46 shots from the floor (30.4%), four of 20 shots from the 3-point line (20%), and 18 of 25 shots from the foul line (72%).
But he certainly didn't have any problems shooting the basketball from anywhere in Game 5 as he went 15-for-20 from the field, 3-for-6 from beyond the arc, and a perfect 8-for-8 from the free-throw line. Such a stat line makes him the only player in NBA postseason history to score at least 40 points by shooting at least 75% from the floor, 50% from downtown (cheers, Marv Albert), and 100% from the charity stripe.
PG-13 also joined a highly exclusive club that includes only Michael Jordan, Kobe Bryant, and Kevin Durant
Monday night marked the Clippers' 18th game in the 2021 NBA playoffs and George has scored at least 20 points in all of them, making him just the fourth player in NBA history to score at least 20 points in the first 18 games of a single NBA postseason.
Michael Jordan was the first to accomplish the feat in 1992 and did so again in both 1997 and 1998. Kobe Bryant was the next to do it in 2008 and Kevin Durant hit the mark in 2012 and 2018. What's interesting to note here is that every year this has happened, the player hitting the mark has appeared in the NBA Finals with Jordan going 3-0, Kobe going 0-1, and KD going 1-1. But all three at least got there.
If Paul George wants to join that particular club, he's going to need a couple more performances like the one he had on Monday night.
Game 6 of the Western Conference Finals between the Clippers and Suns tips off at Staples Center at 8:00 p.m. Eastern/5:00 p.m. Pacific on Wednesday night on ESPN.
Stats courtesy of Basketball Reference