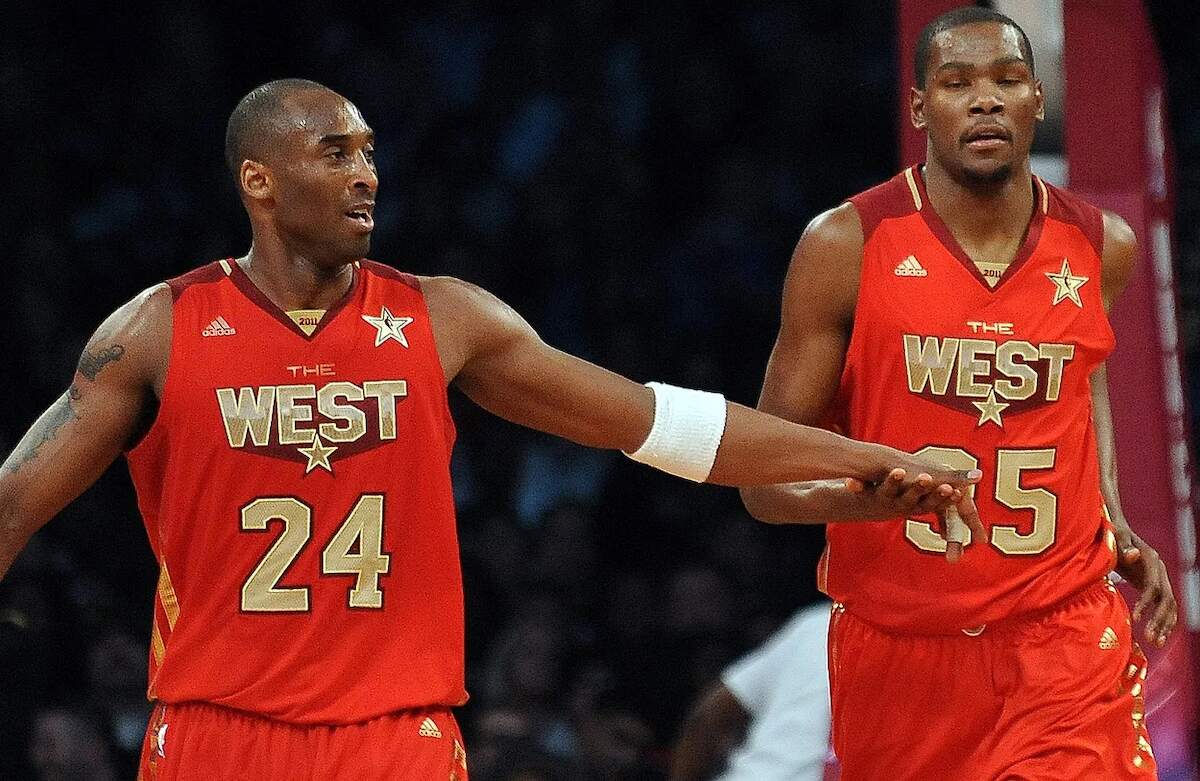 Kevin Durant Says He Had 'Beef' With Kobe Bryant That the 'Black Mamba' Never Knew About
Kevin Durant says he had 'beef' with the late, great Kobe Bryant early in his NBA career that the 'Black Mamba' never knew about.
The late, great Kobe Bryant was famously involved in one of the most notorious beefs in NBA history with former LA Lakers teammate Shaquille O'Neal, which everyone knew about. But the 18-time All-Star apparently also had beef with fellow MVP and NBA champion Kevin Durant, although the "Black Mamba" never knew anything about it.
Now, it's not as if Durant had any real issues with Bryant. The two became good friends and won an Olympic gold medal together. KD has long had a ton of respect for Kobe. But in his early days in the NBA, Durant wasn't looking to make friends as he wanted to prove himself to the best players in the league.
Durant first entered the NBA in 2007 with the Seattle Supersonics. At the time, there was no better player in the league than Kobe Bryant. So Durant essentially created a beef with Bryant in his own head to make himself a better player.
Kevin Durant was scared of Kobe Bryant late in games
As so many players did over the course of two decades, Kevin Durant witnessed the greatness of Kobe Bryant up close and personal, especially late in games and especially early in his career when the "Black Mamba" was still in his prime.
Durant once told The Corp podcast that he "was scared s—less of Kobe late in games."
He got his first real taste of that in the first round of the 2010 playoffs when he watched Bryant score 15 points in the fourth quarter of Game 3 to lead the Lakers to a close win over the Thunder, who scored 23 points as a team in the quarter. LA won the series in six and won their second consecutive NBA title.
There was also a regular-season matchup between the two in 2012 that went to double overtime. The Lakers came back from 18 points down to win. Kobe hit two big 3-pointers near the end of regulation to send the game into overtime. He continued to knock down big shots in the extra frames to will LA to victory. And it was games like this that only made Durant want to get better.
Kobe motivated him each and every time they were on the court together, which is why Durant wanted to beat him so badly the final time the two played against one another.
KD wanted to 'destroy' the 'Black Mamba' in their final meeting and succeeded
Again, while Kevin Durant always respected Kobe Bryant, that didn't stop him from wanting to destroy the five-time NBA champ when they squared off. This included their final meeting against one another.
In the penultimate game of Kobe's Hall of Fame career, which was his final game on the road, the Lakers traveled to Oklahoma City to face the Thunder and Durant, remembering how Bryant didn't want to take it easy on Michael Jordan when he was nearing retirement, wanted to take the same approach.
And KD certainly showed out by scoring 34 points on 11-for-18 shooting from the floor and 6-for-11 from the 3-point line in the 112-79 romp. Kobe played just under 19 minutes that night and scored only 13 points in the loss. Following the game, Durant spoke on what it meant to match up with Bryant one last time (h/t Yahoo Sports).
"I remember when Michael Jordan was on his way out and Kobe didn't take it easy on him.

"That's all I was thinking. I was trying to destroy him every chance I got. Every time I got the ball, he was 'Come on. Let's see what you got.' That shows what type of player, what type of competitor he is. I just wanted to play against him one last time."

Kevin Durant on Kobe Bryant
Kevin Durant says he had 'beef' with Kobe Bryant
So about this "beef" that Kevin Durant had with Kobe Bryant.
On a recent episode of his podcast, The ETCs, Durant spoke on the impact that guys like Michael Jordan, Magic Johnson, and Larry Bird had on the generations of players that came after them, saying that while those guys weren't always friendly to one another on the court, there was a respect there that created the culture in the NBA that we know today.
Instead of fully hating one another (perhaps minus MJ's disdain for Isiah Thomas and the "Bad Boys" Pistons), that generation of players created a brotherhood that's carried over into the new millennium.
However, while Durant seems to have embraced this culture now, that wasn't the case in his early days in the league and he essentially took a Jordan-esque approach to things by creating fake beefs with players such as Bryant to take his game to the next level.
"I felt like I had a beef with Kobe Bryant but he didn't even know I had this beef — as you get older you look at these guys as just sharpening you and making you better.

"When Bron goes to score 50 points or James Harden has 60 points, I'm looking at … how can I top it just to be better … how can I maintain that level I was on too — it's a healthy competition."

Kevin Durant
If there's anyone who ever respected "healthy competition," it was certainly Kobe Bryant. He likely felt the exact same way as Kevin Durant.
Stats courtesy of Basketball Reference