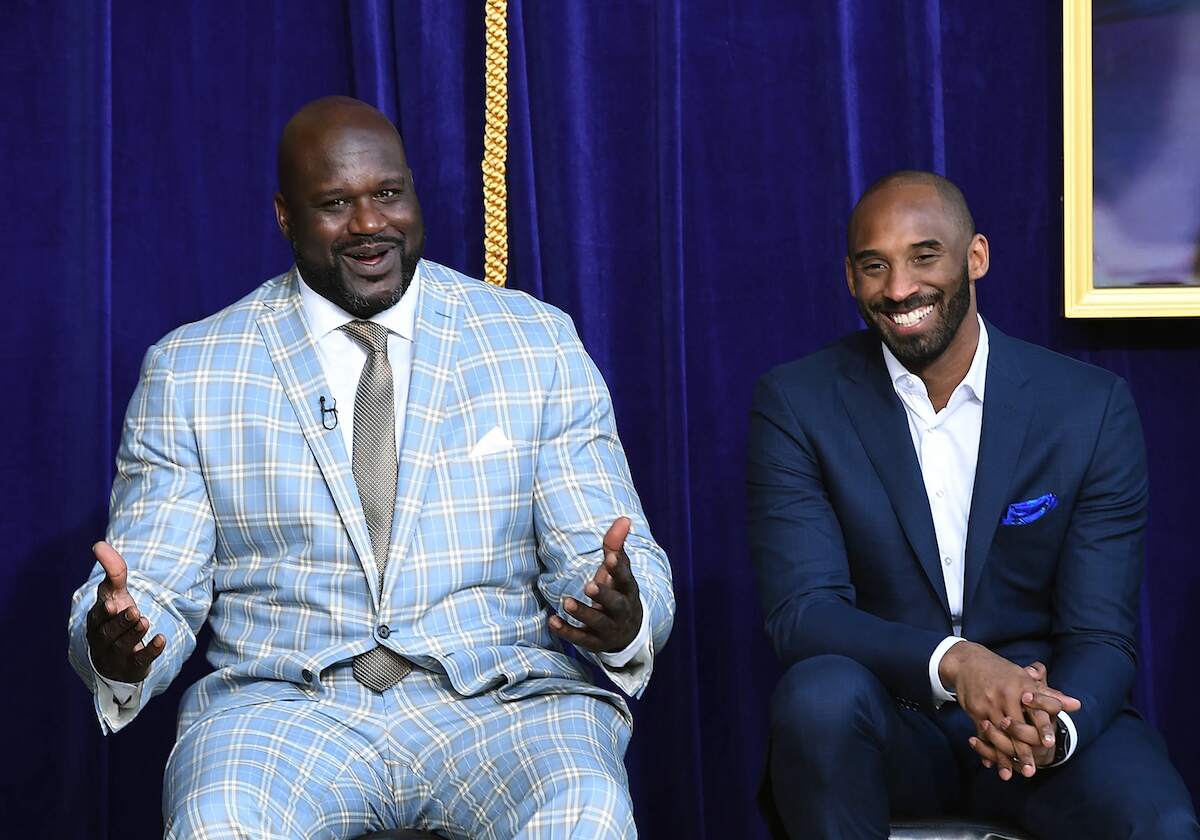 Kobe Bryant Made a Heartwarming (and Later Heartbreaking) Gesture to Shaquille O'Neal After the Duo Shared MVP Honors at the 2009 NBA All-Star Game
Former Lakers teammates Shaquille O'Neal and Kobe Bryant shared a special moment after sharing MVP honors at the 2009 NBA All-Star Game.
Kobe Bryant and Shaquille O'Neal are easily one of the most dominant duos in NBA history. The pair won three consecutive NBA titles with the Los Angeles Lakers in the early 2000s before a bitter feud led to Shaq being traded to the Miami Heat. However, nearly five years after their famous break-up, Shaq and Kobe teamed up one final time during the 2009 NBA All-Star Game, a game in which the two were named co-MVPs.
Seeing the two work together on the court one final time was truly special. However, what happened afterward was even better as Bryant gifted O'Neal the trophy to give to his son, Shareef. This gesture was all the more heartwarming (and heartbreaking) as Shaq's son may have been the final person Kobe messaged before his tragic death in January 2020.
Shaquille O'Neal and Kobe Bryant were named co-MVPs of the 2009 NBA All-Star Game
The 2009 NBA All-Star Game marked the first time since their highly-publicized feud that Kobe Bryant and Shaquille O'Neal wore the same uniform. The reunion was even more complete as Phil Jackson was the head coach of the Western Conference.
Kobe, who was the leading vote-getter for the West, was a starter and obviously representing the Lakers. Shaq made the team as a reserve and was representing the Phoenix Suns in what would be his final NBA All-Star Game appearance.
The East jumped out to a 20-10 lead, at which point Jackson inserted Shaq into the game. This marked the first time Bryant and O'Neal shared the court as teammates since Game 5 of the 2004 NBA Finals. The West promptly went on a 19-0 run to take the lead and went on to win 146-119.
Kobe scored 27 points on 12-for-23 shooting. Shaq went for 17, missing just one of nine shots in 11 minutes. The two were named co-MVPs, each winning the award for a third time.
Kobe Bryant gave the 2009 NBA All-Star Game trophy to Shaq to give to his son, Shareef
The postgame ceremony in which Shaquille O'Neal and Kobe Bryant were named co-MVPs was absolutely incredible. Just watching the former teammates embrace and carry on as if nothing had happened over the previous five years was truly a heartwarming moment. It was made all the more special by the fact that Shaq's young son, Shareef, who was just nine years old at the time, was standing right there with them on the stage.
Kobe embraced Shareef as if he were his own son. In an incredibly heartwarming gesture, as Shaq once revealed in an incredible one-on-one interview with Bryant (which you can view above), Kobe told his former Lakers running mate to take the All-Star Game MVP trophy and give it to Shareef. Here's how the exchange between the two all-time greats went down:
Shaq: "Do you remember what you did during that game to make me realize I was an a–hole to you all these years?"
Kobe: "No."
Shaq: "You don't remember? So we got the co-MVP. It's me, Shareef, and you standing on stage, and what'd you tell me to do? You told me to take the trophy home."
Kobe: "That's right. I did."
Shaq: "And I took it home, and I gave it to Shareef, and I realized then that I may have messed something up because a lot of times that our beef was going on — you know me, I'm the master marketer — about 60% of the time I would just say it to keep it going. But like when you did that, you didn't have to do that because, you know, they usually take it and they mail it, but you were like 'Shaq,' — and you know Shareef loves you — you were like, 'here you go, Shareef.'"
If you haven't seen the full interview, we highly recommend taking the time to check it out.
Now, while that moment involving Kobe Bryant, Shaquille O'Neal, and Shareef O'Neal was truly heartwarming, it takes on even more meaning knowing what happened almost 11 years later.
Shareef O'Neal may have been the last person the 'Black Mamba' ever messaged
As Shareef O'Neal grew up and became quite a solid player in his own right, Kobe Bryant became somewhat of a mentor to the young man he wanted to have the 2009 NBA All-Star Game trophy. The "Black Mamba" would work on aspects of the game with him and check in on him from time to time.
One of those times just happened to be on the morning of January 26, 2020. Bryant sent Shareef a quick text at 8:19 am PST. He simply asked, "You good fam?" O'Neal sent a text back a couple of hours later but never got a response.
Sadly, we all know why. Bryant, his 13-year-old daughter Gianna, and seven others were tragically killed in a helicopter accident at 9:45 a.m. that very same morning. This means Shareef may have been the last person Kobe ever messaged.
The tragedy obviously hit the O'Neal family very hard. Shaq was clearly devastated at the loss of the man he called his "little brother." O'Neal gave a truly moving speech at Bryant's public memorial at Staples Center. He also brought some laughter as he promised to teach Kobe's surviving daughters all of Bryant's moves as Kobe had done for Shareef. He also promised not to teach them his own free-throw shooting techniques.
Stats courtesy of Basketball Reference